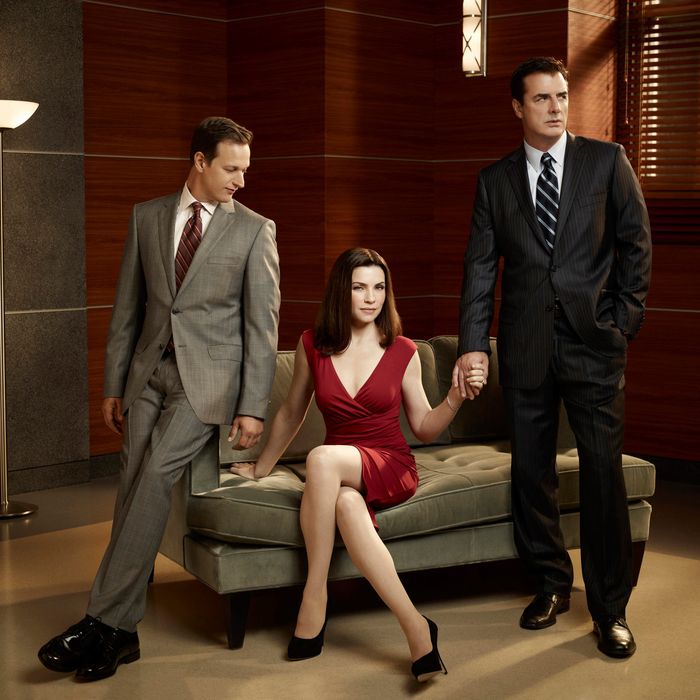 THE GOOD WIFE–Josh Charles as Will Gardener (left), Julianna Margulies as Alicia Florick, and Chris Noth as Peter Florick (right) of the CBS drama THE GOOD WIFE scheduled to air on the CBS Television Network. Photo: Justin Stephens/CBS ©2010 CBS Broadcasting Inc, All Rights Reserved.
Photo: JUSTIN STEPHENS/CBS
No one ever says what they mean on The Good Wife. Alicia barely says anything at all — she's by far the quietest main character on television — and she's flanked by people like Kalinda who speak in vagaries so mysterious they might as well be the talking wisdom tchotckes from Wonderfalls. Peter's ostentatious performance of sincerity winds up ringing false, Cary loves a half-truth, and Diane likes pedantry almost as much as she likes statement jewelry. Folks sure do like to sigh and give each other meaningful glances, though — especially Alicia and Will, who can't seem to have any direct conversations whatsoever.
Which is too bad, because what they should be talking about is how much sex they're going to have with each other and how much of that sex is going to include third parties. Because, oh my God, everyone on The Good Wife should just have a threesome already.
Obviously Alicia, Will, and Peter are the primary love triangle of the show — and as Alicia's demonstrated over and over, she's perpetually unhappy with whichever one of her suitors she chooses. Here's an idea, Alicia: Pick both! It's 2013! Get funky already. Yeah, Peter and Will hate each other, but they might hate each other so much they basically love each other, and if the concept of a rivalry is removed, they can channel their frustrations into their mutually satisfying love-making.
Alicia and Will are part of another love triangle, too, with Amanda Peet's Laura. She and Will dated, but the real intimacy was between Laura and Alicia; Alicia represented Laura in court and then helped her segue into civilian life. Laura eventually brushed Will off because she claimed she was dating someone else, too, but the bigger issue seemed to be that she didn't want to hurt Alicia. (Even though Alicia gave Laura her blessing, she didn't really mean it.) How about all of you throw off the shackles of territorial jealousy and admit that you're all into each other?
Would I be shocked or saddened if Cary, Kalinda, and Robyn wound up in what Don Draper would refer to as a "pile of arms and legs"? I would not! Do I assume there's fan fiction that puts Peter, Alicia, and Eli together for an intoxicating, zinger-laden evening? I do indeed! Diane and Bingo Bob, the world is your oyster.
The Good Wife has gotten a tremendous amount of mileage out of building tension. The Alicia/Will buildup has been so essential to the show that even when they got together, it didn't really feel like they were. Peter and Alicia's romance is even more tortured, if that's possible. For a couple that's hard to root for — on account of him cheating on her with prostitutes and all — TGW has really gotten behind the Florricks, including Peter quasi-proposing again last night. And there's Cary and Kalinda's ongoing flirtation, too.
Enough already, The Good Wife. Tension's only tension when there's a capacity for release — otherwise, it's just frustration. The show has made so much of these less-than-fully-consummated relationships that, at this point, something major has to happen for this all to feel worth it. Something like a festive, joyous threesome.
I'll settle for Will and Alicia just super-kissing again, though. That's good, too.