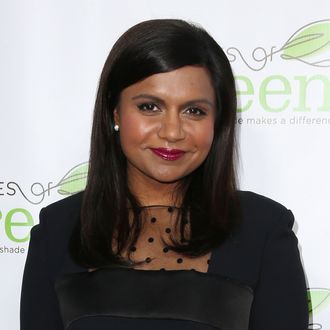 Photo: Frederick M. Brown/Getty Images
The Office finale is a mere three weeks away, and the show only has three episodes — including the finale — left. (All three are hour-long episodes, if that somehow softens the blow.) (It does not; The Office often struggles to make hour-long episodes seem worth it.) And now NBC has released a synopsis of the finale, along with a list of guest stars, including Joan Cusack and Ed Begley Jr., and the previously announced Mindy Kaling and B.J. Novak.
Here's the description of the episode:
Months after the airing of the documentary, the workers of Dunder Mifflin, past and present, gather for a wedding and a final round of interviews. Mysteries are solved, hatchets are buried, pranks are prunked.
So, who's getting married? Let's run through the possibilities:

Angela and Dwight Now that the Senator is out of the closet, odds are his marriage with Angela is coming to an end. She seemed really jealous of Dwight's farm-person girlfriend, and it sure seems like Dwight is still carrying a torch for his Monkey.
Ryan and Kelly Last we saw them, Kelly was divorced from Ryan and engaged to Ravi. But maybe things changed!
Erin and Someone Andy? Plop? Gabe? (Greg Daniels did say Zach Woods would be back.) Doesn't matter — none of these people is mature enough to get married, even by The Office's standards.
Michael and Holly NBC has tried to deny that Steve Carell will be appearing in the finale — but give me a break. Of course he will. He and Holly were engaged when we last saw them, but as Michael Scott himself once said, engaged ain't married.
Jim and Pam renewing their vows Barf! But maybe, since this season has been weirdly obsessed with convincing us their relationship is on the brink of disaster.
It's probably Angela and Dwight, yes?