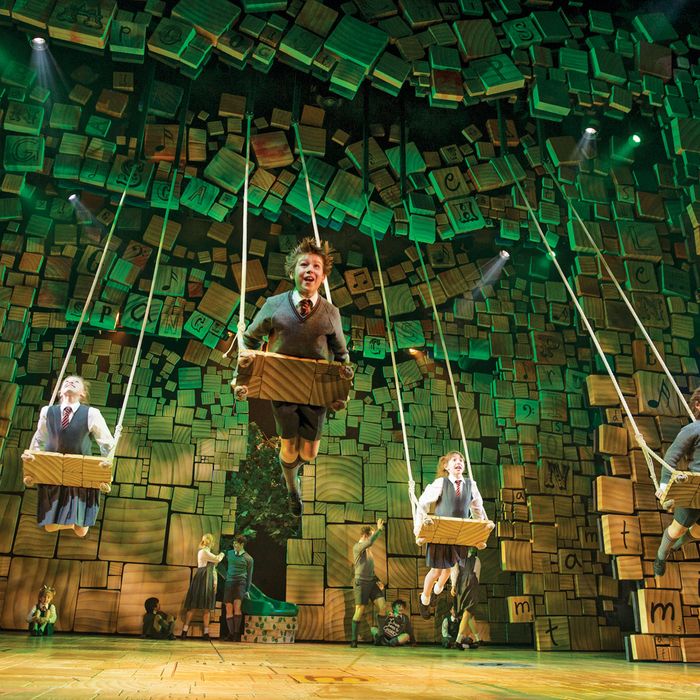 A great children's story needs a great monster, preferably one that's at least partly human. Matilda — Roald Dahl's 1988 novel and now an irresistible, whiz-bang musical — may have the best of the breed in Agatha Trunchbull, headmistress from hell (or its suburb, the British middle class). Built like a refrigerator with manatee flippers, she is the pure essence of English schoolhouse sadism, which Dahl, in his youth, suffered firsthand. As brilliantly reimagined for the stage, while still hewing close to Quentin Blake's original illustrations, Trunchbull is so physically threatening and appetitive you think she might actually eat her wee charges like pigs in blankets. Were she not played by a man (the superbly comic Bertie Carvel), she would be too horrible for a family musical. The drag takes the edge off.
Whether the edge should be taken off is a different question. As Dahl wrote it, Matilda is a gloomy and mostly interior tale; it could not otherwise make its point about a child's hidden resources so forcefully. Everything is seen from the perspective of the brilliant 5-year-old title character, who in a world of brats overloved by their parents is unlucky enough to be despised by hers. Indeed, much of the story's sour comedy arises from the Wormwoods' disdain for their daughter's prodigious intelligence, which they take as a rejection of their fish-and-chips complacency. Matilda's furious response to that disdain fuels the plot, but when sung about in the musical, it seems merely jaunty:
My daddy says I should learn to shut my pie hole
No one likes a smart-mouthed girl like me
Mum says I'm a good case for population control
Dad says I should watch more TV.
At first Matilda is able to master the unfairness of being born to such venal troglodytes by escaping into the great works of upwardly mobile literature: Jane Eyre, The Secret Garden, and especially Dickens. But when she starts school and the world's cruelty exceeds even the palliative ability of books, she discovers Carrie-like telekinetic powers. In short order she uses them to free herself, her schoolmates, and her kind teacher, Miss Honey, from the oppression of the iron-willed Trunchbull — I almost said Thatcher.
The musical gets a lot of this right, especially in its ingenious staging, which is like a cabinet of wonders constantly opening in unexpected ways. It's a lovely touch that the complexity of Rob Howell's scenic design mostly originates in ordinary childhood materials like books and blocks and dollhouses; Scrabble tiles become tools for climbing over walls just as words do, at least for Matilda. The dances by Peter Darling, who also choreographed Billy Elliot, do much the same thing, building simple steps based on youthful games and mischief into multilayered, expressive movement. (There's even a G-rated Spring Awakening takeoff.) And the songs by Tim Minchin, with their distorted distant-circus melodies and off-kilter lyrics, have the right childly imprecision, at least when sung by children:
My mummy says I'm a miracle
One look at my face and it's plain to see.
Ever since the day Doc chopped the umbilical cord
It's been clear there's no peer for a miracle like me.
In the mouths of adults such misplaced stresses and flagrant off-rhymes (miracle/umbilical — really?) can be less felicitous. But Matilda, surprisingly, is not the kind of show that wants to seem too smart.
This must have been a deliberate choice. In opening up the story for the stage, and lightening it for children who may not be as experienced with psychological fiction as Matilda herself is, the book writer, Dennis Kelly, has made myriad changes that flatten the book's oddness. A cartoon subplot involving the Russian Mafia is shoehorned in (and nearly ruins the ending). Mrs. Wormwood's vapid hobby is switched from bingo to ballroom dancing, permitting her a production number called "Loud" that somehow begins to resemble the thing it's meant to mock:
The less you have to sell, the harder you sell it
The less you have to say, the louder you yell it
And because reading is boring to watch, Matilda has been given the related but more stageable gift of storytelling. Naturally, the story she tells turns out to have predictive powers — an expansion of her extrasensory portfolio that neatly ties up some plot threads but confuses the point of the character. Matilda isn't meant to be an all-purpose witch. She's a girl whose justifiable anger has found a singular outlet in action. Her power, as Dahl described it, "felt as though millions of tiny little invisible arms with hands on them were shooting out of her eyes." It's aggressive. But in the musical, it's necessarily passive; Matilda seems to disappear as the story is illustrated behind her, or the telekinesis is accomplished by what is quite evidently a stage trick (albeit a great one). She is possessed, not self-possessed. Dahl's revenge fantasy is thus tamed into something a bit safer, a process made complete by a gratuitous act of forgiveness and an explicit moral: People need not be "innocent victims of their story" if they're smart and brave enough — it takes both.
Matilda the musical is not quite brave enough to be fully smart, but it's still very good. Along with Carvel, who seems to love being outfitted with the largest sports bra ever, all of the adult actors pull off the comedy deftly. As the rubbery Mr. Wormwood, Gabriel Ebert (unrecognizable from last year's 4,000 Miles) is an especially nitwit pleasure.
But it's the young ones, under Matthew Warchus's expert direction, who are in charge of the pathos, and seem strangely committed to it. I'm not sure that Oona Laurence (one of four rotating Matildas) smiled even once during the show, including the curtain call. How odd to be asked to carry so much sorrowful responsibility as a child! It must be a relief for the young actors — I know it is for the audience — when at the beginning of act two they get to sing a lovely, simple, Beatles-like tune called "When I Grow Up" while flying on rope swings high above the stage. In it, they dream of being old enough to handle the burdens that life, with its rude sense of humor, has already given them.
Matilda is at the Shubert Theatre.