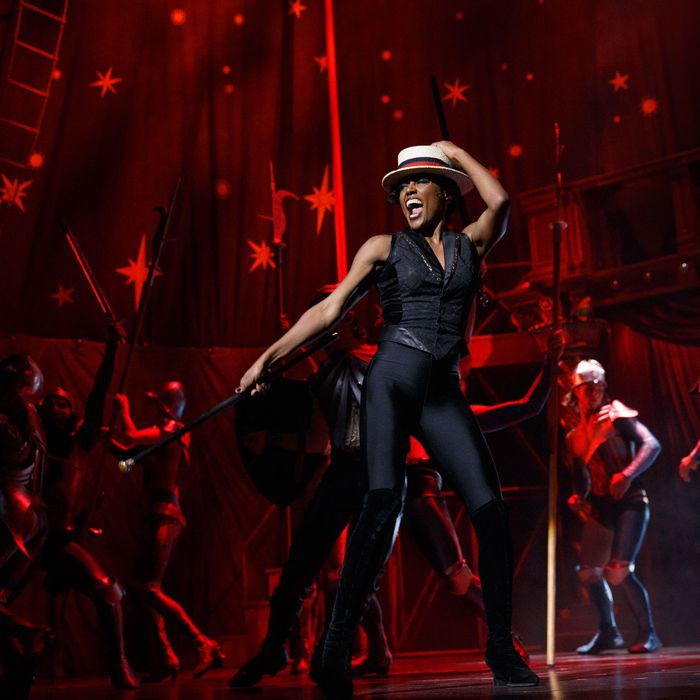 Pippin, at the Music Box Theatre.
Photo: Joan Marcus
Turn on. Tune in. Sing out?
The history of counterculture chic in musicals is mostly a buried one, because few of the shaggy works that exemplified the genre proved to be worth reviving. Not that every show featuring floral garlands and vests embroidered with antiwar slogans was bad, but tofu has a short shelf life.
Of the two that survived in the best shape, only Hair is echt-hippie, coming as it did right on the heels of the Summer of Love in 1967. The other, Pippin, arrived a microgeneration later, in 1972 — and what a difference those five years make. Both have infectiously appealing scores, but whereas Hair's book is unfocussed, Pippin's (by Roger O. Hirson) is unforgivable. The air of tragic innocence in the former has, by the latter, soured into a dippy find-yourself whine. That and the iconic status of the original staging by Bob Fosse (whose version ran for almost five years) are probably why Pippin has never, until now, been revived on Broadway.
And so it seemed to be one of those shows whose ideal incarnation would forever remain its original cast album. Many a boomer wore out the vinyl, devouring Stephen Schwartz's rhapsodic pop melodies and woolly tumble of clever lyrics while writing their own adolescent stories to replace the one that thankfully wasn't included. That's fine for the kids at home, but what's a director to do in the theater? For Diane Paulus, who also staged the Hair revival that opened on Broadway in 2009, this must have been a difficult riddle. There would be no point in trying to demortify the book; its cheesiness is solid-state, baked into the whole structure. And the dialogue is worse.
In any case, the terrific songs are intricately tied to the story, which is loosely based on the historical figure of Pepin the Hunchback and isn't much prettier. It follows the elder son of Charlemagne, just out of college, as he embarks on a quest for meaning in his life:
Rivers belong where they can ramble
Eagles belong where they can fly
I've got to be where my spirit can run free
Gotta find my corner of the sky
What follows is a compendium of self-actualization experiments, each drippier than the one before. In Act One, feeling "empty and vacant" — really, both? — Pippin (a beamish Matthew James Thomas) flirts with war, sex, and rebellion; in Act Two it's governance, art, religion, suicide, and, eventually, true love down on the farm. Guess which wins out?
But Paulus apparently thought long and hard about Pippin and decided on two things that could make it viable in 2013. One was … a circus act. Not only has the original's quasi-medieval band of players been reconceived as a troupe of acrobats, aerialists, and assorted limb-benders, but the entire story is now imagined as transpiring within a Barnumesque big top, enchantingly designed by Scott Pask and lit by Kenneth Posner. The splayed hands and angled feet of the original choreography are still referenced as touchstones—the dances, "in the style of Bob Fosse," are by Chet Walker — but movement patterns based on the circus, and performed by members of a Montreal company called 7 Doigts de la Main, are neatly superimposed. It's not as much of a misalliance as it sounds; it's more like Fosse on a field trip. And the thrills of the flips and trapeze acts created by 7 Doigts' Gypsy Snider go a fair distance in distracting you from — don't look over there!
Still, distraction, even when it's enchanting and absolutely necessary, is not itself a viable dramaturgy. If Paulus has succeeded, against the odds, in shaping a satisfying modern Broadway spectacle from material that's fairly empty (and vacant!), it's because she must have realized that the other thing she needed was an actor who could definitively cut through the dreck. Enter Andrea Martin as Pippin's feisty grandma, Berthe. A ham's ham but one with total discipline, Martin is both warm and demanding; she knows when to let out some line and when to snap it back. In her one big number, she delivers the show's dippy carpe diem philosophy as if it were newly minted:
Before it's too late stop trying to wait
For fortune and fate you're secure of
For there's one thing to be sure of, mate:
There's nothing to be sure of.
Perhaps she's right about that, but while Martin's onstage, Pippin reliably provides the kind of Broadway glow that's impossible to forget and irreproducible elsewhere.
Happily, that glow arrives early, and it colors the rest of the show. The somewhat stiff, presentational style of the other actors (Patina Miller as the Leading Player is awesome but not exactly mellow) relaxes, and so does the audience, now confident of getting what it came for. By the time Rachel Bay Jones as Pippin's beleaguered farm-fling sings a simple, heartbreaking "I Guess I'll Miss the Man," you may actually be able to feel something human-scale. That it took a circusful of tricks to do that is a paradox that is not necessarily news. It certainly wouldn't have surprised Fosse. The opening number, after all, is called "Magic to Do."
Pippin is at the Music Box Theater.