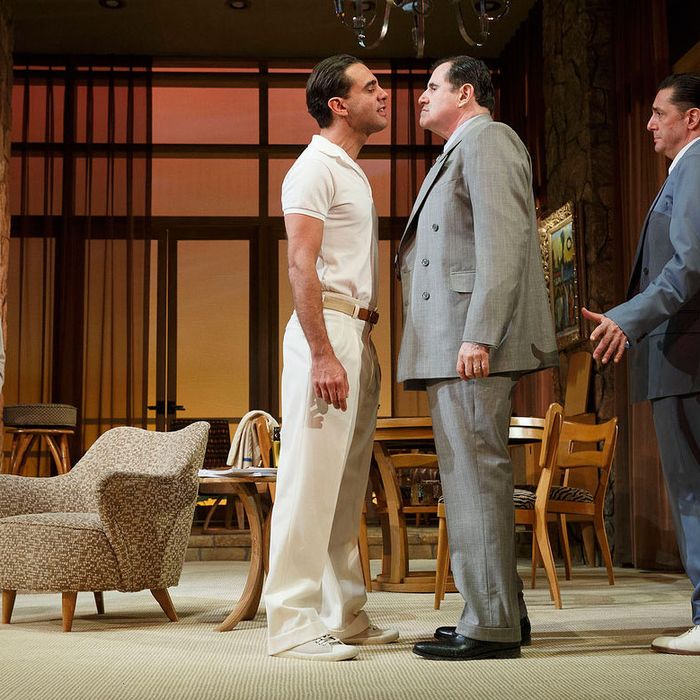 The Big Knife, at the American Airlines Theatre.
Photo: Joan Marcus
"Angel," "Child," "Little Chum," "Toots," "Bozo," "Handsome," "Husband Dear," "Sweet," "Lady Pry," "Monkey," "Boy Friend," "Lovey," "Dimples," "Tiger," "Chickie," "Beau Heart": The rococo endearments just don't stop in Clifford Odets's 1949 play The Big Knife. They are, as one of its movie types might say, as plentiful and overripe as the fruit rotting outside in the Hollywood heat. So is the dialogue. A bar is a "lemonade stand" where, instead of asking for some seltzer, you bark, "Carbonate me." The latest bad flick is an "armful of roses and a basket of kittens." And of course self-disgust gets its own genre of poetry: "I don't need you to go to hell with. I can splash up my own mud and neon lights!"
That last gem is spoken by movie star Charles Castle (né Cass — the nicknames aren't the only things that are fake). But it might as well be Odets talking to himself. By 1949, the quintessential New York dramatist had been in Hollywood for thirteen years, making lots of money as a contract screenwriter for the studios and gradually watching his soul seep away. Ah, for the poor old days of the Group Theatre, where he'd had critical hits including Awake and Sing! and Golden Boy (both revived recently in excellent productions) and was not bedeviled by so much cash. But it was something even beyond luxury that chained him to the dream factory, and The Big Knife was his attempt to articulate the moral arithmetic in hopes of finding a tolerable solution.
To judge from the play, there was none. Castle is a movie star trapped in an even higher berth of the studio system than Odets was. In return for pumping out the shlock, he gets to live in a mid-century-modern mansion complete with tennis courts and a floating stairway to heaven. Wittily designed by John Lee Beatty, the set also features a movie projector hidden behind a levitating painting—one of Rouault's pensive clowns. But Castle (like Odets, you sense) fancies himself more of a Hamlet. When his estranged wife Marion begs him not to sign the fourteen-year contract being pushed on him, he manages, in the name of art and marriage and all that's good, to resist the studio's pressure for at least ten minutes. But Marcus Hoff, the Harry Cohn–like mogul who owns him, applies a little blackmail as if it were a slap of aftershave, and the indenture is extended. Castle's secret — involving a hit-and-run scandal — is safe, though only for one of the play's three acts.
You can see why Bobby Cannavale wanted to play Castle and why he worked for years to get a New York production mounted; he's a fine, questing actor with great Hollywood hair, and it's a juicy role. The problem is, it's all juice, no skin. Castle is a mess of unprioritized values, unmanaged urges, unexamined prerogatives — and so is the play. Odets paints Castle as a good guy who is nevertheless a thoughtless philanderer; he dallies with a friend's wife even while trying to win back his own. For all his moral bookkeeping (the play's title may refer to a slang synonym for a dealmaker) he reaches his limit only at the prospect of actual murder; we're supposed to root for this? He reeks of bad faith, acquired no doubt through intimate contact with the author, who in three more years would name names before the House Committee on Un-American Activities.
Still, in dramaturgy, bad faith is not a deal killer. Bad craft is, and it would seem that the only thing Odets learned from his Hollywood years was bitterness. Castle's despised potboilers may have featured ridiculous language, but at least they knew how to move the action along. In The Big Knife, Odets tosses that baby but keeps the bathwater. His drawing-room-comedy construction, with its gear-stripping mood changes and "Oh, is that the doorbell?" coincidences, demonstrates no awareness of the advances in montage that Hollywood was in the midst of perfecting and that his contemporaries were gleefully stealing for the stage. Meanwhile, the dialogue is almost literally unspeakable. When we hear, in the pause between Act One and Act Two, a ripe clip of one of Castle's movies (invented by the director Doug Hughes and the sound designer David Van Tieghem) it's meant to exemplify the dreck Castle has lowered himself to. But it doesn't sound much different from The Big Knife. Turns out that the rummy patois invented for mugs and dicks is even more absurd when it's uttered by rich people whining about their morals in the roseate glow of a Beverly Hills playroom.
All this leaves The Big Knife a much more difficult play to make a case for today than Odets's earlier work. What an actor can do, Cannavale does. He's believably star-like and unhappy. Improbably, he makes you root for the stinker despite his tiresome qualms. But his eagerness to burrow under the palaver toward a coherent character who doesn't exist makes him seem too accommodating and contemporary. (By contrast, slick John Garfield originated the role, and wooden Jack Palance starred in the movie.) Two of the supporting players get closer to the mark, because their marks are at least visible. Chip Zien completely fulfills Odets's description of Castle's agent as a president-of-the-synagogue type, and Richard Kind manages to find something really quite terrifying in the mogul, one of those expensive-suited vulgarians whose shtetl sentimentality does not quite mask the raging sadism beneath.
But despite at least three betrayals, two manslaughters, and one suicide, not much else here seems menacing, either in the writing or in the very tasteful if strangely slack production. Noir en rose is not a good combination. Perhaps what Odets really learned from his self-imposed exile in Hollywood is that you can't go home again. One of the play's biggest laughs comes when Marion suggests that her husband return to doing plays in New York, and he responds: "The theater's a stunted bleeding stump."
If only! Here it doesn't bleed; even after a game of tennis it barely perspires. The Big Knife is the kind of play that makes you want to see a movie.
The Big Knife is at the American Airlines Theater through June 2.