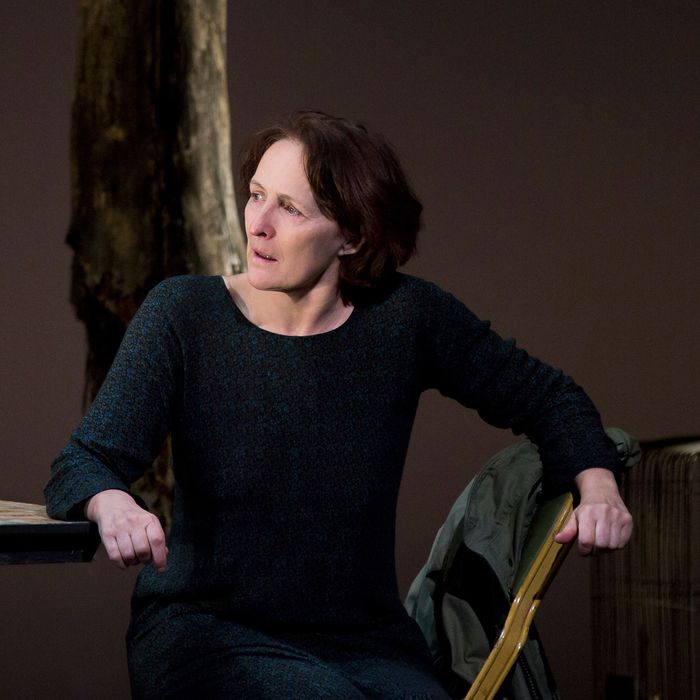 Fiona Shaw in Colm Tóibín's The Testament of Mary.
Photo: Paul Kolnik
Remember the season when every other show was about race? Or the one that got dragged down with drag? Likewise, many of this spring's Broadway offerings seem to have conspired to address an accidental theme. What does it mean, these shows implicitly ask, to be alone — in history, onstage? Not only have there been more solo plays than usual, but their casts have stretched the definition of "solo." Ann, a one-woman show about the late Texas governor Ann Richards, also features the prerecorded voice of Julie White as her secretary. Alan Cumming's psych-ward Macbeth includes a doctor and orderly who hover constantly and occasionally speak. Now comes the most unusual second banana of all: a 3-year-old yellow-headed vulture named Pinhead. Before the lights go down at The Testament of Mary, when the audience is invited onstage to look around, he stands tethered to a table, staring beadily as if offended while people take pictures with their iPhones.
Pinhead and the rest of the preshow will get a lot of attention, but they are not gimmicks. In purporting to tell a "real" story of Mary, Colm Tóibín's play (based on his novella, itself based on an earlier play) necessarily puts the New Testament matriarch in several contexts, one of which is death. There are others, and the artifacts arranged for your inspection as if at an archeological museum — the superb design is by Tom Pye — suggest some of them. The most obvious is art; centuries of painted Mariolatry are summed up in the astonishing image of Fiona Shaw sitting in a Plexiglas box, dressed in Renaissance robes of coral and turquoise, with a sheaf of calla lilies cradled in her right arm and in her left hand an apple. She smiles slightly and seems to be murmuring, perhaps rehearsing lines.
That's the received Mary of Catholic teaching: beatific, matronly, all but mute. Some of the other elements in this museum, though, are artifacts not of the church but of the theater. An actor's teacups, hand-rolled cigarettes, a rehearsal chair with a heap of papers on which portions of the script have been copied by hand. Implicitly, we are being asked to accept that we are in a place of imagined stories — and to wonder if, in that regard, the church and the theater are much different. Indeed, it was at this point, looking up and out for the first time, that I took in, from the perspective of the stage, the buzzing tiers of the Walter Kerr. How overwhelming an audience looks to the one being watched! That too is a context that the director, Deborah Warner, wants playgoers to grasp.
And then, as if whisked by a broom, it all disappears. The visitors are ushered back to their seats, the Plexiglas box disassembles, Pinhead exits, and Shaw's costume transforms into something more modern as the play proper starts. Tóibín identifies the setting as "now" — perhaps to head off accusations of blasphemy as his Mary drinks and smokes and bathes before us naked, eventually saying things that might prove, for the Church if not all believers, quite shocking. But a more apt description of the time would be "always." The 90-minute monologue begins with Shaw, as Mary, telling of her ongoing interrogation by two men who are evidently among her late son's disciples — "a group of misfits," she calls them, "who cannot even look a woman in the eye." That interrogation of Mary has, in effect, never stopped. Like many Christians today, the first apostles, writing what will become the gospels, want her to provide a version of the story of Jesus's life that will "live forever" and "change the world."
"The world?" Mary asks, sarcastically. "All of it?"
But two not-quite-parallel things happen as the story unfolds. First, Mary resists the men's hagiography. From her exile in Ephesus, she obligingly describes for them each stop on the His Greatest Hits tour: the healing of the cripple at Bethesda; the raising of Lazarus (which is for once rendered so as to sound truly wretched); the wedding at Cana; and of course the crucifixion. But she scoffs at their narrative of miracles and divinity. When they "patiently" explain to her "what had happened to me at my son's conception" she smirks as if they were Senate Republicans. Her Jesus was a charming if aimless young man who sounded "false" and "stilted" when he spoke to crowds, and enjoyed his effect on others too much. As for Cana, she is not really sure what happened there: perhaps it was a trick. And awful as the crucifixion was (she left, she says, partway through) the man she mourns most is her husband. Jesus is beyond mourning; she can't even say his name. In any case, she finds the idea of his resurrection infuriating; his death belongs to her, not the world.
At the same time, Mary is becoming more modern, or rather, incorporating more modernity into her timelessness. This is subtly and thrillingly done, not just by Shaw, who is endlessly resourceful and even manages to squeeze a few laughs from the definitionally tragic material. Warner and her designers keep rearranging the theatrical elements to remind you that you are hearing a new story as if it were being invented on the spot: a panel rises, a tree moves, the light is crepuscular, the light is blinding. Even Mary's outfit — a brilliantly multifarious costume by Ann Roth — seems to be altering itself under our gaze. This constant shifting in the presentation of a literally iconic story is destabilizing, but that's the goal. It's like the eye test in which an optometrist offers a series of perspectives through various lenses, trying to find the sharpest view.
The Testament of Mary does not work like most other plays, solo or otherwise, nor even like Tóibín's wonderful novella, which seems to occur spontaneously — an immaculate conception — in the reader's imagination. Instead, Warner has met the burden of staging the material by dividing it into a series of what might be called parables, albeit parables of skepticism. But even as Mary debunks the religion growing up around her son's memory (she describes the first Christians almost as Moonies, with their inane happy talk) she is suggesting a basis for a truer faith, based on the individual apprehension of love and grief. It's not for me to say whether believers should take comfort from this or complain to the Pope. Suffice it to say that Tóibín loves Mary too, even if his depiction of that love may seem unusual to those who prefer it painted in coral and turquoise. He and the play and this marvelous production ask you to consider how strange miracles are. If they looked like what you expected them to, they wouldn't be miracles.
The Testament of Mary is at the Walter Kerr Theatre through June 16.