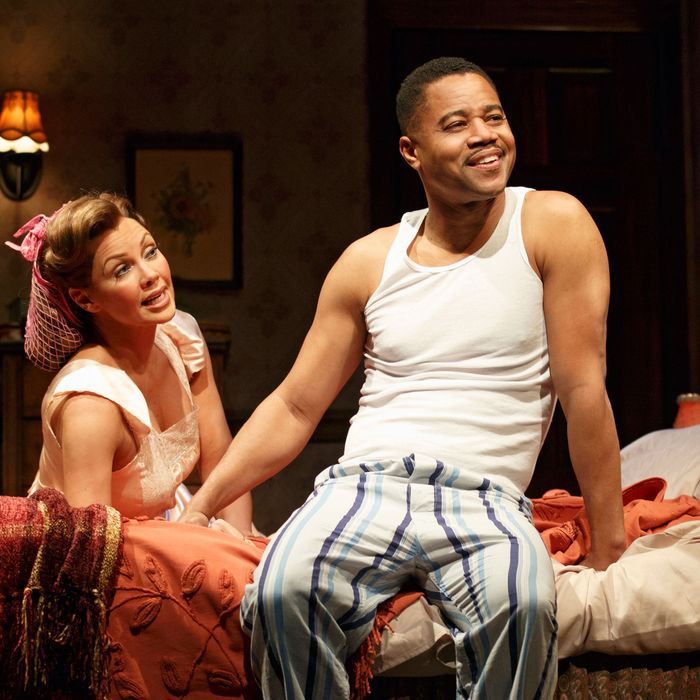 Vanessa Williams and Cuba Gooding Jr. in The Trip to Bountiful.
Photo: Joan Marcus
The most brutal show in town right now isn't Macbeth or Orphans or even Jekyll & Hyde, despite their terrifying ghosts, thugs, and lyrics, respectively. No, it's The Trip to Bountiful, that dainty little candy box of a play, tied up in ribbons of sentimentality. Or so we often remember it. After all, didn't the original version, which Horton Foote wrote for television in 1953, star Lillian Gish? And it's about so little: A nice old lady stuck in a cramped apartment with her passive son and bossy daughter-in-law wants to see her hometown again, so she gets on a bus and makes the trip. What could be more reassuring?
Well, Waiting for Godot (also first produced in 1953) is more reassuring. The Trip to Bountiful, deep beneath its Whitman sampler décor, is built on a core of almost geological despair. Carrie Watts, that nice old lady, isn't just restless; she feels she will die if she doesn't get out of Houston. (She had to leave the ironically named town of Bountiful when her family's farm there stopped producing.) But she may well die anyway, from a bad heart or just plain heartbreak. Meanwhile, her son, Ludie, doesn't understand why he has been unable, despite hard work, to make "any kind of life" for his mother and wife. That wife, Jessie Mae, who is disappointed when she hears brakes squeal but there is no crash, suffers too; her bitchiness is mostly a translation of boredom. And — oh, yes — Bountiful no longer exists.
How's that for existential? The reason you may not remember the play this way is that it's all honeyed up with Texas manners. The dialogue sounds light and agreeable while barely bridging vast chasms of emptiness:
CARRIE: The old house has gotten kind of run down, hasn't it?
LUDIE: Yes, it has.
CARRIE: I don't think it'll last out the next Gulf storm.
LUDIE: It doesn't look like it would.

You can almost hear the lines echoing in the cosmos.

You can almost hear them echoing at the Stephen Sondheim Theater, too, where a blurry and erratic but sometimes excellent revival of the play has just opened, starring Cicely Tyson, Cuba Gooding Jr., and Vanessa Williams as the central trio. That Foote's estate has authorized the casting of black actors in roles that might seem quintessentially white turns out to be a nonissue; they're not quintessentially anything except human. Only a line or two had to be changed: Jessie Mae no longer describes herself as a cross between Joan Crawford and Clara Bow but rather as a cross between Rita Hayworth and Lena Horne. (Williams fulfills the description.) With the addition of a "colored only" ticket line at the bus station, the setup works fine, and in some ways is deepened.
The problem, intermittently, is the tone. The director, Michael Wilson, a Foote expert, for some reason lets much of the first act play like comedy. Humor is there in the script, no doubt, especially in the animosity between the two women; when Jessie Mae fumes, Carrie feigns subservience, then does exactly what she wants to anyway. But Williams's hauteur and stupendous beauty throw the scale out of whack, and Tyson overcompensates with antic old-ladyisms. (Tyson is 79 or 88, depending on which source you believe, and in any case looks decades younger.) Gooding, loaded down with ambivalence that turns his smile almost vertical, nicely underplays the discomfort of a good man torn between them.
But once the bus ride starts, you begin to see what the production might have been (and still might be, as the performances settle in). In one of the great scenes of American drama, Foote seats Carrie next to a young bride whose husband has just been sent overseas. Played with exquisite delicacy by Condola Rashad, this bride, named Thelma, chats with Carrie, at first just politely but soon with a depth of sympathy that elicits surprising truths from the older woman. It also elicits the devastating performance we expect from Tyson, who has lost none of the fierceness of her youth. "Do you believe we are punished for what we do wrong?" she suddenly asks Thelma. The play's despairing answer — if not yet the girl's — is that we're punished no matter what.

The Trip to Bountiful is at the Stephen Sondheim Theater through June 30.