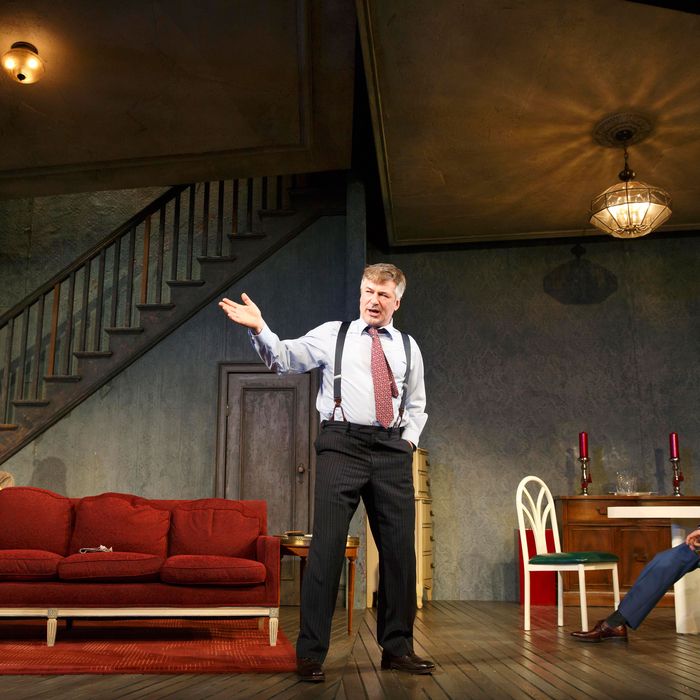 Orphans, at the Gerald Schoenfeld Theatre.
Photo: Joan Marcus
Orphans (at the Gerald Schoenfeld Theater through June 30)
Few actors can make ridiculous things sound as true as Alec Baldwin can. Or true enough. With his excellent ear and oddball air of earnest insincerity, he managed to wrap his mouth around seven years of 30 Rock bizarrerie as if it were Wilde. He's a dab hand, too, at Orton farce and thirties screwball: He knows when to bunt and when to swing for the fences. Now, in Lyle Kessler's Orphans, he is giving such a good old-timey performance—commanding and sentimental, precise but unfussy—that you may find yourself imagining him in a remake of Life with Father. Or Long Day's Journey Into Night. Or, really, anything better than Orphans.
Not that it's a bad play. It's just weirdly trifling. Baldwin is Harold, a prosperous Chicago criminal of some kind, now relocated to Philadelphia, where he is kidnapped by a petty thief named Treat. Treat brings Harold to the ramshackle row house in which he has lived since his father walked out and his mother died many years earlier. There among giant assemblages of empty tuna cans he has also raised Phillip, his developmentally stunted but good-hearted younger brother, keeping him from any knowledge of the outside world, just as Treat, stunted emotionally, is a stranger to his own inner life.
"I like his face, Treat," says Phillip, looking lovingly at their bound-and-gagged visitor.
"Don't get attached to it," says Treat.
Yes, that's how they talk, at least until Harold slips his bindings. But Harold, who also grew up parentless, and who's obsessed with the old Dead End Kids and their movies, is not out for revenge. Thinking he's finally found in Treat and Phillip the makings of his own little orphan family, he quickly takes over as paterfamilias, training Treat in the proper ways of thuggery and encouraging feral Phillip's emergence from captivity. By Act Two they have candlesticks and bouillabaisse and high-class period duds.
That period is 1983, when the play was first produced. It has since been seen all over the world. The 1985 Steppenwolf production starring John Mahoney, Terry Kinney, and Kevin Anderson opened in Chicago and then ran for eight months Off Broadway; later it went to London with Albert Finney, who also made the 1987 film. Al Pacino played Harold in Los Angeles in 2005. You can see why actors are attracted to it: The roles, with their various stylistic references and physical demands, are almost like five-finger exercises for drama students. And audiences enjoy watching them flex. I did too: It's undeniably a pleasure to hand yourself over to Baldwin for two hours. And under Daniel Sullivan's typically impeccable direction, Ben Foster (who replaced Shia LaBeouf after a much-discussed contretemps) and Tom Sturridge are also excellent as Treat and Phillip, the former giving a more naturalist performance and the latter pulling out all the expressionistic stops. He seems to have been coached for the role by Bonzo the chimp.
But roles, even as well filled as they are in this production, don't make theater, and the question that lingers after the swift little dream of Orphans passes is: What just happened? What was that about? It's not a realistic drama, nor is it a poetic tragedy. Is it political allegory? Ronald Reagan, in his B-movie days, appeared in two Dead End Kids flicks: Hell's Kitchen and The Angels Wash Their Faces, both in 1939; by 1983 he was America's smiling father substitute … Well, maybe not.
Mostly, as John Simon wrote of the film, Orphans feels like a "synthetic contraption"; it's as if someone had mugged David Mamet, Harold Pinter, and Sam Shepard and pasted together the bits of paper that came out of their pockets. That one of the characters is named Harold is a possible tell. (Harold in Orphans could have stepped out of any number of Pinter plays in which the nominal visitor winds up in charge.) Whoever is being homaged, it's faint praise at best to miss the meaning while perfectly replicating the brew of sadism and disowned homoeroticism in a world gone stag. Indeed, the whole Shia LaBeouf tempest should have been a clue that Orphans was little more than a teapot.
Jekyll & Hyde (at the Marquis Theater through June 30)
Last night I dreamt I went to Manderley again. Or perhaps it was a castle in Transylvania, or the island of Monte Cristo, or a wormhole to Wonderland, or some other place known to us from classic novels with presold stories and no copyright protection. Ah yes: this one took place in London, in the 1880s, not that you could tell from the steampunk pornwear the housemaids modeled, or the male lead's fabulous shoulder-length tresses. No matter; the techno thrums and swoopy electronica of the overture made it clear we were in Wildhornia, that land of dark roiling clouds, where actors scream, all the time, and no one alive—or, especially, dead—is safe from predation.
This time, Robert Louis Stevenson was the victim. The librettist, Leslie Bricusse, had performed a dangerous experiment in which the DNA of Stevenson's novella The Strange Case of Dr. Jekyll and Mr. Hyde was crossed with that of a snuff film to produce something resembling a musical. The result does contain recognizable traces of the once-fine story in which Jekyll develops a potion that can isolate evil from goodness within one body. Unfortunately, something goes wrong, and I don't just mean that the show got produced. Produced again, that is: My dream was a revival of a dream that ran on Broadway for almost four years starting in 1997. Then as now, Jekyll's experiment works too well. His evil side, embodied as Hyde, takes over, eventually crowding Jekyll out. This causes Hyde to go on a hateful rampage, which I never really understood until now.
I heard awful things in my dream. Constantine Maroulis, who plays the title roles, had a cordless microphone aimed so deep into his mouth it was practically in his amygdala. I could thus listen in on his salivary glands at work while he shrieked his impossible high notes and shook his head as if expelling a dybbuk. I also think I heard a cat. If so, the cat was inexplicably Scottish, or part Scottish and part Viennese. Maroulis, give him credit, has mastered a dialect so difficult no one else on earth speaks it.
And then a rhyme happened, but that was an accident, much as might occur between any two consenting words in a sentence.
Having read the original Stevenson, I was unfamiliar with the story that meanwhile sprayed across the footlights. It involved many characters who were not only inexplicably absent from the novella but who have also been absent from the world since it began. Lots of them were jolly whores with luxury bedding; it was one of those, played by R&B recording artist Deborah Cox, who perpetrated another rhyme:
Those triple-deckers are my favorite ones
I'm also very partial to buns.
Naturally, she was singing about how much she likes ménages a trois with her customers, and especially their buttocks; this was meant to be witty, a fact signaled by the rhyme's actually landing on the right stress in the music for the first time all evening. Despite this felicity of wording, the idea was perhaps off-putting sociologically.
It was now time for something to happen and so Jekyll mainlined some Tang, unbound his marvelous hair, and turned into Meat Loaf. Was it a good thing, for Stevenson at least, that Hyde then proceeded to kill everyone who was not in the original story?
I was bedeviled by other thorny questions as well. Like: Why does no one recognize Hyde as Jekyll, when the only difference between them involves a scrunchie and glasses? Is Frank Wildhorn overcompensating for his name? What is that cat sound? Seeking relief from such imponderables, I went back to hunting for rhymes, but was forced to stop after this one seemed to catch me doing it:
This is the moment
This is the time
When the momentum
And the moment are in rhyme.
At that point my brain exploded. Which, when my copyright runs out, could be the subject of another Wildhorn musical.