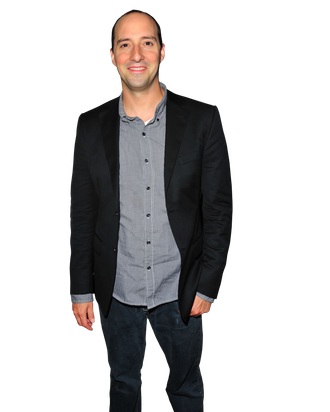 Photo: Chance Yeh/PatrickMcMullan.com
Tony Hale is about to score a hot comedy trifecta. On Sunday, he'll be back as the vice-president's right-hand punching bag Gary in HBO's Veep, and in May, he'll get hooked again in the highly anticipated return of Arrested Development. Hale also makes an appearance in Paul Feig's upcoming summer comedy The Heat, starring Sandra Bullock and Melissa McCarthy as mismatched law-enforcement officers. This calls for juice! Vulture rang up Hale to get the scoop on playing whipped guys, the aftermath of a particularly painful scene between Buster and Lucille, and what to expect from his onscreen run-in with McCarthy.
Between Gary and Buster, do you feel like you've got the market cornered on these lapdog types?
Yeah, but I have to say, as unhealthy as Gary is, at least he's focused his angst into a career. Buster's paralyzed. He can't leave his house. At least there's some kind of productivity that Gary's getting out of it.
How will Gary's new girlfriend, Dana, impact his work?
Well, it doesn't bode well for his relationship with Selina [Veep's Julia Louis-Dreyfus] because he has to divide his attention a little bit. Pretty much if Gary had his way he'd be married to Selina.
There's a great scene in the premiere where Selina's yelling at her ex and Gary's dictating her side of the conversation.
[Laughs.] Of course. Gary's furious with her ex! He can't understand why anyone would want to reject her.
And yet, when it comes to Gary, Selina's the worst!
She screams at him, and he sees flowers.
Your nose is always buried in Julia Louis-Dreyfus's hair and neck. Does she smell good?
She smells great! Yeah, he doesn't have proximity issues. As close as possible is good for him. And he's got a lot of whispering to do, as you know.
At press tour, Netflix screened a "deleted scene" from the new season of Arrested Development. In it, Lucille and Buster are in her penthouse and she's repeatedly blowing cigarette smoke into his mouth while he runs back and forth to the patio to get rid of it. What was it like filming that?
I felt like it was Carol Burnett and Tim Conway. It was a loooong sketch. Her blowing out the smoke, me retrieving it. [Laughs.] Of course the aftermath of that … you know, I don't smoke, so that was not very fun. But it was a blast, too, because working with Jessica Walter just is.
How bad was the aftermath?
It's kind of like if I have a cigar, the day after its like Oh, God. It's just nasty. We use those herbal cigarettes, too, and it's still like, ugh.
Jon Hamm says they are terrible.
Yeah, in the moment you're not recognizing it, but at home it's like, I need to put some bleach in my mouth.
I can't believe it's a deleted scene. Some of the reporters around me were in tears.
I think Mitch was still in the process of editing the show, so maybe it'll be in there. That's what's so exciting about it, that element of surprise. When we were doing Arrested Development, you never ever knew what was going to happen. I remember when they'd come up to me, like, "By the way, Liza Minelli's going to be your girlfriend." "A seal's gonna bite off your hand." "You're going to go into the army." Like, what? And actually, to be honest, while we were shooting this new season, I'd be reading the scripts like, I have no idea how this is all going to mesh together. I know Mitch has this big plan all in his head. I can't wait to see it put together.
Have you seen any of the episodes?
No. I haven't seen anything. I haven't even seen the scene you're talking about. I couldn't be there that day [at press tour]. This whole thing was very surreal. It's like being in a time warp. It was even weird coming back to Buster.
How so?
Just because in your mind you're thinking it's been years. People have an idea of Buster, and you think, Can I match that expectation? I will say once I heard Jessica Walter's abusive, demeaning voice, it just all clicked in. [Laughs.] It was like flipping this immediate switch. "Oh, I'm back!"
Because the actors weren't all there at the same time, is there anyone you wish you'd been able to work more with?
There was one time we were all together in the penthouse, I think back in August. Everyone was together, Mitch was there, everyone was dressed in wardrobe. That's when I was like, Whoa, this is crazy surreal. Then after that, like you're saying, we'd work with each other off and on. I actually didn't work with Portia de Rossi much this season. I saw her, but our stuff was kind of separate. I did of course get to work with my lovely Liza Minnelli, who is such a joy. I don't think I got to work with Henry Winkler as much as I would have liked either. He came back and he did a lot, but I barely got to see him. Hopefully the movie will happen and we'll all be together.
Have you ever had any issues wearing Buster's hook? 
The actual hook was pretty safe. I will say, once we finished shooting each day, I couldn't wait to get it off because it got so hot. It was like this container that you put over your hand, and I always felt bad when I had to give it back to the props department because it did not smell very nice. Poor Buster, though, right? He liked to give massages. It's so sad.
Since they're releasing all fifteen episodes at once, have you thought about how you want to watch?
Oh really? Is that what they're doing? I hadn't heard that. Oh man, I haven't even thought about it! I think Jason said it's all like a big puzzle? I don't know man, it's all a mystery to me.
You have a little over a month to figure something out.
I'm a little nervous now. It should be interesting. What we did was just crazy, crazy fun.
Can you talk about who you play in The Heat?
Yeah. Paul Feig used to direct a lot of Arrested Development episodes, and I did a movie with him a long time ago called Unaccompanied Minors. He's the sweetest man, and he brought me in for a few days to work opposite Melissa. She plays this kind of rough cop, and I'm this guy who's trying to pick up a prostitute, and it just doesn't go well.
That's nice he thought of you for that.
I know, exactly. "Tony, you know what I really have been thinking about you for? A guy who gets in trouble with a prostitute." Oh, perfect! What's so fun about Paul is it could be 90 degrees outside and he always wears a suit and a tie. It's like he's out of The Great Gatsby. It's really out of respect for the actors and the crew. He dresses up for work.
When you say it doesn't go well, do you mean your character and Melissa's fight?
Yeah, yeah, yeah. There's a little combat.
Did you have to rehearse or train?
No, just on the fly. It's not pretty.