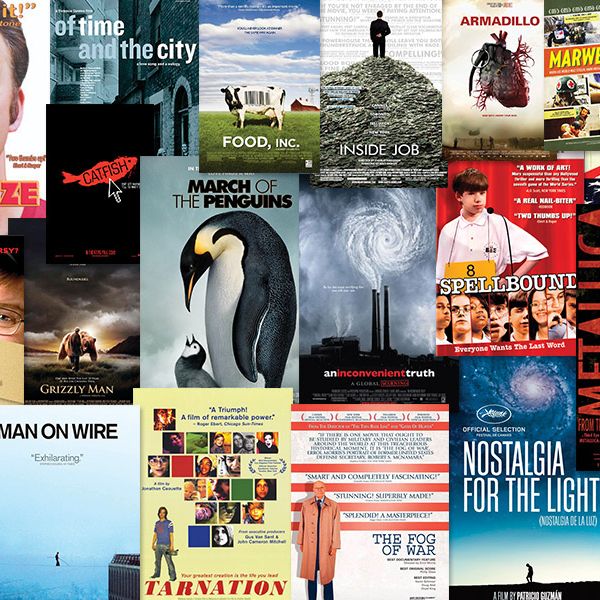 The following documentaries from the 21st century were chosen for their abiding influence and/or "Wow!" factor. Most of them—not all—we also happen to love. But we did leave out some more obscure personal favorites to make room for the penguins, etc.
1. Spellbound (2002)
Jeffrey Blitz's portrait of eight National Spelling Bee contestants and their families has a deep resonance: Among other things, mastery of the English language becomes a means of affirming one's Americanness. The second half—in which the characters are knocked off one by one, as in an Agatha Christie thriller—has the audience hanging on every letter. The downside: Its massive success ushered in an age of similarly structured competition docs.  (D.E.)
2. Fahrenheit 9/11 (2004)
After Roger & Me, the Michael Moore doc with the most impact: part prosecutorial brief, part rabid editorial cartoon—a blend of insight, outrage, and innuendo. It's not a documentary for the ages, but as an act of counter­propaganda against a monstrous government, it has
a bullying force. (D.E.)
3. Exit Through the Gift Shop (2010)
Graffiti guerrilla Banksy's brilliant feature-length pranksy shows how far you can go in blurring the lines between real and fabricated and make a doc that works either way—that has its own satiric truth. (D.E.)
4. Bus 174 (2002)
José Padilha's documentary tells the story of a bus taken hostage by an unstable, underclass addict, and the carnage (all televised) that followed owing to police incompetence. It's the rare non­fiction film that plays out (via archival footage) as if it's in the present tense—but with the inevitability of classic tragedy. (D.E.)
5. Grizzly Man (2005)
Werner Herzog's documentaries are more popular than his fictions, and this one shows why. It's a portrait of Timothy Treadwell, who obsessively idealized and shot footage of bears—including the one that would ultimately eat him (and his poor girlfriend). Herzog intercuts Treadwell's own footage with hambone Teutonic musings and, in one scene, a shot of himself listening on headphones to the actual audio of Treadwell's death and announcing that no one else should ever hear it. (D.E.)
6. Marwencol (2010)
Art as fixation, art as therapy, art as escape: Jeff Malmberg's film about a man who, recovering from a horrific beating, builds a compulsively detailed miniature town, is a gorgeous, haunting journey down the rabbit hole of obsession.   (B.E.)

7. Of Time and the City (2008)
The great Terence Davies creates a melancholy, even bitter audiovisual collage about his hometown of Liverpool. But, as always with Davies, the real subject is himself, and in its nakedness, the film acts as both a tribute to a city and a confessional. (B.E.)
8. March of the Penguins (2005)
This boffo French doc about ­Antarctic penguins is a ­triumph of ­location, location, location. It's the story of an instinct so primal that the movie feels like a creation saga. You watch these ­funny, stubborn little creatures and contemplate the ­endurance of all life. (D.E.)
9. Taxi to the Dark Side (2007)
The hope was that Alex Gibney's Oscar-winning documentary could break through even to people who relished torture set pieces on 24 and would hear no evil about the War on Terror. It didn't, but the story of a cabdriver mis­takenly ­arrested and tortured to death at Bagram Air Force base leaves you brooding on the human capacity for cruelty in a way that ­transcends the gory details. (D.E.)
10. Armadillo (2010)
Though impartial, this documentary following a group of Danish ­soldiers stationed in Afghanistan was a cause célèbre in Denmark over its suggestion that they may have killed wounded Afghans. But this is more than just mere exposé; surprisingly lyrical, it's arguably the best of the many combat docs that have come out of the Iraq and Afghanistan wars. (B.E.)
11. Inside Job (2010)
It could be said that what happened during the 2008 financial crisis was too complex to depict compellingly on film. Documentarian Charles Ferguson begs to disagree, taking it to the culprits in this passionate indictment of the greed and egomania that helped sink the world economy, and even skewering his on-camera interview subjects. (B.E.)

12. Man on Wire (2008)
The posters billed it as "the artistic crime of the century," but James Marsh's present-­tense documentary/re-­creation of Philippe Petit's 1974 tightrope walk between the Twin Towers was more the redemption of the decade—a playful, touching, much-needed reclamation of the fallen towers from the realm of monumental tragedy. (D.E.)

13. Food, Inc. (2008)
This talking-heads doc broke through to a wide audience, and no wonder: It's about how most of what we eat comes from, like, five companies and has little to do with nature, family farms, or anything else on the label. It's the stuff of the most paranoid science fiction—The Matrix for the diet-conscious. (D.E.)

14. An Inconvenient Truth (2006)
Like a molasses-voiced prophet of the apocalypse, Al Gore presents the case for climate change, and chills you to your bones. With one fell swoop, director Davis Guggenheim helped resurrect Gore's image (remember when we all thought he couldn't give a decent speech?), put climate change at the forefront of public discourse, and made the hero-driven social-issue doc the premier mode of American nonfiction filmmaking. (B.E.)

15. Super Size Me (2004)
Morgan Spurlock got fat and depressed after a month of chowing down ­exclusively on McDonald's—but his sacrifice inspired other docs starring guinea pigs (No Impact Man among them) and paved the way for other anti–Big Food screeds. Even better: So disastrous was Super Size Me for McDonald's image that the chain was forced to discontinue their titular trough-size offerings. (M.S.)

16. Catfish (2010)
The name is now synonymous with online mis­representation—and there are still some folks who doubt the veracity of Ariel Schulman and Henry Joost's ­influential doc. But if the ­video-diary format does lend itself to subjects who are acting instead of being, the movie still works as a story of ­isolation, deception, and finally connection in our strange new Internet-oriented world. (D.E.)

17. The Fog of War (2003)
Composed entirely of a riveting interview with former secretary of Defense Robert McNamara, Errol Morris's Oscar-winning film uses one man's journey through American politics and the military-industrial complex not just to reflect on the horrors of the past in Vietnam, but also to foretell the horrors to come in Iraq. (B.E.)

18. Nostalgia for the Light (2010)
The doc version of The Tree of Life. Chilean director Patricio Guzmán, best known for his epic Battle of Chile documentaries (about the U.S.-backed right-wing takeover of his country), offers up a cosmic take on politics and collective memory. In Chile's Atacama Desert, the driest place on Earth, he follows two groups at work: astronomers taking advantage of the extremely translucent sky, and women searching for body parts of friends and family dumped there by the military regime. A movie that gives you chills of exaltation and horror. (B.E.)

19. Metallica: Some Kind of Monster (2004)
It was supposed to be a promotional video, but when the band went into group therapy and almost fell apart, Joe Berlinger and Bruce Sinofsky's film became an epic about the creative process and self-destruction. Its many rock-doc imitators since haven't been so lucky.  (B.E.)

20. Tarnation (2003)
A volcanic blend of biography and hallucination collage, Jonathan Caouette's memoir is fashioned from home movies, revelatory stills, and film clips, all rubbed and buffed on a Macintosh computer with the basic program iMovie. It's devastating—even if it does portend a future of shitty home-movie docs by exhibitionists. (D.E.)

*This article originally appeared in the April 22, 2013 issue of New York Magazine.