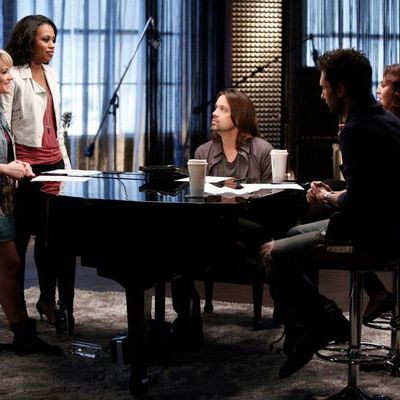 The battle rounds have arrived! And what a relief they are, really. For one, we don't have to add new people to this motley crew of accepted singers anymore. It was getting so large it was like the Swiss Family Robinson up in here. And for another, the judges finally changed clothing, like normal people who observe the laws of nature. (It was really, really distracting to me, what can I say?) Usher added an architectural pair of sunglasses to his usual black, Shakira wore a bronze lamé thing that recalled the spangly excesses of Joan of Arc, and Adam dressed up as a 1957 lounge lizard in Reno. The world's favorite undertaker, Carson Daly, even wore a tie and a funeral suit! Things have progressed in their own way, is what I am saying.
Battle rounds of The Voice are both confusing and exhilarating. So let's waste no time and delve right in, shall we?
Sasha Allen vs. Amber Carrington, "Try"
Sasha Allen was one of my favorite voices from the first circle of hell/competition, so I was excited to see her battle Amber, who I thought had an intriguing, if not particularly memorable, country-inflected audition. Unfortunately for Sasha, I think "Try" just happened to fit Amber's voice better (Sasha gave Pink an almost operatic quality, which is an interesting thing to do and definitely kind of awesome, but a little bit weird). Adam, outfitted in an adorable printed shirt, told Sasha that she was "thinking too much" and Hillary Scott, of Lady Antebellum fame (how is that an acceptable band name?), told Amber, "You be you." Who is going to win with that kind of advice?? It is so different and yet so helpful. When the battle started, however, and crypt-keeper Carson Daly whispered in a leaden voice that Amber was a "country singer looking for a fresh start" even though she is approximately 1-year-old and not at all Wynonna Judd, I knew the competition was already decided in Amber's favor. And it was, but don't feel too bad for Sasha, everyone. She was stolen by both Usher and Shakira and ended up picking Shakira. She still might win this thing.
Garret Gardner vs. J'Sun, "How You Like Me Now?"
Shakira and Joel Madden joined forces on this battle, and I have to say, I think Shakira is a great coach! She had some really good advice for Garret, who toned down his tremendous rasp, and picked a great song for both contestants. I personally thought this was a great battle. Even urbane maître d' Carson Daly said, "That is how you battle!" in an excited way. No one else seemed as impressed as he was, though. Shakira picked Garret, which was a foregone conclusion because J'sun was one of those montage people and thus destined from the beginning to fail.
Holly Tucker vs. Michelle Raitzin, "Blow Away"
Sheryl Crow is here! Sheryl teamed up with Blake to help coach his two protégées, Holly Tucker and Michelle Raitzin, yet another montage person who apparently had an uncle who is an opera singer. Sorry Molly, we know what is going to happen to you, and it is not pretty. Holly apparently struggled with conveying intense emotion (she doesn't really), and Michelle, although wearing an amazing headband, was really pitchy. The battle was kind of sad. Michelle lost breath at one point and went to falsetto. Holly showed extreme emotion and kept baring her teeth in anger. Blake picked Holly in the end, thus underlying the importance of an emotional backstory in all aspects of American society.
In a side note, there is a scene (a scene that one imagines is supposed to be candid) where all of the male judges are sitting around and discussing Shakira's body after she had her baby. Here is what I love about this show: its embrace of women's rights! I love it. Moving on.
Jess Kellner vs. Taylor Beckham, "You Know I'm No Good"
I always thought Taylor Beckham had really great pitch, but there is probably no worse song for her in the world than Amy Winehouse's "You Know I'm No Good." There is also no better song for Jess Kellner who already has a raspy, mellow sound like Amy's. This battle was so decided in her favor, it was almost like Taylor didn't have a backstory. Usher and Pharell teamed up to coach the singers anyway, though. I was really excited to see Pharrell, who was wearing a beautiful hat. He told the two girls to "get lost" in the song, like Chet Baker (okay?). Usher even went to one side of the room and told the girls "attract me toward you," but it was no use. The battle was predictably one-sided, and Jess won and Taylor looked scared the whole time. Luckily at the last minute Blake stole Taylor, I think just because he likes the Olympics and she was originally training to be a gymnast, but whatever.
Hark! It is Christina Milian, appearing like a gothic jester to talk about how Starbucks helps The Voice do community service. Hello, friend. Nice to see you there.
Christian Porter vs. Swon Brothers, "Won't Back Down"
"When I saw Sheryl Crow, she's like an angel," said one of the Swon brothers about Sheryl Crow. I have to agree with you, unnamed Swon Brother. Sheryl Crow is awesome! She and Blake valiantly tried to give advice on this battle, which starred the handsome bar-singer Christian Porter against the imitable duo from Oklahoma, the Swon brothers. (In that moment, I just reminded myself of the deadly and pallid heir to Ed McMahon, Carson Daly.This job is seeping into my consciousness.) Christian, initially worried about hitting all the notes, actually did a great job. He has a delicate kind of voice, like a choir boy trying to be soulful. The Swons had great harmonies, but I think they are fundamentally less dynamic, however Blake picked them, because "They are Okies, and I'm an Okie," which honestly seems like a terrible reason.
Judith Hill vs. Karina Inglesias, "Its a Man's Man's Man's World"
This battle was awesome. Both Judith and Karina have great voices, and everyone in the battle had a fake Mohawk. (Except for straight-edge Carson Daly, who would never. Black nail polish is as far as the man goes.) I thought Judith was going to be much better than Karina at first, but Karina really held her own in the battle. "That was the best battle I've ever seen on the show," Adam said before picking Judith as the winner, but Shakira stole Karina so all was right in the world.
That is the show. What did you think? I actually thought it was good! At this rate, the next show might even get three stars.