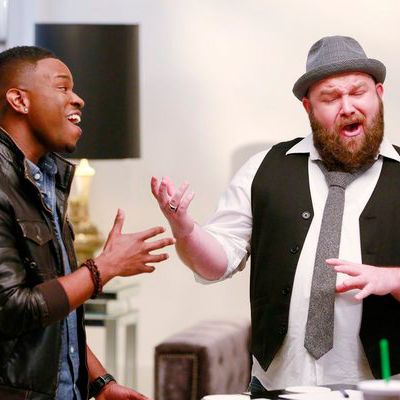 Wow, everyone. That was an exciting episode of The Voice. Many battles were legitimately quite hard to decide and required careful consideration. At one point, Pharrell wore one of the most beautiful sweaters I have ever seen, and Carson Daly wore his own death mask! That statue of a giant hand holding both a microphone and a peace sign never seemed more imposing, flexible, or appropriate, and that is saying a lot.
But why dither any longer? Let's get to it.
Jessica Childress vs. VEDO, "Locked Out of Heaven"
This was an incredibly moving battle because VEDO's mom, who had been sick with lung cancer during the blind auditions, recently passed away. VEDO was clearly so sad; it was just heartbreaking to watch. He went up against Jessica Childress, the bubbly PR agent who talked about her husband constantly (though he does seem nice). She was worried that the song was too high for her. However, Pharrell purred at Jessica that the key was perfect for her, and that was the end of the discussion. As it is wont to be! Not everyone can wear a navy-blue sweater with leather stripes as if they are the most handsome Marine captain in the world. This battle, I thought, was quite close. And Pharrell was right about the key. I actually thought Jessica sounded much better in a higher register, but VEDO also did a really great job. They both killed it on the harmonies. Even "Ladies Man, Man's Man, Man About Town" Carson Daly was confused about who won and rolled the R in Shakira's name in a metropolitan way when he asked her if she knew who won. She didn't! No one knew. Finally, Usher picked VEDO. I was surprised Jessica wasn't stolen by anyone actually. In her exit video, she was so genuinely nice about VEDO that I cried again. Sometimes this show can be too much!
Luke Edgemon vs. Monique Abbadie, "You and I"
This was an odd battle. There could not be anything more different than these two voices, and they sounded legit wrong together. In other news, Shakira is one of the best coaches on the show. Every time they cut to her and the silent hair of Joe Madden, she was always giving incredibly good advice like, "A little too Broadway," or "Each one of you respect your space in the song." No one on her team ever takes her advice, though, and Monique and Luke both out-sang each other like they were in a middle-school production of A Chorus Line. I actually thought Monique did well here. She actually sounds a lot like Lady Gaga. Luke sounded fine, but all of the other judges went crazy for him, to the point where Shakira said, "Because you seem so excited about Luke, I'm going to pick Monique," which was kind of awesome. Blake and Usher both tried to steal Luke, and Luke went with Blake.
Jacqui Sandell vs. Savannah Berry, "Little White Church"
I felt like this battle was hard to watch for some reason. For example, when Blake told Jacqui of leg tattoo fame to "watch the growl" on the high notes, she responded by saying, "When I was 18, my voice sounded like that!" and then pointed to Savannah, who is 17. It was so uncomfortable, I briefly had to cover my eyes, although now, writing those words in the cold light of day, I don't really know why. Maybe I'm too sensitive? It also might have been because I despised the song they were singing with my whole being. It sounded like a Gregorian chant. Neither person sounded particularly good on this song, and when Savannah eventually triumphed, it was like winning a war of attrition. There were two redeeming parts to this battle, however. One was when everyone explained the word oaf to Shakira, and another was when a mournful Alfred Lord Tennyson/Carson Daly gave Jacqui a weird hug on one of her leg tattoos.
C. Perkins vs. Kris Thomas, "It Will Rain"
This was kind of a sad face-off because I felt like there was a disparate skill level here. Kris Thomas, although he has very slight pitch problems, just naturally has an extremely good instrument. He can do anything with his voice (he killed it on that Whitney song in the blind auditions, for example). C. Perkins, has a clear, unique tone, but he doesn't have that kind of flexibility and range, so the two of them are just kind of hard to compare. Even C. Perkins sort of knew it. I felt like he was extremely nervous beforehand. In the actual performance, however, he really did a pretty good job. Usher picked him on his way out and I was happy.
Hi, Christina Milian! Why do you have that horn on your head made entirely of hair?
Midas Whale vs. Patrick Dodd, "Burnin' Love"
Sometimes I think duos are just too hard to have on the show. It's unfairly difficult to compare the harmonies of two people with one voice. Especially if the voices are as fundamentally different as Midas Whale's and Patrick Dodd's are. It is hard not to privilege style over substance. Midway through the rehearsals for this battle, Adam decided the song was too funereal or something and made the song more uptempo and bluegrass, i.e. far more in the wheelhouse of the folksy Midas Whale. As both teams got out of the Kia Sorrento that escorted them in this boxing match of dreams, I knew Midas Whale was going to win, and they did win. They drowned out Patrick with their exuberance.
Orlando Dixon vs. Ryan Innes, "Ain't No Sunshine"
This was a truly great battle for a lot of reasons. Usher had AMAZING glasses on at the beginning. Pharrell gazed at the singers pensively and occasionally spouted nuggets of philosophy. "Can I be candid with you?" Pharrell, wearing his glorious sweater, said to Orlando at one point. "Your voice is incredible, but it is your shield." It made Orlando cry! He cried because it was true. Can Pharell be a judge next year? I would cry everyday. The actual battle was just fantastic. It was hard to decide who was better actually, even though the Paper of Record, Carson Daly, kept pressuring everyone to make a decision quickly. Usher eventually picked Ryan (he really does have such a great voice), but Adam stole Orlando, so all was right with the world.
And that's it! Also, someone told me Ready for Love is canceled? I didn't even see promos for it yesterday! I am weirdly really sad. Sometimes good programming does not get a chance to flourish in this ruthlessly commercial world.