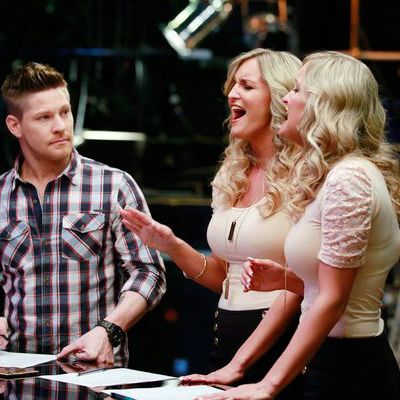 I have a confession to make to you, dear readers. I usually find the second night of our little Orpheum circuit rather anti-climactic. Who wants to watch the anemic spirits that did not merit a feature on the first night? Who enjoys montages that deprive you of the backstory you so despise yet weirdly crave? Yet I found tonight's episode strangely satisfying. There was back-biting! There was a Lady Antebellum song that was so catchy but also made me hate myself! And there was, of course, Carson Daly, one of the most discerning protagonists on a new reality show created by Eva Longoria called Ready for Love. Ladies, let's fight over him.
Shawna P. vs. Brandon Roush, "Piece of My Heart"
This was what we in the business of recapping The Voice like to call an unfair fight. Shakira gave Janis Joplin's "Piece of My Heart" to a Janis Joplin impersonator (Shawna P.) and another nice kid that sounds sort of like a choir boy (Brandon). Even poor Brandon was like, "Shawna is a lot like Janis, so that freaked me out," in his monologue. In order to even vaguely manufacture uncertainty about this battle's outcome, during rehearsal Shakira told Shawna to "regulate the intensity" of her voice, but I mean, come on. That is not a thing one does when one is singing Janis Joplin. The best part of this battle was when a psychotic William Blake/Carson Daly framed it as a "battle of youth versus experience." I think everyone can agree that he is a man of great sensibility. Obviously Shawna won this battle. She actually made that raspy song, which I have never really liked, sound sort of beautiful.
Sarah Simmons vs. Duncan Kamakana, "Wanted You More"
Can we all acknowledge that the sessions pianist in all of these battle rehearsals is amazing? And he has such beautiful hair. What if he were a judge next year? I think he would be a really good judge! This battle was interesting because Duncan is a mumbly, pitchy sort of singer and Sarah has a really clear, soulful, controlled voice. The two of them battled over this really catchy Lady Antebellum song called "Wanted You More." I might have gone into a rabbit hole with this song. I might have listened to it about seventeen times since the episode ended. Sometimes that happens to me with this show. I listened to "One More Night" by Maroon 50 times in one day. I'm not proud of it. I'm really not proud of this Lady Antebellum business. It's just something that happened to me. Sarah Simmons obviously won this battle. Even Duncan knew it. He didn't even fight to be stolen by proclaiming gratefulness. Duncan might be so handsome that it's crazy, but that's a side note. It has nothing to do with this competition, which is all about voices.
Guess what!? The Morgan twins were beaten in a montage! Who would have thunk such a thing?
Cathia vs. Mary Miranda, "Antes De Las Seis"
This battle had some slight drama in it that made me uncomfortable. Shakira assigned both Cathia and Mary Miranda one of her older songs called "Antes De Las Seis" (This is also an extremely beautiful song. I am just about to go down the rabbit hole with it, in fact), and Mary didn't know it at first. Cathia was really getting mad about this, but I don't know. Sometimes it's really hard when you don't know a song to just sing it on command. Later, Cathia told Mary she was "singing on her chorus." As one who often has sympathy for those who are easily confused, I felt bad for Mary. In the battle round, Cathia had some slight pitch and control problems. Mary had a really pretty tone, but perhaps less original phrasing. Basically, they both had their moments, but Mary gave a much more precise performance. After all of the male judges guffawed over their overweening ignorance of Spanish, Shakira picked Mary for the winner. Later, Cathia was stolen by Usher, who eventually revealed he had a No. 1 Latin record. Let's all go listen to that one.
In other news, READY FOR LOVE IS STILL HAPPENING. I just saw a new episode. What is going on? In this one, some girls cut wood with a gigantic lumber saw. Also, a glass elevator plays a huge role in the dramatics? Please do not cancel this show.