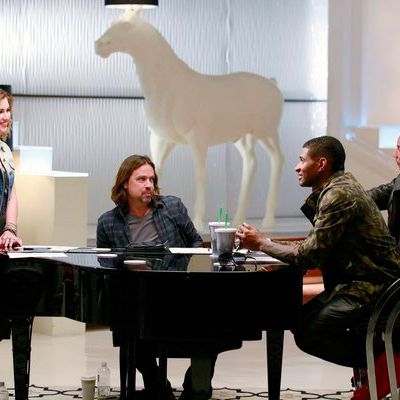 What an odd little episode of this show of ours. Nothing particularly noteworthy happened. No battles were won or lost with any panache. The whole thing approached an almost dreamlike boringness, a Last Year at Marienbad for the 21st century. And where was our resident Carl Jung, Carson Daly? If I had my druthers, I would give the whole miserable pantomime only one star. Oh gosh. Let's embark on this sleepy journey together.
Michael Austin vs. Warren Stone, "My Kinda Party"
Michael and Warren are some of the only country singers on Adam's team, so naturally he put them together even though they have totally different voices that are actually quite hard to compare. Adam is a genre essentialist, but I like it! He did, however, give them a miserable polka to sing. Man, I had not heard "My Kinda Party" before, but it is a wretched song. I felt bad that both of these guys had to sing it. Michael recently had a tumor removed from his sinus canal, but I thought he did a great job and probably a better one than Warren. (The latter weirdly sounded better in rehearsal. Sometimes I wonder if the producers of this show choose to highlight the one time the battle loser sounds good in rehearsal. They seemed convinced the reversal of fortune is a brilliant narrative device.) Adam picked Warren, though. A mentalist we all know and love (Carson Daly) put his arm around Michael, who gave a very humble, warm exit speech.
Jeff Lewis vs. Josiah Hawley, "Roxanne"
I have decided that I really love Pharrell. The whole time these two jokers were caterwauling "Roxanne," Pharrell looked deeply puzzled, as if privately amused by the proceedings. It was the only way to be! To be fair, "Roxanne" is a hard song and Sting is a vocal freak who makes it look easy (it was probably a bad song pick on Usher's part), but Jeff and Josiah were already singing the song significantly lower than the original key and they still couldn't do it. Usher actually got mad at them because they sounded so bad, but it didn't even stop them from sounding bad. They literally could not help it. The two were basically identical in their skills and weaknesses so I don't even know who I would have picked. I think Usher picked Josiah because he was a former model. Sorry, Jeff, your laugh will not live in infamy, at least in my book. You were just acknowledging the obvious.  
It's everyone's favorite time in the episode: montage time! Do you want to know what happened? Bluesy Grace Askew won against a rando. Former Ford Model Audrey Karrasch and Tawnya Reynolds also beat randos. The end.     
Caroline Glaser vs. Danielle Bradbery, "Put Your Record On"
These two kids are adorable. Sheryl Crow was so nice to them because she knew they were adorable, too, so I felt validated in my opinion. Both did a very nice job with the song, and I think both were better than they were in the blind auditions. Danielle has an extraordinarily precise instrument, which sounds poncy, but I mean it sincerely. Shakira called their performance "as refreshing as tangerine ice cream," which was an awesome thing to say because no one knew what that was (and neither do I). Danielle won the battle, but Caroline was stolen by Adam and Usher, and eventually she chose Adam.         
So you see? This episode was so weird. But how about that Ready for Love? I have never seen a more insane preview for a show in my life! It seems to be in some way based on The Voice but also on The Bachelor? How is that possible?