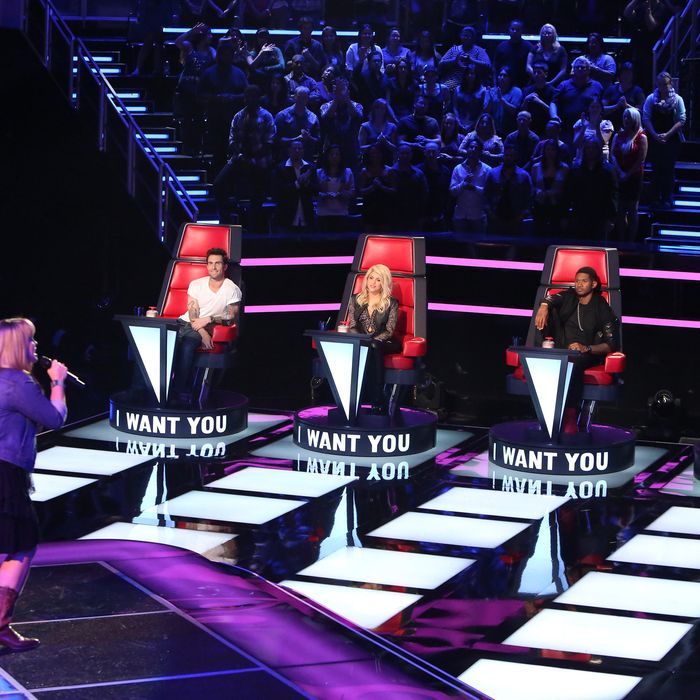 Photo: NBC/2012 NBCUniversal Media, LLC
Welcome back to The Voice. This was quite a long two hours. After a brief montage of previous events, we joined American Hero Adam Levine, Justin Bieber Survivor Usher Raymond, Women's Right Advocate Blake Shelton, Cirque Du Soleil Perfomer Shakira, and a ghost flitting around the side of the screen (tt's Carson Daly!) backstage. The camera panned to the judges, wearing the same outfits they always wear, as they tried to speak Spanish to each other. I can't even. On a separate note, why are the judges always wearing the same outfits? I sort of think it's rude. This saga is happening in epic intervals for the rest of us. It is like The Thornbirds. I resent that it's just one long day for the judges. I resent it, I say! Although this perhaps explains why all of the judges keep acting like they have never seen each other before and are meeting for the very first time.
The Swon Brothers, "American Girl"
The first act of the night was the Swon Brothers, a duo from Oklahoma. As we can see from old photos, they were tremendously adorable kids with mullets who have grown into men with very sassy personalities. Carson, in a leather coat that makes him look the spitting image of Edgar Allan Poe, seemed very charmed by them. He even weakly clapped to the beat when they performed, using a lot of his precious energy. I, for one, was less charmed by the Swons, who I thought had pretty serious pitch problems. However, I am probably not the best arbiter of raw charm, because Shakira and Blake and Usher turned around for them. "You just had your first swoncert!" the Swon Brothers tell everyone. (Do you see what I mean about charming?) They end up going with Blake because Blake is apparently from Oklahoma, too. Doesn't that technically mean that Blake is from the Middle West? Why does he always try to claim the entire South as his ancestral home? Is he Scarlett O'Hara? I don't know.
Taylor Beckham, "I'm Going Down"
Taylor Beckham was training to be an Olympic gymnast before she found her calling on This Is The Voice! She has a nice, flexible tone and sang Mary J. Blige (who is notoriously difficult) well. Shakira and Usher turned around for her. Despite Shakira's claim that she is "like a contortionist," which apparently is the same thing as Olympic gymnastics (?), Taylor goes with Usher. Usher dances in celebration. This whole time I had no idea he was wearing red shoes! I don't have a crush on him.
Sam Alves, "Feeling Good"
Sam Alves had a really sad backstory. As a baby, he was left in a box on a doorstep in Brazil with a note attached to him that said, "Drank milk at 1pm 1989." Sam even showed Carson Daly a scanned version of the note on a Sprint tablet. Alves performed "Feeling Good" and acquitted himself decently, if unremarkably. No judges turned around for him, but Shakira did speak to him in Portuguese.
Karina Inglesias, "I'm the Only One"
Karina Inglesias is a music teacher in regular life. In the montage before her performance, we see her jamming with children in a windowless room and wearing a fedora. Is this what music teaching is today? (Yes!) She brings her grandmother who recently had a stroke to the auditions. Her grandmother is really cute and supportive. Karina sings Melissa Etheridge's "I'm the Only One," and I'm not sure it's the right choice for her. It's far too low in the beginning. To be fair, that song is impressive if done well, but it rarely is because of the vocal span. Nevertheless, Blake and Adam turn around for her. She picked Adam, which makes sense because she didn't have cowboy boots on.
Garrett Gardner, "Seven Nation Army"
Garrett is an adorable young singer who no one turned around for last season. Luckily, the Voice producers gave him another chance to try out this year. He got an especially good light show for his efforts. The whole stage was bathed in a green light, like the Riddler's headquarters in Batman Forever. Garret sang a slightly pitchy but decent version of "Seven Nation Army" that only Shakira liked. Still, Garrett was so happy he cried! Aww.
Next we saw three artists who do not actually sing for us — we merely experienced them in montage. J'Sun, who went with Shakira; Duncan Kamakana, who went with Adam; and Chelsea M, who went with Usher. One wonders why these three were not shown. Perhaps their backstories were not shattering enough.
Holly Tucker, "To Make You Feel My Love"
Holly comes from an awesome family, in which, as my friend noticed first (yes, I have friends who watch The Voice with me), literally everyone including Holly and Holly's dad had bangs. Holly is a great singer, and her pitch is excellent. All four judges turn around for her, but as Holly is wearing cowboy boots, it is a foregone conclusion that she will go with Blake, which she does end up doing. Apparently, one of the fake tensions in this show is that the other judges, especially Boy-Toy Adam Levine, apparently really want to steal a country artist from Blake. It's a fake conflict, because they can't do it is the thing! Blake Shelton owns everyone in cowboy boots even though he is midwestern. Sometimes I feel bad for the producers of this show. I actually think they have the most tragic backstories of all. Basically, they are just trying to find reasons for these judges to interact with each other, and it is really hard because they are just very famous strangers who only meet for one day a year. They are trying to create tensions from country music versus city music when they should really be worried about the leather-clad heart of Carson Daly that is beating through the floorboards.
Landon Medvic, "You Give Me Something"
Professional mover Landon Medvic does not sound like a girl at all. He has a very manly, raspy voice. I am saying this right now because Blake Shelton and Usher were apparently really surprised when he turned out to be a boy! They kept saying things like, "Wow! I am shocked. You sound like a girl." Even Landon was confused by this turn of events. He actually said (politely), "I have never heard that before." Do you see what this episode was like? It was so boring that people had to lie about reality. No one turned around for Landon. I felt bad for him.
Michelle Chamuel, "I Kissed a Girl"
Michelle's tragic backstory is that she is an introvert. Luckily, music was there to help her recover from this condition. According to Meyers-Brigg's, I too am an introvert! I wonder if Carson Daly is as well. It makes sense! Michelle sings Katy Perry, and her dynamics are actually quite good. Usher, Shakira, and Adam turn around for her, and despite Adam making a very strong play for her and Usher immediately telegraphing no interest in her after he saw her striped shirt and glasses, she goes with Usher! Usher seemed upset even or, at the very least, not as incredibly cool and pleased with himself.
Julie Roberts, "God Gave Me You"
Julie had an extremely sad story, even for The Voice. She was working as a receptionist at a record label in Nashville when she was eventually discovered. Her first album actually went gold, but her second album did not do as well and she subsequently lost her record deal, her house in a flood, and was diagnosed with MS. During the competition, she sang a Blake Shelton song, but even he did not turn around for her, although he groaned when he saw her, because he immediately recognized her from her former success. "I know her, and she sang my song," he said. It is very uncomfortable and awkward.
Monique Abbadie, "Loca"
When Monique was little, she was on what seemed like a Spanish-speaking version of The Mickey Mouse Club. It looked like an awesome show, honestly! We see footage of little Monique singing in a tiny little jumpsuit on a Sprint tablet that Carson Daly presides over like the Cask of Amontadillo. During the auditions, Monique sings a Shakira song and does a great job. All four judges turn around, but unsurprisingly, Monique picks Shakira.
Warren Stone, "Colder Weather"
Fireman Warren Stone wore boot-cut jeans and a necklace that looked like it had a cursed moonstone in the middle of it to his audition. He is a country artist and does a decent rendition of "Colder Weather" that Blake, Shakira, and Adam turned around for. Because of the previously stated fake tension on this godforsaken show about country artists and city artists, it is apparently a big coup when Adam gets this country artist from Blake. There is some toothless trash-talking and then it's all over.
And that is our show! I have to say, I really, really wish these judges knew each other at all. It would be so fun! They could stop pretending to fight with each other in a confused way that speaks of no foreknowledge of the other people's personalities. They could clear all the ravens named Carson Daly out of the attic. Christina Aguliera could come back and sing "Hey Big Spender!" to a sold-out crowd at Carnegie Hall. And all would be right with the world.