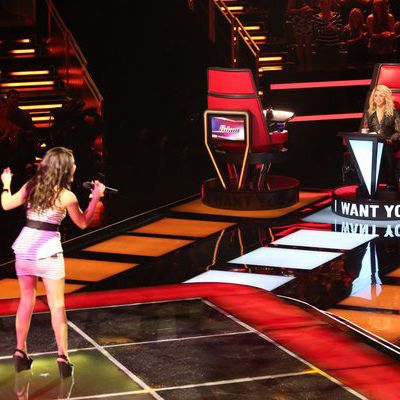 It's here! The last day of the blind auditions. Of course it is not really the last day, as this whole season so far has taken place over the course of one very long day, but NBC is absolutely keeping up the facade that time has passed. Heck, even the judges kept mentioning that this was the last "day" for them to assemble their rag-tag teams. This is all okay, I guess, but what does it say of the producers' general opinion of the viewing public?
Mark Lennon, "Come Together"
This was a truly adorable audition, because perennially undead Carson Daly traveled all the way to Venice Beach to interview Mark Lennon, lead singer of Venice. Apparently, when Carson Daly was just a leather-clad Lord Fauntleroy in someone's eye, he was a huge fan of the band. He went to their concerts! He even heroically met Stevie Nicks on their behalf! After talking to Mark, Carson said, "I'm like a teenager again," which is interesting because how old is he actually? In a way, he has only gotten more wide-eyed and startled since his days at TRL. Perhaps he is a ghost. Despite Carson's constant invocations of "Come on, Adam," no one turned around for Mark, even though he has a very nice, clean voice. This is definitely because it is the fake last day of The Voice and not for any other reason. I felt kind of bad for Mark and for Carson.
Jacqui Sandell, "Dreams"
Jacqui was a former ballerina who now has a bunch of tattoos. Disappointed hobbyist Carson definitely struggled with the cognitive dissonance of being a ballerina that now has tattoos. He couldn't believe it! Both Usher and Blake turned around for Jaqui, who had an interesting tone to her voice. Usher told her that "there were some things that I would like to improve" but Blake went wild for Jacqui, who he said had a "sneaky voice." She picked Blake and with that, Blake completed his team. Blake's team is quite heavy on country, but that said, he does have some interesting singers in there.
Amber Carrington, "Good Girl"
Amber is a country artist whom Blake could not turn around for. Oh, the dramatic irony! Amber had a pleasant, big voice and luckily, Adam Levine turned around for her. Blake was mad, and said, "I hated seeing him get her" but honestly, does the man have a monopoly on country music? No other judge has one style of music all to themselves. Is country really so different? But these are philosophical questions. Now Adam's team is full and really quite impressive. He has a penchant for violent belters. I think he may be the one to beat.
Dustin Hatzenbuhler, "Haven't Met You Yet"
Dustin still lives at home with his parents, who want him to move out, but also seem quite supportive of his career. They seemed like very nice people. Dustin had a beautiful tone, but pitch problems on much of his song. No one turned around for the kid even though he was wearing an entirely plaid shirt with a blindingly white collar. At the end of his audition, he said, "This is the best day of my life." Aw!
Luke Edgemon, "I Can't Make You Love Me"
Luke Edgemon got much of his experience singing in a church and is now a backup singer, which leads me to an interesting side note: Sometimes I feel like this is a show about professional backup singers. Because so many people on this show are professional backup singers, which is fine, but it does seem to sort of go against the amateur aspect of the contest. It would not be hard to convince me that backup singers are better than the best pop stars, you know? Luke does a great job on Bonnie Raitt and eventually picks Shakira after she imitates Usher and puts her foot on the chair. Her team is really shaping up to be quite unique. Is she the Cee Lo of this competition? Maybe!
Jessica Childress, "Marry You"
Usher is the only one who doesn't have a full team yet so logically Jessica is going to be picked by Usher, and that is what happened. She had a pretty voice and at one point Adam Levine says, "I want to marry her."
Finally! The blind auditions are over! What did you think of this crop of characters? Who do you think will make it to the end? I still have my money on the girl who sang backup for Michael Jackson, but I want to know what you think?