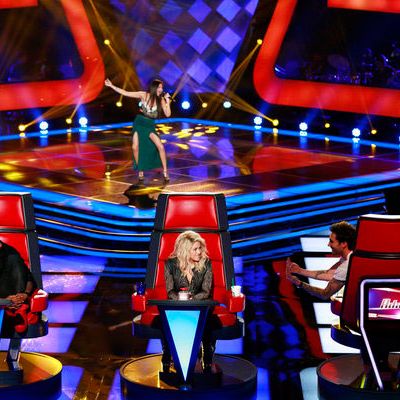 All happy families are alike, and all unhappy families sit in chairs emblazoned with patriotic slogans and bicker in detached and sodden ways. We commenced last night's proceedings with a surprising scene. Blake Shelton, Oklahoma's prodigal son, wandering into The Voice studios with wet hair and different clothing. He is wearing a pink plaid shirt, even! He calls Shakira "Shikira," but no matter. Is it possible that this portion of the show is taking place on a different day? That time has passed? Wrong. In less than two minutes, it is established that everyone is still in the same outfit they always wear — like Groundhog Day. It was just a trick! A trick of the mind on the longest day ever recorded. This is such a long day. I understand that it's probably more time efficient, production-schedule-wise, to do it this way, but boy is it distracting.
Audrey Karrach, "Pricetag"
Audrey is a former Ford Model who gave it all up for the higher calling of music. With an intensity reminiscent of his Russian twin Dmitry Medvedev (They have the same face!), Carson Daly asked Audrey if she had experienced any adversity from looking like a model. Audrey just looked puzzled by the question. She sang a decent version of "Pricetag" but strained slightly on the high notes. Usher and Blake turned around for her. After she asked both judges some questions and Blake gave her a very long-winded answer and Usher gave no answer; she picked Usher, who later said, "I had it at hello!" He is charming, but I don't care about it.
Brandon Roush, "With a Little Help From My Friends"
Brandon has long hair (like Megadeth, said Noted Wit Adam Levine) and works with autistic kids. Despite sitting onstage at first like James Taylor, his performance was actually quite good — his voice has an almost operatic quality. I really liked his tone a lot. Surprisingly, only Shakira turned around for him. After the judges talked to him about his performance, it was revealed that Brandon is literally the nicest kid ever. He was modest and grateful to Shakira for picking him. I loved him!
Betsy Barta, "Set Fire to the Rain"
Betsy is from Minneapolis and got most of her experience singing on street corners in front of little children and Jonathan Franzen. She sang "Set Fire to the Rain," and no one turned around for her, even though she did a perfectly okay job. The judges really seem to hold it against her that she sang Adele because "Adele is what everyone is talking about in the world." I don't really know why that is bad/why you can't sing that song, then? Also, how was Betsy supposed to know that was a horrible thing? It was confusing.
Look! It's Vladimir Putin's rarely seen wife ‪Lyudmila/Christina Milian. Where has she been all of these years? She has been tweeting and asking Blake Shelton about which of the judges would be the best roommate. I miss her! I think she is a good first lady.
Patrick Dodd, "Walking in Memphis"
Patrick is a white guy with dreadlocks. Despite wanting simply to recline on his yacht in the Black Sea, Carson Daly was forced to chat with Patrick about his musical journey. Apparently, he performs 300 days a year in Memphis New Orleans, which seems like a lot. He sings a very gravely version of "Walking in Memphis" that had some rhythm problems in the beginning. Adam and Shakira turned around for him and after a spirited fight that one supposes was designed to invoke the best of Myrna Loy and William Powell. Dodd eventually picked Adam, and the song "Save me, I'm lost" played. Is this passive-aggressive?
Next, we see a mass of people hiding terrified behind a huge statue of a hand holding a microphone. Trevor Davis, C. Perkins, Agina Alvarez, all apparently made teams, but we have barely any evidence they performed. We have to take Carson's word for it, I guess. Remember when Carson tweeted this? He's pretty funny actually.
Orlando Dixon, "So Sick"
Orlando is a Berklee College of Music student. He was accompanied by his mother and sister, who were both so adorable and very supportive. I actually thought he had a beautiful voice and did a great job on a hard song, but only Usher turned around for him, saying he was "going to push him." Both his mother and his sister cried when Usher turned around. I cried a little, too!*
Savannah Berry, "Safe and Sound"
Savannah Berry is 17 years old and has been home-schooled since she made a YouTube video singing a Sugarland song. She sings "Safe and Sound" and does a pretty good job, despite mild pitch problems. Adam, Blake, and Shakira turned around for her and actually got in a spirited exchange for the finale. There was some mild interrupting, even! Unsurprisingly, however, Savannah went with Blake, after he invoked his wife, Miranda Lambert, a bunch of times.
And that's it! That's our show. Thank God these blind auditions are almost over and the teams are practically assembled. I am very tired. Christina Aguilera is probably tired, too. Hopefully her cryogenic sleep will not be interrupted any time soon.
* This post originally stated that Orlando Dixon graduated from Brooklyn College of Music.