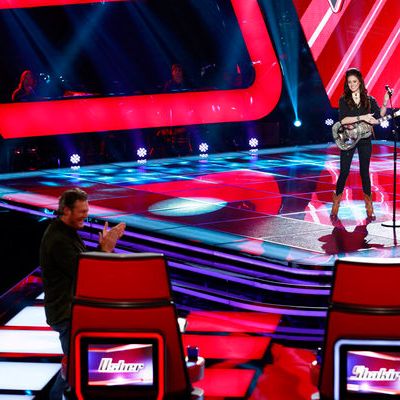 Last night's episode started off with a proverbial bang because (1) Usher arrived on a motorcycle! Does he ride a motorcycle to work? (I don't care) and (2) Carson talked with the judges about their "incredible chemistry" and all the judges hugged, which then prompted Adam to call Carson "the fifth Beatle" and invite him to hug. This soubriquet feels quite accurate to me. Let's get started!
Carson Lewis, "You Got It Bad"
Carson Lewis works as a starter at a golf course. He was interviewed at said golf course by mop-topped Hamburg sensation Carson Daly, who was wearing a beautiful black leather baseball jacket in a completely appropriate way for a golf course. This other Carson had a record deal that never materialized, and an old video is shown in which he wore a lot of scarves. He sang "You Got It Bad," much to Usher's intense self-satisfaction. I thought he had a very pedestrian-sounding voice, however, three judges turned around for him. He went with Usher, unsurprisingly.
Shawna P, "She Talks to Angels"
Shawna arrived at The Voice wearing a pretty awesome hat. She, as seventh Beatle Carson Daly helpfully pointed out, is slightly older than most of the other contestants (but not actually old! It's just all the other contestants are 5 years old) and has a gritty, Melissa Etheridge–esque voice. Adam and Shakira both turned around for her. The two bantered about poor Shawna for a while, and despite the fact that Adam argued for his side by saying, "I am American" (I don't know), Shakira won her. Side note: I am really becoming a fan of Shakira. I love her dancing and facial expressions while other people are trying to sing on stage. She gets into it!
Caroline Glaser, "Tiny Dancer"
Caroline Glazer is a freshman at the University of Kansas, but she took a leave of absence to go on The Voice. She seems like a very nice kid, and I liked her doctor dad. She sounds a bit like a combination between Sara Bareilles and Regina Spektor. Shakira and Blake both turned around for her, and Blake made an especially aggressive play, telling her,"You are the kind of voice I have been waiting for," and that he can tell she writes her own songs, because, well, he can just tell. She went with him.
Cameron, "As Long As You Love Me"
Cameron is wearing an awesome piano belt and happens to be a dancer, singer, and choreographer. This hyphenation eventually proved to be his undoing. Although he really put the huge iPad that is the stage to good use by dancing, he was out of breath and a little flat. Even Peer of the Realm Carson Daly couldn't help with his bakerlike clapping. Nobody turned around for him. As Usher said, "You can't dance out of key." He is so wise.
Michael Austin, "Someone Like You"
Michael is a deputy sheriff, or as 27th Beatle Carson Daly says in an exhausted tone, "You're a cop and you look like a rock star." I don't even know if that's true. He sang "Someone Like You," but I agreed with Blake that it was "pitchy" in some portions. Still, Adam and Shakira turned around for him. Michael, who clearly wanted Blake, picked Adam.
Sasha Allen, "Not Ready to Make Nice"
Sasha Allen is a backup singer and a mother of two. She studied classical piano originally, even playing a song on the red Voice piano, which has never been used for music before. She sang the Dixie Chicks and was amazing. All four turned around for her (as they should have), and despite an amazing political speech by Usher, she eventually went with Adam. I actually think Adam has the best team. He might be unbeatable, if The Voice battles made slightly more sense as a thing. But that is a side note we will get to next week.
Matt Cermanski, "Teenage Dream"
Matt seems like a nice kid. His uncle won a Grammy for the song "Disco inferno." However, Matt's rendition of "Teenage Dream" was sort of average (it was REALLY out of his range). No one turned around for him, and I felt kind of bad.
Mary Miranda, "Como la Flor"
Mary is originally from Cuba, and as Liverpudlian upstart Carson Daly so helpfully indicated, she is "pursuing the American dream of music." She is pretty good, and Shakira, Usher, and Blake turned around. Despite Usher's contention that "I can shake my hips," which would have swayed many a lesser woman, she picked Shakira (and yelled her name in the style of Oprah, which was awesome).
Grace Askew, "These Boots Were Made for Walking"
Grace has a Priscilla Presley vibe going on. She calls her style "bluntry," which is apparently blues and country together in one word. I thought she had slightly more filigree than was necessary on Nancy Sinatra, but what do I know? Shakira and Blake turned around for her. Blake clapped for a very long time and complimented her very loudly. She went with Blake.
Jane Smith, "You've Got the Love"
Jane Smith is a really sweet kid, and I am a fan of her bangs. She sang "You Got the Love," and it was slightly out of range for her. None of the judges turned around, but Usher called her a "cutie," which is kind of a prize?
Ryan Innes, "Gravity"
Ryan Innes was going to be a doctor but got into music after "the love of his life" broke up with him three weeks before the wedding. He also played on the previously untouched Voice piano! He was wearing a tie on top of a T-shirt but did a really good with "Gravity," and all four judges turn around for him. He ended up going with Usher, who does an AMAZING dance of triumph.
And that's our show! We're almost done with blind auditions. I am relieved. The longest day of the year is going to end. I cannot wait for the battles to start and the Beatles to eventually be formed and then for one man to almost get in the Beatles and then be excluded at the last minute. Who would that man be?