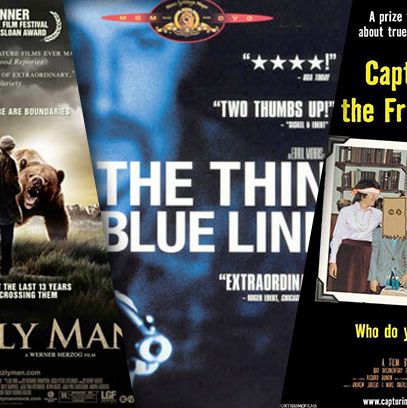 David Edelstein
In writing about the explosion in documentary creativity in the last decade, we had to leave out a lot of worthy — even transformative — films that came in the previous 75 years, not to mention many of our favorite films from this century. So we'd like to know: What documentaries changed your life — or at least your perceptions of the world in which you live (which is actually pretty life-changing)?
I'll start: I didn't see many documentaries growing up in the sixties and seventies in a suburb of Hartford, Connecticut. Our town was relatively insulated from the decades' tumult, schools showed only instructional films, and few docs had theatrical distribution. (You'd have to go to Trinity College or Wesleyan to see anything by Frederick Wiseman on the big screen, and PBS wasn't on my radar back then.) I did in high school see Medium Cool, which isn't a doc but has footage of the actual Chicago riots at the '68 Democratic National Convention and blurred the lines enough to make me realize what was possible with a camera on the street. Barbara Kopple's Harlan County, U.S.A. broke through in part because of its Oscar and rocked my ideas of social justice. Peter Watkins's The War Game was my first great "panoramic" doc experience. Sherman's March my first revelatory first-person doc. Other personal favorites since then in no particular order: Law and Order, Meet Marlon Brando, Tokyo Olympiad, The Sorrow and the Pity, Bus 174, Roger and Me (despite the instances of cheating, which knock it down several pegs), Stop Making Sense, Spellbound, The Gleaners and I, Into the Abyss, Capturing the Friedmans … and whatever great documentary I just saw.
You?
Bilge Ebiri
The documentary that changed my life was Errol Morris's The Thin Blue Line. I was 15 when it opened in a two-screen art house in Washington, D.C. I went one day to see the OTHER movie that was playing there. But I had the wrong start time, so I wound up seeing The Thin Blue Line, which I knew nothing about, instead. Morris's film hypnotized me: the haunting, stylized reenactments; Philip Glass's amazing score; Randall Dale Adams's part-mournful, part-bemused, part-outraged, part-resigned interview; and that stunning, stunning final scene, where David Harris pretty much confesses to the murder that landed Adams on death row. I came out of the theater with my entire worldview changed: obsessed with the Adams case, but also understanding something new about artistic discovery — the value of seeing, watching, reading things you know nothing about, and letting yourself be surprised.
Since then, I've had numerous out-of-left-field experiences with docs like that: For every Grizzly Man (much beloved but also much anticipated by me), there's something like An Injury to One, Travis Wilkerson's amazing, beautiful, powerful agitprop about the destruction of the union movement in Butte. Or Kurt Kuenne's Dear Zachary, an absolutely heartbreaking film that sends me into shivers of pain every time I think of it. Or Anna Broinowski's Forbidden Lies, a riveting, true-life thriller about an author who fabricated a book about honor killings. Or Anne Aghion's Ice People, a film about explorers in Antarctica that might be the most immersive documentary I've ever seen.
Okay, readers, your turn. Weigh in below.