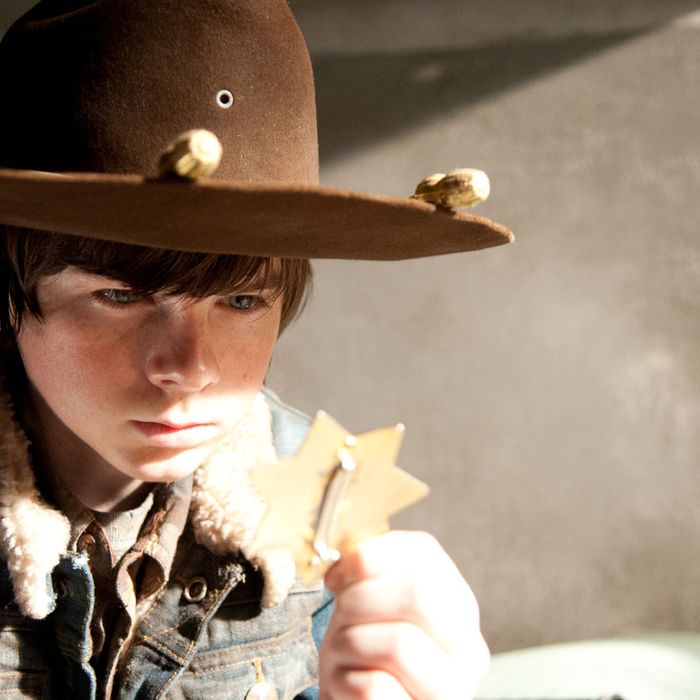 The Governor is punching Milton in the face, punishment for setting fire to those zombies in the pit a few episodes back. "We lost eight men because of you," he tells him, referring to the ones Merle took out back at the grain warehouse conference room but not going into specifics about how it was that no one stopped to pick up new walkers along the way. If there's one thing this show has taught us, it's that there is no shortage of conveniently placed zombies.
The Governor doesn't kill Milton here, though. He instead takes him to his torture workshop, which is proving to be more of a fixer-upper than he originally thought. It is more the place where torture will one day happen, maybe after he retires from his true original passion, war-making. Then again, he's not all that great at that either. Truth be told, he probably should've stuck to his boring old fallback plan of successfully building a utopian community from scratch in the midst of a ruined world, filled with fertile women who worshipped him, but nobody wants to be told they should settle.
Milton sees Andrea handcuffed to the dentist chair. The Governor tells Milton, "See, she's still alive. I'm going to need her for something," which doesn't exactly makes sense considering what happens next. The Governor also tells them that he's going to storm the prison, kill all of her friends. "I'm going to really do it this time," he mutters under his breath. "Why are you guys looking at me like that?" He says he had to stretch the truth a little bit to his people, but now they're onboard. The Governor sends Milton over to the table with his Dead Ringers Commemorative Pliers Collection and tells him to put them all back in the tray that we previously had watched the Governor take them out of. In my memory, laying those tools out ate up about 35 minutes of that episode, but I could be wrong. Could've been more like 40. Milton drops the tools, intentionally leaving a set of pliers on the floor. Milton walks to the door with the tray of tools, which the Governor then takes one of, hands it back to Milton, and tells him to walk back over to Andrea and kill her with it, in order to prove his loyalty. Add "someone who knows the definition of blocking" to the list of job descriptions this show might want to consider filling next season. Milton refuses and the Governor stabs him. "In this life now you kill or you die," he tells Milton as he locks him the room with Andrea, "Or you die and you kill." The great zombie-Milton-versus-handcuffed-Andrea battle of slightly later in 2013 has begun!
At the prison, Carl is pissed off and packing. He throws his framed family photo, sheriff badge, and reams of metaphor-heavy poetry he wrote about Beth into a duffel bag. Outside, everyone is packing up their Hyundais. They very much appear to be moving on. Glenn says to Rick, "I've never seen him this mad." I wrote down that I couldn't remember why Carl was angry at Rick this time, but it turns out that we hadn't been shown the reason yet. I figured it was because Rick had changed his mind about forfeiting being their leader while losing a game of cement-floor chalk Scrabble the night before or something. The real reason, though, is that Carl is mad about not being allowed to fight the war with everyone else.
Back at Woodbury, the Governor is rounding up his troops. Tyrese and his sister/wife tell the Governor that with all due respect, they'd reconsidered their position on fighting (I knew someone had changed their minds about something!). They would be glad to fight walkers, just not people. Tyrese volunteers to stay and watch over the children, and the Governor hisses "thank you." Then he packs his army into their vehicles and they drive across the field to the prison. They frankly could've walked; it's close enough. If only grenade-launchers weren't so heavy. They drive up to the prison gates and start blasting away at the yard zombie pets. They turn the watch towers to rubble. They fire their machine guns everywhere. But there's no sign of Rick's crew. So they go inside to explore. There's nothing there, either, except for a Bible with a page open to a neatly highlighted passage about how the good guys will prevail and the bad guys will perish. The type is too small so you don't see the asterisk, but at the bottom of the page it says, "Except in the cases where neither the good or bad guys win or lose. They just keep talking about killing each other and then showing up at each other's houses and not doing it."
The Governor and his crew wind their way through the prison tunnels where they come across a trap set by Rick's crew — flash bombs, the noise of which bring zombies the Governor's way. After running outside, Glen and Maggie, wearing Morgan's body armor, strike. They fire machine guns, and the Governor's crew goes running to their cars where they forget all about their grenade-launchers and their own machine guns and take off into the field. Seriously, this is how the war ends. Everyone just drives off. Rick's crew runs out and jumps up and down, so excited that they won! It reminded me of that scene in the Three Amigos where the little town thinks the Amigos have defeated El Guapo with their act. Except that in that movie, which is a broad comedy from the eighties, it turns out to just be a pause before the real muscle is sent in. For a moment I thought surely a similar scenario was going to play out last night, but nope — the war that had been building up all season ended as soon as the Governor's people were fired on by the very people they had come to fight.
Carl kills a young guy who's trying to surrender. Hershel's horrified and tells Rick what Carl did after Carl tries to plea self-defense. He should've pled PTSD after what he's had to do this season. Rick's jaw-clenching goes into overtime.
The Governor and his people stop somewhere in the middle of the road (you know which road) and have a chat. His people are shellshocked by the shellacking they just got. They're out. The Governor isn't happy about this. He guns them down, everyone except Martinez and that other dude who's been his guard since we first encountered Woodbury. They get into the car with the Governor and drive back to town, except they take a new scenic route that adds on several hours to their trip. Because what's the rush really? All their shows are being DVR'd. Tyrese has been told which shrubs need watering.
In the torture room, Milton asks Andrea why she stayed at Woodbury. She does a quick recap of the season, getting all nostalgic about the time she almost slit the Governor's throat but didn't. She says she just didn't want anyone to die, which is ridiculous unless you factor in her knowing how bad at war Rick and her boyfriend would be. Going to war really was the best way to ensure the lowest number of causalities it turns out. She's talking so much that she keeps forgetting to pick up the pliers on the floor. A dying Milton tells her to hurry. She picks the pliers up with her toes but drops them right before she can grab them with her hands. Milton dies and soon she hears the zombie rasp coming from his throat. Zombie Milton stands up and shuffles toward her. She's frantically trying to pry off her handcuffs. Off-camera we hear her scream.
Rick's crew decide to go back to Woodbury because that journey has really become their daily constitutional now. A little bit of yoga in the morning followed by a ineffectual storming of Woodbury. Along the way they pick up the one woman that the Governor didn't shoot down. I refuse to learn anyone else's name until they give me a pre-zombie backstory. I'm putting my foot down. They all drive back to Woodbury where Tyrese and his sister/wife are manning the gate. The Governor has stopped to go antiquing, so it's safe for now. They find Andrea inside her torture room. She killed Zombie Milton but not before he took a chunk out of her neck. Rick says she's one of them, but I say she's not in a louder voice so it crosses out what he says. She asks if she can shoot herself while she still can. "I know how to use the safety," she tells him, getting all sappy and reminiscent about the time she shot one of their own people. Also, she's still a little smug until the very end, as she tells him that all she wanted to do is make it so people didn't die and then gives a look like, "Today Carl and Judith and the others didn't die, so, you know, I was right." Michonne stays in the room, and from behind the closed door, we hear the gun shot. I don't feel sad, but I also try not to feel too psyched about not having to watch her smug strut around anymore. I really would love if this show stopped creating women characters whose deaths are a relief instead of a bummer.
A school bus and what looks like a new Hyundai (but I could be wrong) wind their way back to the prison. Tyrese and his sister/wife get out along with a bunch of elderly people and children. Yeah, I can understand why Rick would want to bring his new friends back to the prison instead of just trying to take over Woodbury. Who needs things like walls and blankets and food when you have an unlimited supply of yard zombies? Plus, if he were to kill the Governor now, what would he spend his time not doing next season?