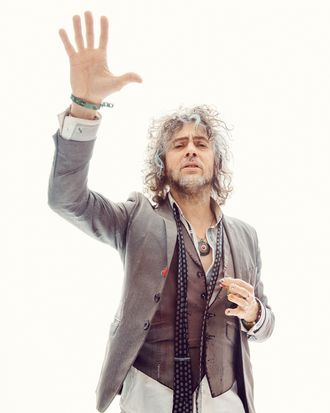 Photo: Christopher Anderson/Magnum Photos/New York Magazine
The rubber dildo jabs back and forth as Wayne Coyne frantically pedals the bicycle.
The Flaming Lips are in town to promote their new record, The Terror, the Oklahoma City band's thirteenth. In his gray suit and with his kinky nimbus of salt-and-pepper hair, their front man is trying out the Fuck Bike at the Museum of Sex on Fifth Avenue, quite a sight for passing window watchers. He dismounts, straightens his jacket, and grins: "Well, you don't do that every day!"
What's funny is that this is very much like what Wayne Coyne does every day—pumping the pedals of the big, rubbery weirdo machine that is the Flaming Lips and pleasuring an expectant fan base with pop music and confetti-cannon party concerts. Coyne asks me to text him a picture of himself on the bike, which he then posts to Instagram and his 120,000 followers on Twitter. All in a day's work.
As much as being a band, the Flaming Lips, ever since 2002's much-heralded masterpiece, Yoshimi Battles the Pink Robots, have been a great American brand, a kind of pop-cultural Silly Putty that can bend and bounce and shape-shift, applying undergroundish indie credibility to everybody from Ke$ha (for the track "2012 … You Must Be Upgraded" and an upcoming collaborative album) to Hyundai (for a Super Bowl ad) with the same relative ease. Coyne came to the museum to be interviewed by a team from Omnicom Group, the $15 billion advertising behemoth, which plans to use his image for some vague interagency "content" archive to be exploited by hipster-cred-seeking advertisers. Coyne submits himself, with good cheer, to a groovy middle-aged producer with long hair named Tag ("As in, 'You're it,' " he says), asking such pressing questions as "Davis or Coltrane?"
"What are your three favorite things right now?" Tag asks Coyne as the ad crew circles him with cameras. "You mean, in life?" Coynes replies. "Well, what person would you want to be around that didn't like sex … sleeping … and money?"
Coyne tweets enthusiastically about everything from the Lips' career retrospective, which will come packaged in a chocolate skull, to next year's Broadway debut of the musical Yoshimi Battles the Pink Robots. His favorite expression is: "Yesssss!!!" But with their new album, Coyne and his merry band appear to have rediscovered their "No." The Terror is a jagged, dyspeptic ramble of hypnotic beats spiked with psychedelic echoes and atonal bleats—no hooks, no songs, barely anything resembling a chord. Coyne says he's as surprised as anybody. Ten years ago, he figured he'd be making pop records like Yoshimi for the rest of his life.
"People seemed to like it, and you're like, 'We can do that forever,' " he says earlier, in his NoMad Hotel room, his suitcase splayed open and a pair of women's red shoes at the foot of the bed. "You go in that direction for a while, but part of you starts to get dissatisfied. You're not going into the unknown.
"When we stumbled upon this more telling part of our life and our mood," he continues, "We thought, Well, why don't we sit here a moment?"
That mood was an amalgamation of Coyne's midlife reassessment and the aftermath of a drug relapse by Steve Drozd, the guitarist and knob wizard who dreams up all of the band's music. The two retreated from the Flaming Lips machine and made an album that sounds like an actual machine—the agitated gears of the bike as opposed to the pleasing bounce of the dildo.
The Lips, of course, have been through several musical iterations in their 30 years as a band, from garage freak-outs to orchestral pop, the through line being Wayne Coyne as the cosmic P. T. Barnum—the one guy in America who wasn't going to stop taking acid just because it wasn't fashionable anymore. But, perhaps strangely, Coyne says he only started doing drugs recreationally two years ago. He was working so hard at manufacturing fun—designing products like the Flaming Lips Gummy Song Fetus, or rolling around inside his patented "space bubble" at shows—that he wasn't always having any himself. Around the time of his 50th birthday, in 2011, he began dabbling with MDMA. "Part of this dilemma is, you want this thing that you love, and you're working so hard to get it, and I was noticing the minute I have it, it would just turn into the fear of losing it," he explains. "And I thought, Who wants to live this way? I have to do something in my life that allows me to say, 'I want this, but if I don't get it, it's okay.' "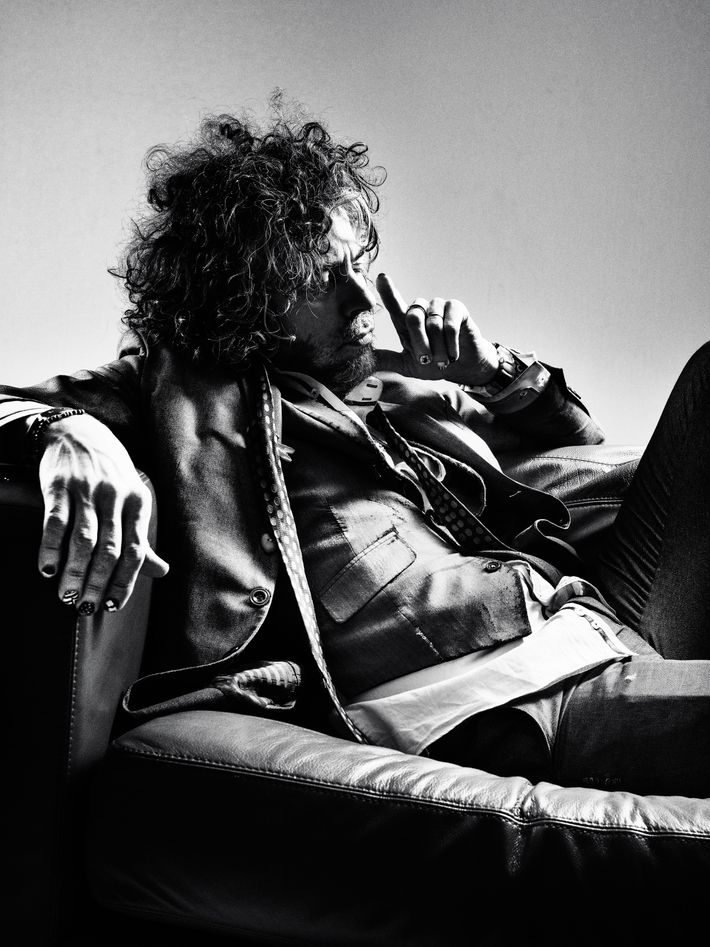 As the group was finishing a labor-intensive album of collaborations, The Flaming Lips and the Heady Fwends, Drozd, a recovering heroin addict, took a little too much edge off, backsliding into pills and alcohol. While recovering, he churned out soundscapes that felt very private and painful. For Coyne, whose job it is to interpret Drozd's output, overlay mystical lyrics, and build a stage production around it, the thematic upshot seemed to be, "Life is suffering; get used to it."
"Your life can't move on without saying, 'Well, some of this pain, this is what it's going to be,' " says Coyne. "You don't get to make everything fine and then move on.
"Ah, coffee!"
Coyne's girlfriend, Katy, a conspicuously attractive twentysomething in a large fur coat and spandex pants, arrives with two grande cups from Starbucks, each containing three shots of espresso. They're both for Coyne. "Just when I felt like I wasn't talking fast enough," he says, greeting her. "Are you going to do some shopping?"
The other two core band members have wives and kids, but Coyne is single following a recent separation. Though he writes "musician" on his tax forms, he considers himself a "freak artist" of the old stripe. Over time, he's come to understand himself as a guy with a well-managed obsessive-compulsive disorder. "Even on the day my mother died, part of my mind was still thinking about music and things I wanted to do," he says. "It's not like I wasn't affected, but my stupid mind can always be thinking about these stupid things."
After the museum, we pile into an SUV and head to the Ed Sullivan Theater to rehearse for the Late Show. This is part of the machine Coyne enjoys even less than Omnicom. "You'd think, It's gotta be great, it's the Dave Letterman show," says Coyne. "But it's a bunch of union guys who just want to get lunch. You eat lunch every fucking day, don't you want some weirdo to walk in here and do something? No, they don't. If a yeti walked into the David Letterman show—'I don't care, when's lunch?' "
He's more of a Leno man. "As cornball as the jokes can be, those people are fun!" he says. "Leno's there all day, he loves it."
The Flaming Lips' "Look … The Sun Is Rising" is less a pop song than a protracted burp run through various effects pedals. What make it riveting onstage are Coyne's homemade props: a converted beach umbrella sprouting white tubes with pulsing lights that all converge into the spine of a fake baby that Coyne coddles and kisses. "I knew if I held a baby onstage, it would be weird," says Coyne later. "There's not that many things left in the world of Lady Gaga."
As Late Show producers idle glumly in the stage shadows, Coyne acts as meticulous detail man: He wants the fake baby's hand Velcro'd to the mike stand so it looks like it's holding on, too. He's now wearing a shiny green leather suit that evokes a naval captain from an outer-space version of Das Boot. After the sound check, Coyne looks out over the empty seats, baby still in his arms, dry ice still swirling around his feet, and sighs: "I like it."
*This article originally appeared in the April 22, 2013 issue of New York Magazine.