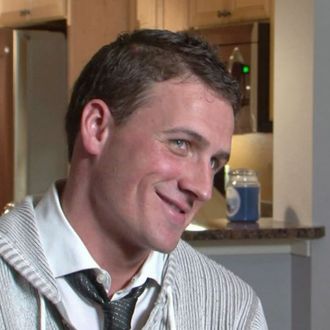 If E! is going to offer up Olympic swimmer/kind-of-an-idiot Ryan Lochte his own reality show called What Would Ryan Lochte Do? (a.k.a. WWRLD, if you're more religiously inclined), we're going to have to figure out exactly what Ryan Lochte would do through a series of regretful episode recaps. Watch as Ryan decides what he would do in situations including his swimming career, his love life, his burgeoning fashion business, and his seemingly stilted comprehension level.
Ryan hosts "#LochteNation Family Flag Football" for him and his "Lochterage" (that's "entourage," Lochte-style). When faced with the decision of which team to play on, he chooses "skins" and disrobes.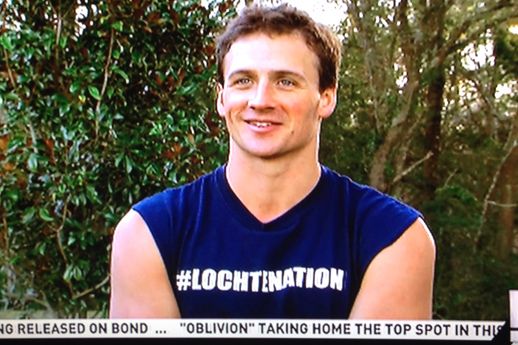 Mid-game, Ryan and his less attractive brother, Devon, make a bet. Ryan loses and promises to detail his brother's car.
Meanwhile, mid-interview, when confronted with the media's popular opinion of Ryan being a douchebag, Ryan asks for the definition of douchebag.
Later that night, Ryan asks a room of friends if they are going to "turn it up tonight" while wearing a T-shirt that reads "Turn It Up."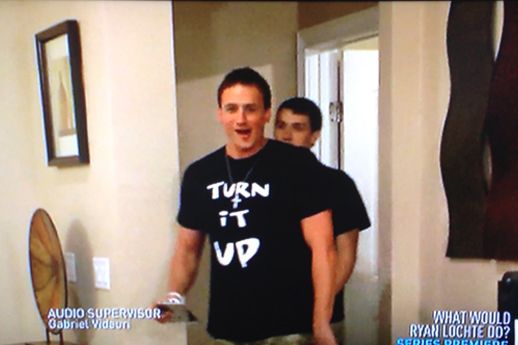 Ryan meets a ballet dancer and orders her to go up on her toes. "She's sexy as anything, but she can't dance," he concludes.
At a bar called Cantina, Ryan takes a blonde female outside and asks her out on a date. "You're gonna cook me dinner?" she says. "Oh, hell no," he responds. They agree on sushi.
The next day, Ryan goes bowling with his family and puts his oldest sister's name up on the board as "Satan."
During another interview, Ryan remembers winning his first gold medal and tears up. "Thanks for sharing that man," an E! producer says off-camera.
During his date with the blonde, Ryan finds out his date is moving to L.A. and decides it's not going to work. He also decides not to give up on love.
Ryan doesn't want to watch a scary movie during Lochte Family Movie Night. He suggests his favorite movie: What Woman Want.
Ryan cleans the rims of his brother's car with a toothbrush while wearing a black T-shirt that reads "Listen to Ryan Lochte." Turns out, it's his brother's toothbrush.