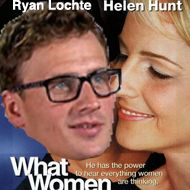 By giving him a reality show, every week we're forced by E! to discover what would Ryan Lochte do. So far, he's worn T-shirts, played some pranks, and declared his favorite movie to be the Mel Gibson classic What Women Want. What is there even left to do? Apparently, a season's worth of stuff. Here's what happened in week two.
* Ryan used to have long, curly hair ("Long hair, don't care"), but now he keeps it short.
* Wearing a GOLF SUCKS tee, Ryan plays drunk golf. His friend is better than he is, but he's heading to D.C. to play in a charity tournament. He hears the women in D.C. "are smart."
* When getting fitted for a suit, he tells his mom he's gonna "wing" the speech. "What are the important facts you're gonna bring up?" his mother asks. He decides to do some research.
* If you recall, last week Ryan tricked his younger brother into using his toothbrush to clean a car. This week, he pranks him by waking him up slightly earlier to leave for the airport. Regular Jackasses, those two!
* Ryan decides that he would like to pee in Washington D.C.'s Reflecting Pool.
* At a local bar, Ryan chats up some D.C. girls. A montage of them saying words like gun control and legislation cause him confusion and he makes an actual clever Pope joke: "I guess you could call him, like, Ex Benedict."
*Which Seinfeld character would Ryan play? asks the interstitial.
* Well?
* At least someone's having fun with this show. (It's the producers. They're having fun.)
* After Ryan gives his speech at the Muscular Dystrophy charity event, he gets fake mad at the E! camera crew for following him into the bathroom.
* Ryan loves his mother so he buys her a new car. Now THAT's What Ryan Lochte Should Be Doing (for Me).
* On the next episode? Ryan dates a girl. Swimming gets in the way. This TV recapper gets in the way of a oncoming bus.