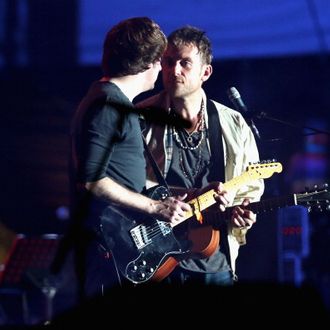 There is way more of the Coachella Valley Arts and Music Festival than any one person could take in, so even people who are there have probably missed a fair bit of it. Alas, most of us couldn't make it to Indio in the first place, nor do we want to sit around watching all the fun we're not having online. But, with the event well into the third and final day of its first weekend, the hard-working Coachella press corps has produced enough material to give us a good sense of the weekend's highlights so far, without the sunburn, hangover, or YouTube squint.
Relatively few people adored The Stone Roses, who headlined Friday night, with just 5,000 people clustering around the stage in a field meant to hold tens of thousands, according to The Hollywood Reporter, which blamed the ambivalence on the band's U.S. obscurity and front-man Ian Brown "coming across as confrontational rather than inviting." 
Blur, which preceded The Stone Roses, fared better with the crowd, opening with its monster hit "Girls and Boys," and featuring original guitarist Graham Coxon, who didn't come with the band on its last U.S. tour ten years ago.
Rapper 2 Chainz started late — drawing some boos from the audience — and he had to cut his set short, but people seemed to like his truncated performance anyway. Meanwhile, fellow rapper Action Bronson

*

smoked a joint and ate food people passed him from the crowd.
The Postal Service's reunion, which featured Rilo Kiley's Jenny Lewis, among others, was another widely lauded highlight of the weekend. The LA Times posits that even though it only put out one album and didn't tour very much, the band's electro-pop "got under your skin at a sensitive age, and stayed there."
That Phoenix/R. Kelly video is worth a watch just for the surprise factor
* This post has been updated to correct a typo.