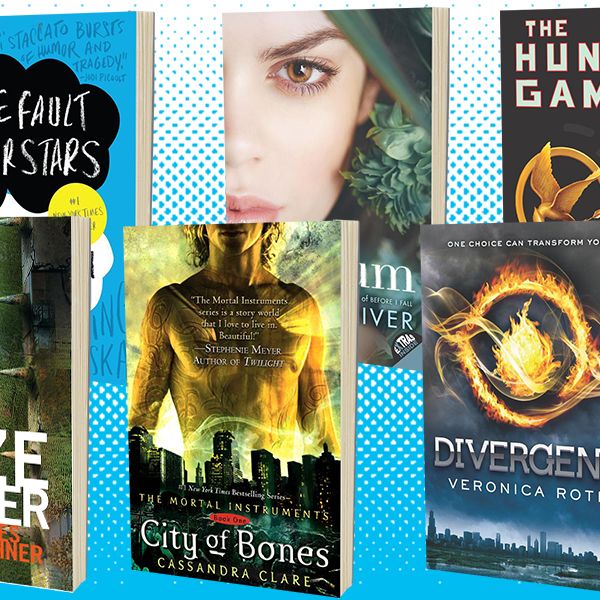 So, you're very excited about Catching Fire. We're all very excited about Catching Fire; that trailer looked great! But how will you pass the seven months (an eternity, in teen years) until the movie is finally released? Easy: by getting far too involved with another YA series and its soon-to-be-movie-franchise. (Or, in the case of Delirium, maybe-TV-series.) There are plenty out there to choose from — so many, in fact, that we made this flowchart to help you decide the one to take on next that is just right for you. Once you've found your reading destiny, scroll below to read (mostly spoiler-free) explanations of all of the series and see which other ones you should dig into. It's your YA obsession.
The Divergent Trilogy, Veronica Roth
The premise — a dystopian Chicago divided into five factions, organized by moral code — reads a little like Brave New World, but the material here is all Hunger Games, right down to the Mockingjay flame on the cover.  (No, seriously, how did they get away with that?) Your heroine is Tris, an unassuming teen who turns out to be the great hope of her society (and who, much like Katniss, really enjoys running straight into danger without contemplating the consequences). There is also a love story! Team Gale, you will enjoy it.
Comparable to: The Hunger Games
Movie Release Date: Divergent, March 2014
Big-Name Stars: Shailene Woodley as Tris; Theo James (a.k.a. Downton Abbey's Mr. Pamuk) as Four, the love interest to Tris; Kate Winslet, Ashley Judd, and Tony Goldwyn as significant adults
The Fault in Our Stars, John Green
This is barely a YA book: It's not a trilogy; it takes place in the present day; there are no revolutions (except of the heart). It's a love story about two teenagers with cancer. But it is lovely and well written and surprisingly funny, even as you are sobbing about the terminal-illness stuff. Which you will. Trust us.
Comparable to: Perks of Being A Wallflower, sort of; Love Story.
Movie Release Date: TBD
Big-Name Stars: Shailene Woodley, again.

The Delirium Trilogy, Lauren Oliver
Dystopian Portland is all fine and beautiful except for the fact that love is banned. And what happens when you make love illegal and then half-lobotomize all citizens at the age of 18? Answer: All of the 17-year-olds (and specifically Lena, the book's heroine) fall in love anyway, because hormones exist.
Comparable to: Twilight, as far as the forever-love stuff goes. But the writing is much better!
TV Release Schedule: The Fox pilot is shooting soon; if it gets picked up, it should air in fall 2013.
Big Name Stars: Emma Roberts as Lena.

The Mortal Instruments, Cassandra Clare
Did you read Fifty Shades of Grey because it was thinly veiled Twilight fan fiction (and not, you know, because of all the porn)? Then maybe you'll enjoy this series, because it feels like a thinly veiled Harry Potter homage, with six books about a vaguely Harry-esque (with notes of Buffy) character who hunts demons and also maybe stumbles into a love triangle or two.
Comparable to: Fifty Shades of Grey, minus the sex; Harry Potter, plus vampires and werewolves (Clare was a well-known HP fan-fiction writer before she moved on to Mortal Instruments); Buffy.
Movie Release Date: The City of Bones, August 2013
Big-Name Stars: Lily Collins as Clary, your female Harry; Jonathan Rhys Meyers as the evil guy; Jamie Campbell Bower (of Twilight) as a demon love interest (and maybe more).

The Maze Runner, James Dashner
Men like dystopian YA fiction, too! So here is your sci-fi choice, focused on a community of boys who live in a mysteriously controlled "glade" and have to solve a monster-filled maze in order to escape. Not a lot of romance in this one, but you do get a male protagonist.
Comparable to: The Hunger Games, minus the love.
Movie Release Date: February 2014
Big-Name Stars: Kaya Scodelario (Skins) as the lone girl; Thomas Brodie-Sangster (the kid from Love, Actually and now Game of Thrones) as the best friend.