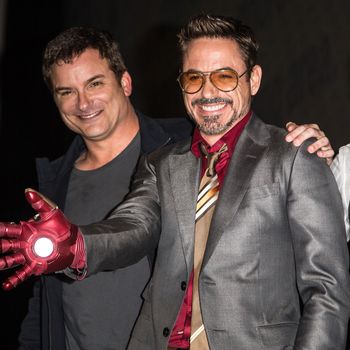 Shane Black, Robert Downey Jr.
Photo: Chelsea Lauren/WireImage
The first two Iron Man movies were basically written on the fly, and while that jerry-rigged approach produced a gem of a first film, the hastily sewn seams showed in Iron Man 2. If there's anything Iron Man 3 has in full over its two predecessors, then, it's a clever, well-plotted screenplay that practically hums with luxury-car confidence; no surprise, since it was co-written and directed by one of the masters of the modern action movie screenplay, Shane Black. The 50-year-old isn't Hollywood's most prolific writer — he only has a handful of credits, including the first Lethal Weapon, Kiss Kiss Bang Bang, and The Last Boy Scout — but for a time, he was its most highly paid, and the $4 million he earned for the 1996 action film The Long Kiss Goodnight is still a Hollywood record for a spec script. How did Black do it? Simple: He made reading his screenplays way too much fun.
It's an open secret in Hollywood that studio executives do very little reading themselves, instead employing script readers to do the dirty work of slogging through multiple scripts a day. Black wrote screenplays that were practically engineered to perk up a weary script reader, packing his scene descriptions with clever in-jokes, meta flourishes, and — when all else failed — flattering entreaties to the readers themselves. The most famous thing Black ever wrote isn't even a piece of dialogue … instead, it's this description of a setting from Lethal Weapon, structured as a muscular meta boast that practically defined the swinging-dick attitude of mid-eighties action movies:

It's a self-promotional masterstroke: In his screenplays, populated with broken men who rouse themselves from hangovers and beatdowns to defeat the bad guy, it's Black himself who emerges as the movie's most charismatic antihero. He might be a loose cannon with unorthodox methods, but you can't deny that the man gets the job done. That posh Beverly Hills home? You can fucking see it.
The irony is that when Black is scripting an action scene, he rarely writes down what you'll actually see. Instead, he'd rather find the perfect metaphor for all those punches, kicks, and gunshots, as in these excerpts from Lethal Weapon:


And these two bits from The Long Kiss Goodnight:


Though his wink-wink, tell-don't-show sensibility was never more notorious than when he scripted this sex scene for The Last Boy Scout:

Black was a master of setup and payoff, telling the Guardian, "Audiences love those moments when something from much earlier in the film comes back and makes them slap their foreheads and say to themselves, 'Of course!'" That said, he wasn't above winking at the idea …


… or just winking in general. Black peppers his scripts with jokes and asides that won't be seen on the screen, but still manage to capture the sense of humor his films ought to have:





And the man sure knew how to set up an establishing shot.



Still, though his scripts are practically soaked in ironic distance, Black knew when to snap to attention and surprise the reader (and the audience) with something authentic. Suddenly, he'd become his own hype man, going from devil-may-care insouciance to holy-shit-this-is-big-folks bravado, like a weary action hero who finally, finally learns to give a damn.




And after all that setup, he delivers those hero scenes in full, as in this climactic moment from Lethal Weapon:

After reading that, is it any wonder that Shane Black is in charge of a superhero?