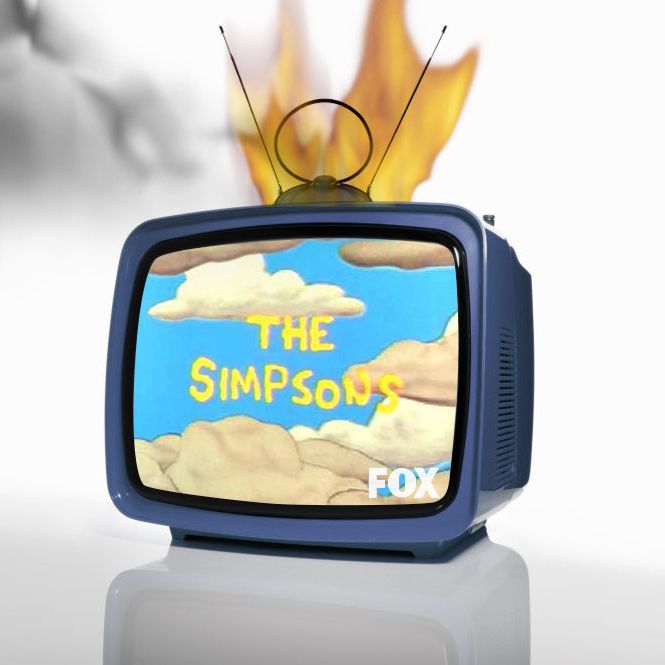 Chase Carey, CEO of Fox parent company News Corp., made a seemingly startling statement Monday: There's a chance the Fox Broadcasting Company might transform itself into a cable channel. Appearing at the National Association of Broadcasters convention in Las Vegas, Carey said that if Fox and the other major networks aren't able to derail Barry Diller's signal-swiping service Aereo (which, through tiny antennae, allows people to stream live and recorded broadcast programming on their computers, phones, or tablets, as explained here), then Carey says he's prepared to pull the plug on free, over-the-air broadcasts. "We have no choice but to develop business solutions that ensure we continue to remain in the driver's seat of our own destiny," the executive explained in a statement released after his speech. Pretty bold words, but the odds of Carey following through on them, at least any time soon, are probably slim. That's because, despite all of the headaches associated with being a broadcaster, Fox still has plenty of reasons to stay over-the-air, and so do the other four broadcast networks. For now, at least.

The concept of ditching broadcast in favor of cable is hardly a new idea, nor is it without some major problems. Back in the late-nineties, then-NBC chief Bob Wright caused a Carey-like kerfuffle when he declared that shifting the Peacock to cable was an option (a "bombshell" idea, Advertising Age reported). And three years ago, right around the time cable giant Comcast was taking over NBC, credit rating agency Fitch predicted that at least one of the big networks would morph into a cable channel … by 2011. Many of the reasons the change didn't happen in the nineties or two years ago hold true today. First and foremost, while networks don't really care about the fates of the hundreds of affiliated stations now airing their shows, they do care about the TV stations they themselves own, mostly in cities big (New York, Chicago) and pretty big (Tampa, Memphis). While these local stations could probably survive by airing mostly news and syndicated shows, they'd be a lot less valuable (and profitable) without prime-time hits and the myriad sporting events that make it possible for these broadcasters to pump millions into their parents' coffers.
And speaking of sporting events, it's hard to imagine the NFL not taking issue with their broadcast partners suddenly being no different than ESPN. Sure, Big Football has relationships with cable; Monday Night Football has been on ESPN for years now. But while the vast majority of viewers subscribe to cable or satellite, about 15 percent of TV homes don't, according to Nielsen. Some of those viewers are cord-cutters, who've opted out of paying for TV, but most are those who rely on broadcast because they don't have money to pay for TV. The NFL might not want to shut out those viewers from its games, and some in Congress might howl at the idea of Sunday football only being available to those who can pay for it. What's more, if the current football networks CBS, NBC, or Fox go cable, it might be easier for ESPN or another cable network to make a play for Sunday NFL rights when the current deals expire in 2022. And that would be fatal: Football ratings are going up rather than plunging (as opposed to virtually all of prime time), and it's one of the few forms of programming that's DVR-proof, making it particularly valuable to advertisers. "If everybody's on cable, the [broadcast] networks no longer have an advantage when it comes to the NFL," one industry wag told Vulture.
While thwarting Aereo is the reason Carey gave for a possible switch to cable, News Corp.'s bigger concern has nothing to do with Diller. Like his peers at other network-owning companies, what he really wants is to get cable and satellite providers such as TimeWarner and DirecTV to start paying more for the right to air network programming. Not long ago, service providers balked at paying for broadcast signals, claiming they shouldn't have to pay for what was being beamed out free to folks with antennae. So while even a network such as AMC, pre–Mad Men, got a few cents from cable operators for every single home the network was in, the networks that aired Seinfeld and American Idol and NCIS got bupkes. But that's started to change, with cable and satellite operators slowly agreeing to pay so-called "retransmission" fees to ABC, CBS, NBC, and Fox. CBS last year netted around $250 million in revenue from such fees, and CEO Leslie Moonves has said that number will continue to climb over the next few years. If the networks were to shut off the broadcast spigot, it's possible they might be able to convince cable operators to pay even more. But what if ratings took an even bigger hit because the 15 percent of the country that now watches via over-the-air suddenly didn't have access to the networks? Or if networks no longer had local stations marketing their brands: It would be silly to think that Fox doesn't draw some value from Las Vegas affiliate KVVU branding itself "Fox 5" and having its local newscasts constantly tout Fox shows. Yes, some network shows now do much worse than a handful of big cable shows, but the fact remains that most of cable's "hits" draw fewer viewers than even the lowest-rated network shows. That might not be true in a world in which the Fox Cable Network airs next to the Travel Channel, rather than on Channel 5 or 11.  
Still, it's possible that Fitch might eventually be right and that one of the broadcast networks could evolve into a cable channel. Garth Ancier, who worked with Diller during the early days of Fox and has run both NBC Entertainment and the dearly departed WB Network, told Reuters even before Carey's speech that he's heard rumblings that at least two networks might go that route. He didn't offer specifics, however, so it could just be gossip or idle musings, but let's look at what the other networks would have to gain or lose by this move:
NBC: Because it's owned by cable giant Comcast, and because its ratings keep sinking, NBC might be a logical candidate to get out of broadcasting. (It does have football, but it's a prime-time showcase and not the big Sunday afternoon games.)
The CW: While it has long-term deals in place with its affiliates and is already pulling in revenue from online platforms such as Netflix, it's not hard to see co-owners CBS Corp. and Warner Bros. one day deciding the CW would benefit from taking its brand to cable, where it might benefit from a model in which its shows could repeat three, four, or five times per week (as rival ABC Family and most cable networks do with their programs). The CW's biggest problem right now is getting sampling for its shows; if they were omnipresent on a CW-branded cable network, rather than broadcast in between old sitcoms and local news, perhaps they'd have a better shot of breaking out. Again, there's no evidence the CW is even thinking about this, but it wouldn't be as big a stretch as the idea of Fox to cable. The CW also doesn't have to worry about moving any NFL programming to cable, just like …
ABC: Not only did it give up Monday Night Football to sister network ESPN years ago, but it also has perhaps the most sharply defined brand of any of the Big Four broadcasters: It's highly targeted toward female viewers (Scandal, Dancing With the Stars) and younger families who watch TV together (Modern Family, Once Upon a Time). Disney already has one of the strongest portfolios of cable networks out there, with ESPN for dudes, ABC Family for tweens and younger women, and Disney Channel (and its spinoffs) for the under-16 crowd. And under Bob Iger and TV chief Anne Sweeney, ABC has been ahead of the curve when it comes to new ways of thinking about how to distribute TV: It was the first network to embrace iTunes and has been an active partner in Hulu since 2009*. As with the CW, there's no evidence that the Alphabet wants to shift to cable. But it seems more likely to shift than Fox. Any network that moved to cable would also benefit in another way: It wouldn't have to worry about the FCC's petty and arbitrary rules about what you can and cannot do on television. You literally can't get away with shit on a broadcast network, but the government doesn't give a f— about cable "indecency."
There's one other big factor to take into account when thinking about whether broadcasters might one day return the public airwaves to the public: The distribution of TV content is changing by the hour. Netflix and Amazon are now making network-quality shows and neither has a broadcast or cable channel. If a project like Google Fiber takes off, we could be talking about the death of cable or satellite providers in the next decade. Take a look at this Wired story from 1997, which looks at NBC's new media strategy and has company executives giddy about the prospects of Snap.com, the search engine they just bought with the idea of turning it into a portal for their programming. (Spoiler: It didn't work out.) It's really easy to get excited about a notion such as Fox switching to cable, just as it's tempting to dismiss the notion as not logical … right now. Chase Carey's comments Monday were probably just a case of saber rattling, designed to consolidate the opposition to Aereo. But these days, screenwriter William Goldman's famous line about Hollywood has never been more true: "Nobody knows anything."
* An earlier version of this story noted that ABC was a founding partner in Hulu. It  was not: It invested in the service two years after its launch.