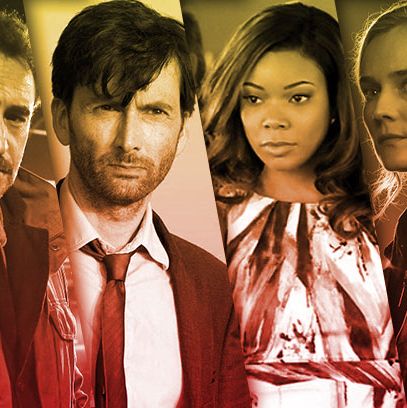 Every year, more and more good television joins the summer lineup. In addition to all the returning favorites — with Breaking Bad (back in August) as their king — there are a bunch of new shows to look forward to. These are but ten of the most optimism-inducing.
The Fosters, June 3, 9 p.m., ABC Family
Callie just got out of juvie and finds herself in an unusual foster home: Two moms (Teri Polo and Sherri Saum), a biological son, a set of foster-to-adopt twins, and a sudden entrée into a fancy charter school and a life she's not accustomed to. Hurray for family dramas with complex but not sensationalized teen characters!
In the Flesh, June 6, 10 p.m., BBC America
They're not zombies: They're suffering "partially deceased syndrome," and now there's a treatment for it. This spooky, imaginative spin on the zombie genre is more than adequate to tide one over till The Walking Dead's return.
Under the Dome, June 24, 10 p.m., CBS
Let's acknowledge right now that it is not easy to adapt Stephen King for television. But optimism endures! In Under, a mysterious dome suddenly descends on a small town in Maine, trapping its residents and bringing out the worst — scariest? — in everyone.
Ray Donovan, June 30, 10 p.m., Showtime
Showtime's going to need a summer show to replace Dexter after this season. Might it be Ray Donovan? Liev Schrieber stars as an L.A. fixer — which we'd roll our eyes at, but Olivia Pope is a D.C. fixer, and Scandal is the best.
Being Mary Jane, July 2, 10:30 p.m., BET
Gabrielle Union stars as a super-driven news anchor who's constantly frustrated that no one around her — not her co-workers, not her family — seems to be as motivated as she is. The drama* was created by The Game and Girlfriends' power couple Salim and Mara Brock Akil; it starts off as a TV movie now and becomes a series next year.
The Bridge, July 10, 10 p.m., FX
Diane Kruger and Demián Bichir star as detectives from El Paso and Juarez, respectively, who have to work on a case together after a body is discovered on the Texas-Mexico border. And it's not one body; it's the top and bottom halves of two different women. If this is half as good as the brilliant, disturbing Scandinavian cop series Broenon, on which it's based, it will be excellent.
Orange Is the New Black, July 11, Netflix
Based on the memoir of the same name, Orange follows rich Brooklynite Piper as she serves a year in federal prison stemming from a decade-old drug-smuggling charge. Weeds' Jenji Kohan is the executive producer, and the show comes out in Netflix's signature thirteen-episode clump.
Axe Cop, July 27, 11 p.m., Fox
What happens when a 5-year-old writes a comic book? Usually nothing. Unless that 5-year-old's brother is an Eisner-nominated artist — and then it becomes Axe Cop, first a wildly popular web comic, and now an animated comedy in Fox's attempt at a late-night bloc.
Broadchurch, August 7, 10 p.m., BBC America
The Killing is not the only murder-mystery show for the summer. There's also the hit U.K. series Broadchurch, starring former Doctor Who David Tennant as a small-town detective investigating the murder of a young boy — a crime that devastates the community and unleashes a media firestorm.
Low Winter Sun, August 11, 10 p.m., AMC
Speaking of murder-heavy cop shows, here's another! Winter is set in a decrepit precinct in Detroit, where two corrupt cops kill a fellow officer and attempt to deal with the fallout. Expect a lot of antiheroism.
* This article previously misidentified the show's genre.