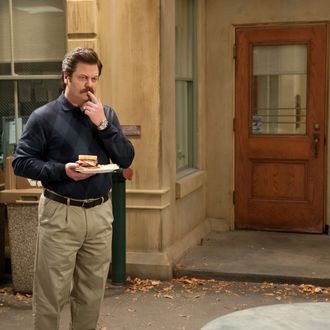 Ron Swanson, future network exec
Photo: NBC
NBC's upfront wrapped earlier this afternoon, and Vulture was on the scene to learn all we could from the reading of statistics and countless new show trailers. (See the clips from most of their new comedies and dramas for yourself.) The two-hour event included lots and lots of talk about The Voice and late night (in case you didn't know, Jimmy Fallon is taking over for Jay Leno, and now they're best friends forever), and lots and lots of hype for the new James Spader drama The Blacklist. Here were our important takeaways:
1. Ron Swanson could successfully program his own network. The show opened with a clip of Nick Offerman and Amy Poehler, in character as Ron and Leslie Knope, pitching new shows. Leslie suggested Pawnee Fire, but Ron's ideas seemed to have more potential: Silence (Ron's dream response to The Voice); Camping (which he'd watch "if it were not a show"); a vehicle for himself, Canoe Men (" … and then I'd paddle away in the canoe"); and Duck Hunting (where "you are alone in nature," killing ducks and eating them). Think about it, NBC: Millions and millions watch Duck Dynasty.
2. The Blacklist tested better than 125 of NBC's previous dramas, therefore, you will watch. That's according to NBC entertainment chief Robert Greenblatt. The drama, which gets the primo Voice lead-in, stars James Spader as the FBI's most-wanted fugitive who agrees to help catch bad guys as long as he can work with a pretty young rookie (who we are guessing is his daughter; sorry, did we ruin the mid-season reveal?).
3. Blake Shelton is still the best Voice coach. He always seems like he's about three drinks in. He and the other mentors were beamed in from L.A. to wave hi to ad buyers via satellite, and Shelton kept goofily pointing to his own forehead for some unexplained reason. If it indeed was live, that means it was shot around eight in the morning PST. (Okay, it was probably taped. He's still fun.)
4. The new TV version of About a Boy dared to re-create the Hugh Grant–Nicholas Hoult "Killing Me Softly" duet … with a One Direction song! We love and weep for everything you do, Jason Katims, but how could you? Not the same!
5. The thriller Crisis looks thrilling, but … seeing One Tree Hill's James Lafferty cast as a serious school teacher gave us pause.
6. We get it! Jimmy Fallon and Jay Leno are both doing super! We know this because they gamely sang another Les Misérables song with lyrics Yankovically adapted to next year's late-night transition; this time it was "One Day More." They managed to include a dig at Eva Longoria's failed reality show Ready for Love, but it's time for a new musical. Or better, no song at all.
7. From this reporter's point of view, the crowd got most into Welcome to the Family. The promo reel for this new comedy, which stars Mike O'Malley (Glee, Justified) and Richard Chavira (Desperate Housewives) as warring patriarchs who find out their college-age kids are pregnant and getting married, got the most and loudest laughs of any of the network's sitcoms. The families are white and Latino, respectively. Thankfully, the trailer included zero culture-clash ethnic jokes. Progress! (So far.)
8. The Michael J. Fox Show could really work. The preview for the sitcom from executive producer Sam Laybourne (Cougar Town) didn't get the most raucous reception, but Fox already proved adept at making his Parkinson's-induced tics and spasms work for him when he played manipulative lawyer Louis Canning on The Good Wife. And the trailer did showcase the insta-chemistry he has with co-star Betsy Brandt (Breaking Bad).
9. Alfonso Cuarón wins the month of May. First came the amazingly tense trailer for his upcoming movie Gravity. And today saw the encouraging taste of Believe, his new drama collaboration with J.J. Abrams about a girl with gifts (mind-reading! sonic screaming!) who is hunted by nefarious forces. It looks like the only good non-procedural option so far.
10. Community fans were in the house. When Greenblatt announced the thirteen-episode pickup, applause could be heard from the back rafters. Misfits!