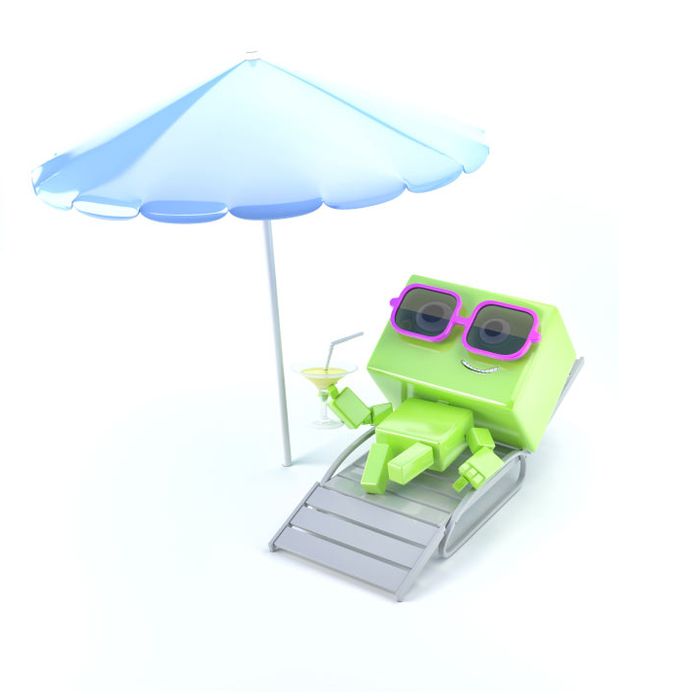 The initial reaction to Daft Punk's hugely anticipated Random Access Memories was slightly shocked, as eager fans realized that, far from the set of summer-dance anthems promised by the first single "Get Lucky," it's actually an eccentric reimagining of retro sounds often deemed beyond good taste: yacht rock, Euro-disco, jazz fusion, Broadway-musical piano ballads. But the album has been getting mostly great reviews since then, and looks set to sell big. So, if you find yourself inspired by Daft Punk to spend the summer gazing at the ocean in a pair of pressed white linen pants and Wayfarers while sipping a piña colada and listening to spaced-out soft disco and Christopher Cross, here are 30 albums that probably helped inspire Random Access Memories.
1. Chic, C'est Chic (Atlantic, 1978)
Random Access Memories would be unthinkable without the presence of Nile Rodgers — as would, come to think of it, much of disco. Mixing funk density with the weightlessness of a blown kiss, Rodgers's rhythm guitar in "Get Lucky" and a couple other standouts is a shameless reproduction of early Chic. See, especially, the rhapsodic anthem "Le Freak" and the glamorous, amorous pining in "I Want Your Love."
Listen: "I Want Your Love"
2. Donna Summer, I Remember Yesterday (Casablanca, 1977)
The disco diva did some postmodern time-traveling of her own on I Remember Yesterday, which mixed classic disco with vintage signifiers ranging from the big-band twenties to the girl-group sixties. Onward to the future, the epochal finale "I Feel Love" featured out-there synthesizer sounds and sleek electronic drum programming from producer — and eventual Daft Punk muse — Giorgio Moroder.
Listen: "I Feel Love"
3. Giorgio Moroder, From Here to Eternity (Casablanca, 1977)
The Italian super-producer expanded on the all-electronic disco he more or less invented for "I Feel Love" on this full-length album that sounds startling still. The synth riffs are all remarkably tidy and tight, with a sustained sense of speed throughout, and it's easy to imagine Daft Punk deriving much of their recent state of mind from the ever-evocative song "Lost Angeles."
Listen: "Lost Angeles"
4. Michael Jackson, Off the Wall (Epic, 1979)
About half the tracks on Random Access Memories feature meaty, metronomic drums by John "JR" Robinson, a storied session dude who identifies as "the most recorded drummer in history" and includes among his credits Michael Jackson's best album. Surely you don't need an introduction to this, but in terms of Daft Punk, listen back to its restraint; for all the expansive disco swoon, Off the Wall is a sharp, lithe, focused affair as notable for what it avoids as for what it adds.
Listen: "Off the Wall"
5. Steely Dan, Aja (ABC, 1977)
Ruthless studio efficiency taken to decadent extremes has found no fuller form than Steely Dan's Aja, which stands as a model of almost martial adherence to the groove. Studious drummers boast of being able to play along with it in sync, and the gleaming, vacuum-sealed sound plays as if summoned from a studio filled with air comprised of elements much cleaner and more pristine than oxygen and CO2.
Listen: "Peg"
6. Larry Levan, Classic West End Records Remixes Made Famous at the Paradise Garage (West End, 1999)
Matching the introspection of much of Random Access Memories, disco's most legendary D.J. was famed for his wide-ranging sets encompassing moods and emotions more nuanced than total euphoria. This collection of remixes he spun at the fabled West Village dance club Paradise Garage surveys subjects as varied as the mysterious human heart and, from a more galactic vantage, a "Serious Sirius Space Party."
Listen: "Why You Touch Me (Larry Levan Mix)"
7. Fleetwood Mac, Tusk (Warner Bros., 1979)
Hanging out in L.A. and blowing a bunch of money on a mystifying masterwork is a form of art mastered by Fleetwood Mac for Tusk. To follow their mega-popular mega-hit Rumours, the band burned through a big budget — Tusk is often called the first million-dollar record — and wound up with a double album that is defiantly diverse, strategically uneven, and, in ways that have aged well over time, deliriously weird.
Listen: "Tusk"
8. Paul Williams, Just an Old Fashioned Love Song (A&M, 1971)
In a move equivalent to Quentin Tarantino exhuming erstwhile stars from the dustbin of cinema history, Daft Punk dug pretty deep to enlist Paul Williams and his enchanted voice for the stirring RAM song "Touch." An oddball of a sort that seems possible only in the sixties and seventies, Williams wrote songs that became hits in other acts' hands (see the Carpenters' "We've Only Just Begun" and Three Dog Night's "An Old Fashioned Love Song," among others). Williams's own versions of both figure on his second solo album, as do a number of other songs that scream with a subtle sense of craft.
Listen: "We've Only Just Begun"
9. The Muppets, The Muppet Movie: Original Soundtrack Recording (Atlantic, 1979)
Daft Punk's enlistment of Paul Williams has also provided a legitimate reason (if there were ever another kind) to listen to Kermit the Frog sing "Rainbow Connection" as only Kermit the Frog could. Williams wrote the song with collaborator Kenneth Ascher for Jim Henson to give voice to, and the shatteringly moving result in the first Muppet Movie took on a life that nobody could have foreseen.
Listen: "The Rainbow Connection"

10. Doug Randle, Songs for the New Industrial State (Light in the Attic, 1971)
It's hard to tell how invested Daft Punk really are in the notion of modern techno-utopian glamour—are they sending it up or singing its highest praises? If it's the former (as it has to be, at least to some extent), they fall in line with the curious character Doug Randle. In inimitable seventies folk-rock fashion, Songs for the New Industrial State delivers a wry, deadpan, and very slyly playful critique of the madness of a modern world populated with abundant colored plastic things and people zoned-out behind their unblinking chemical stares.
Listen: "Coloured Plastics"
11. Jean-Claude Vannier, L'enfant Assassin des Mouches (Finders Keepers, 1972)
Zinging strings, melodic zigs and zags, a sustained sense of zaniness — all were hallmarks of this French composer. Vannier made his name with arrangements for Serge Gainsbourg (see the skeevy classic Melody Nelson), but he laid it all out on his own first solo album L'enfant Assassin des Mouches, an exotic, all-over-the-map suite of songs somehow about a child killing flies.
Listen: "Les Gardes Volent Au Secours"
12. Christopher Cross, Christopher Cross (Warner Bros., 1979)
Yacht rock — make of it what you will. But don't mistake Christopher Cross's flamingo-streaked debut for anything other than a curious sort of masterpiece. "Sailing," "Ride Like the Wind," the Michael McDonald backing vocals in "I Really Don't Know" — there are moments here waiting for rescue, and it's easy to imagine Daft Punk leaning into them all while lounging in L.A. out back by the pool.
Listen: "Sailing"
13. Dennis Wilson, Pacific Ocean Blue (Legacy, 1977)
Dennis was the dark-and-handsome yet solemn-and-brooding drummer in the Beach Boys before getting weird and, a little later, going solo on the transcendent Pacific Ocean Blue. It's like yacht rock haunted by specters in sailors' caps (maybe even Charles Manson, with whom Wilson hung out a bit in the early pre-murder days). Standouts like "River Song" and "Dreamer" share in common with Daft Punk an improbably convincing sense of abiding guilelessness and charm.
Listen: "River Song"
14. The Stark Reality, Acting Thinking Feeling, 1968–1970 (Now-Again, 2013)
The imagined mode of "robot band" existence that Daft Punk has aspired to — see images of them preening in the presence of guitars and drums while silhouetted against the sun — was a more or less fully realized mode for the Stark Reality, a jazz-fusion group that mixed mechanistic precision with wild human abandon. This archival collection features lots of electrified space grooves, as well as a killer full-record remake of a children's album by the anachronistic pop star Hoagy Carmichael.
Listen: "Junkman's Song"
15. David Axelrod, David Axelrod at Capitol Records 1966–1970 (Capitol, 2005)
David Axelrod (not the mustachioed political wonk) produced elaborate and expansive jazz and soul records in sun-drunk California, often for other people but always with his own stamp. The oft-sampled classics collected here include cool moves by Lou Rawls and David McCallum, as well as a string of Axelrod's own tracks — all with a wide-screen sense of drama and a sense of scale that never shies away from the epic.
Listen: "House of Mirrors"
16. V/A, Disco Italia: Essential Italo Disco Classics 1977–1985 (Strut, 2008)
The vintage sound of "Italo disco" slathered timely dance-music moves with a readily identifiable Euro sheen. Lascivious grooves and a deep devotion to reverb figure into thirteen classics of the genre collected here, all of them funky, functional, and impeccably fun.
Listen: "Love (Is Gonna Be On Our Side)"
17. Alan Parsons Project, Eye in the Sky (Arista, 1982)
Eye in the Sky might be impossibly hokey if it weren't also awesome. Everything good and bad about a life lived behind sunglasses and in serious engagement with the spiritual promise of searing guitar solos is embodied in a collection of epic rock songs that sound dated and timeless at once. "I am the maker of rules, dealing with fools — I can cheat you blind," go the lyrics in the title track. Maybe, maybe not.
Listen: "Mammagamma"
18. Neil Young, Trans (Geffen, 1982)
Neil Young's notorious Trans is an anomaly in every way for the grizzled rocker. Some songs align behind guitars the way Young songs are supposed to, but then others — see "Computer Age," "We R in Control," and "Computer Cowboy," among others — mingle rootsy rock tropes with ethereal synthesizer missives and super-weird vocoder effects. If Neil Young can identify as a robot, who among us can't?
Listen: "Transformer Man"
19. Yello, Solid Pleasure (Mercury, 1980)
The delightfully strange and shifty synth-pop classic Solid Pleasure treats early electronic-music progressiveness, often so austere in its effects, with a sense of play and humor. For all their portentous poses as robots with the state of the world in mind, it's worth remembering that Daft Punk can also be funny — and very funny — when they want to be.
Listen: "Night Flanger"
20. Jean Michel Jarre, Zoolook (Polydor, 1984)
The French synth pioneer is remembered most often for his lilting ambient classic Oxygene, but this more varied and experimental oddity from a few years later holds out more promise to wow in the present day. Making use of abstracted samples and voices processed beyond human recognition, Zoolook sounds as much like music from the depths of outer space as anything can.
Listen: "Diva"
21. Human League, Dare (Virgin, 1981)
This new-wave classic (the one with the ever-present eighties hit "Don't You Want Me") went a long way toward introducing electronic music to over-the-top sentimentality and emotion. Nothing on Dare sounds small or less than totally serious in a change-your-life sort of way, and that makes it all the more ready for commitment of both mindful and mindless kinds.
Listen: "Darkness"
22. Les Rhythmes Digitales, Darkdancer (Astralwerks, 1999)
A sleeper favorite from the millennial age in which Daft Punk came to dominate, Darkdancer features an immensely appealing sort of futuristic disco-pop fashioned by a British guy who also identifies as Jacques Lu Cont. He went on to work as a producer with the likes of Madonna and Kylie Minogue, but his breakout album as Les Rhythmes Digitales remains a touchstone for the way it makes electronic pop evermore expansive and ecstatic at once.
Listen: "Music Makes You Lose Control"
23. Air, 10,000 Hz Legend (Astralwerks, 2001)
After making a name for themselves with a comely sort of cosmopolitan lounge-pop, the two Frenchmen in Air spaced-out in a serious way on 10,000 Hz Legend. Long, laconic, and more than a little bit puzzling, the songs split between affecting mood pieces and deceptively affectless moans that work well to make the good parts all the better.
Listen: "Sex Born Poison"
24. N.E.R.D., In Search of … (Virgin, 2001)
At the height of their stardom as hip-hop and R&B producers, the Neptunes (including Pharrell Williams, Daft Punk's go-to vocalizer for two new songs) banded together for these funked-up takes on what Steely Dan might have sounded like if they'd grown up in Virginia Beach and listened to Timbaland. Look for the first, more electronic version, from before N.E.R.D. made the quizzical decision to add heavy-rock guitar to a bunch of songs.
Listen: "Run to the Sun"
25. Metro Area, Metro Area (Environ, 2002)
Disco revivalists without peer, this New York duo made an almost manically meticulous masterpiece with their first (and thus far only) album. All the elements are there — horns, strings, drums that glisten and thump — sounding both traditional and of the more electronic moment.
Listen: "Miura"
26. Panda Bear, Person Pitch (Paw Tracks, 2007)
The comparatively warm and cuddly one in Animal Collective makes a surprise appearance as a Daft Punk mouthpiece in "Doin' It Right," a heartening and decidedly human ode near the new album's end. Fans of that — a sort of chant delivered with a mix of innocence and ritualistic devotion — will find much to commune with in this solo album, which takes a loop-based approach to crafting songs into the form of cozy blankets.
Listen: "Comfy in Nautica"
27. Chilly Gonzales, Solo Piano II (Arts & Crafts, 2012)
The player of the plangent piano in RAM's early-album torch song "Within," this Canadian eccentrically aspires to a state he calls "Philip Glass meets Andy Kaufman." That can mean many different things, presumably, but on Solo Piano II it means straightforwardly beautiful piano pieces that mine a lot of melody from classical-music conventions and present them in readily accessible ways.
Listen: "White Keys"
28. Escort, Escort (Escort, 2012)
Re-creating studio-borne disco to within an inch of its life was a practice until recently dominated by Escort, whose self-titled debut from last year makes a show of studiousness. It's a ton of fun, too, full of musical bursts and swerves, and the chances of seeing the New York band play live are considerably better than those for Daft Punk.
Listen: "Cocaine Blues"
29. Kavinsky, OutRun (Republic, 2013)
A Parisian compatriot of Daft Punk's (he opened for them on their last world tour, the storied one with the strobing pyramid stage), Kavinsky piqued a lot of ears on his own with "Nightcall," a moody electro dirge that played evocatively over the opening credits of Drive. (Tip to aspiring hit-makers: it never hurts to have your song coupled with the image of Ryan Gosling looking stoic and cool.) On OutRun, Kavinsky works with a similar palette and smears it around in songs that spread out and tend more toward the dance club.
Listen: "Nightcall"
30. Todd Edwards, BBC Essential Mix (BBC, 2013)
After teaming with Daft Punk for the slithery song "Face to Face" on Discovery, Todd Edwards got invited back to the RAM sessions to sing "Fragments of Time." It sounds almost nothing like anything that earned him the mantle Todd "The God." The source of that nickname is the kind of cut-up, luminous, boundlessly funky dance music he spins to dizzy-making effect in a recent BBC "Essential Mix" that features his own remixes of David Bowie, Giorgio Moroder, and Daft Punk themselves.
Listen: "Todd Edwards Essential Mix"