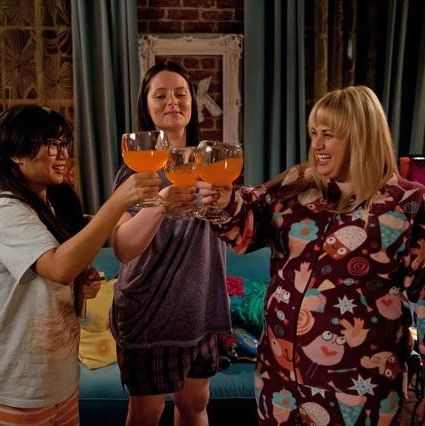 ABC's upfront tradition is to trot out all the standard programming and advertiser info, and then bring Jimmy Kimmel out to make fun of the proceedings. It's a solid plan! Kimmel usually kills, and it's a rare bright spot among the awkward and occasionally boring presentations. This year was no different. ABC unveiled its comedies, its dramas, and, mercifully, its sense of humor. Plus, we learned a few things.
1. We're in for so much Barbara Walters stuff before she retires. Walters has been with ABC News for decades, so some acknowledgement wasn't a surprise. But this felt like a lot. First, Disney-ABC Television President Anne Sweeney saluted Walters in her intro; a slight misty-eyed Walters then got a standing ovation. Later, Sweeney talked about ABC's new apps and streaming options, and said, "If you don't take risks, if you don't act boldly, you'll never do something truly memorable. Right, Barbara?" Oy, Anne. Not sure Barbara Walters cares about your "bold" ways of putting commercials on phones. Later, Jimmy Kimmel joked that "Barbara Walters is leaving after more than 50 years to have a baby," which earned a solid laugh. "My baby. [looking for Walters in the audience] She left? Well, all right, we'll have it terminated."
2. Good God, this show Mixology now exists. Here's ABC's log-line: "One bar. One night. Ten single people." That's right, the whole season takes place over the course of one night. Some of the characters: "an attorney who's as beautiful as she is brutal" …  "a dark mysterious bartender" …  "a failed Internet entrepreneur" … Who will go home with whom? It may take 22 episodes to find out! Can you feel the excitement 18-49-year-olds? No?
3. The upfronts' second eerie kid show is … Resurrection! Alfonso Cuarón and J.J. Abrams debuted the first look at their NBC drama Believe on Monday and a day later ABC presented Resurrection, about an 8-year-old who mysteriously wakes up in China 30 years after his death. When he returns to his hometown of Arcadia, Missouri, we realize he's just one of many dead people returning to their loved ones. So it's like The 4400 meets Ghost Town.
4. Could Mind Games be "third time's the charm" for Kyle Killen? Killen makes shows that critics love but audiences can't quite grasp. Two years ago, he made Fox's Lone Star, about a duplicitous grifter. It was canceled after its second episode. Then he created NBC's Awake, which revolved around a cop who, following a fatal car accident, lived in split realities: one in which his wife had survived and the other in which his son had. This time he's got something … decidedly less complicated. Mind Games is a light procedural about brothers and business partners (Christian Slater and Steven Zahn), who use psychological manipulation to influence their clients.
5. The Once Upon a Time Spinoff looks better than Once Upon a Time. It follows Alice in Victorian England. Her tales of the adventures on the other side of the rabbit hole — where she fell in love with a genie — have resulted in her dad declaring her crazy and institutionalizing her. It's a lot of CGI (at least in the pilot), but for whatever reason, they look better than the OUAT special effects. Maybe it's just all the British accents.
6. The Goldbergs really is a true story. It does not look like a particularly funny true story, but it is a true story. Creator Adam F. Goldberg filmed his whackadoo family as a child, and has now turned that footage it into an eighties-set sitcom starring Wendi McLendon-Covey and Jeff Garlin as his parents. It's one of a lot of "my family is so loony!" sitcoms this year (and not the only one set in the past), but at the end of the clip, ABC showed Goldberg's real home movies. And it was dead-on! Like the end of Argo, where they showed the real people's photos, and it was clear that the costume department nailed it. Veracity: Yes. Humor: We'll see.
7. Rebel Wilson has no trouble stealing the show. Sorry, Jimmy Kimmel, the biggest laugh of the dog-and-pony show was Wilson introducing her new comedy Super Fun Night. "It's the anti–Sex and the City," Wilson said. "When these ladies eat at night, they're not talking about dick."
8. But Jimmy Kimmel's monologue was still pretty good. "It's time to stop calling this an 'upfront,'" Kimmel told the gathered advertisers. We should call it what it is, he said: "Throwing a bunch of shit at the wall to see what sticks. And guess what? You guys are the wall." He took some solid shots at ABC — "You're about to invest billions of dollars in network that rolled a 400-pound comedian off a diving board last week" — but saved his harshest material for other networks. Kimmel joked about Fox's upcoming Junior Masterchef, a Gordon Ramsey–fronted cooking contest show for kids. "The were originally going to call it Mommy, A Mean British Asshole Told Me My Pancakes Taste Like Goat Dick, but the title didn't test well with women. Or goats." The biggest response, though, came right after that line. "Then we have CBS, those smug motherfuckers." Huge, huge laugh.
9. Joss Whedon knows what's up. Whedon came onstage with the cast of S.H.I.E.L.D. (we're not seriously going to call it Marvel's Agents of S.H.I.E.L.D. for much longer, are we?) to introduce the show. Whedon has a reputation for offing fan favorites, so he introduced Clark Gregg as "an actor so talented that even I couldn't kill him." Then he gushed about how great the cast was, introducing them as "people I've fallen in love with who are soon going ot have extraordinarily inappropriate fan fiction written about them." This is true.