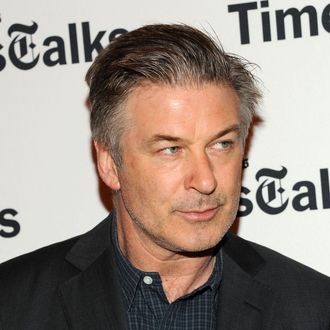 Alec Baldwin really does not care for New York Times theater critic Ben Brantley. Like, at all. On HuffPo, Baldwin writes about "how Broadway has changed," but that's mostly a framing device so he can rip into Brantley, who, yes, wrote an unfavorable review of Orphans, which Baldwin stars in. (It's closing early because of crummy ticket sales.) Baldwin writes,
Ben Brantley, who I must state up front is no fan of mine (every John Simon must have his Amanda Plummer, I suppose), is not a good writer. Whereas [former Times critic and current New York Magazine writer-at-large Frank] Rich's keen sense of what worked or did not work on stage helped to elevate the position of his desk, Brantley is viewed as some odd, shriveled, bitter Dickensian clerk who has sought to assemble a compendium of essays on theatre, the gist of which often have no relationship to the events onstage themselves. Brantley carries the Times into the performance and little else. Beyond the obvious impact that a weak or scathing review in the Times has on sales, particularly with booking agents for tourists, no one I know of in the theatre reads Brantley except in the way that a doctor reads an x-ray to determine if you have cancer. Brantley doesn't offer criticism, per se, as much as he seeks to signal to some that they are actually unwelcome on Broadway. If you aren't Brantley's type, why bother? And it is this very "Why Bother" approach of Brantley's that I think is the most troubling.
[…]
I read the print version of the Times every day and will continue to do so, I assume, regardless of (or in Brantley's case, in spite of) who covers the theatre. But the "Why Bother" theme seems wrong for the Times. And with the more insightful Isherwood sitting there, writing circles around Brantley, I think it's time for the Times to get rid of Brantley. I don't know anyone, anyone at all, who will miss him or his writing.
Baldwin writes that a critic should "never say 'why bother?'" about something he or she is reviewing, and that "[in] the case of Orphans, Brantley wrote 'Why bother?'" Actually, Brantley didn't — though he did call Baldwin's performance "a mutating cartoon … with only hints of the requisite menace" and said the production was "dispiritingly pallid."
Please, please let Shia LaBeouf chime in on this.