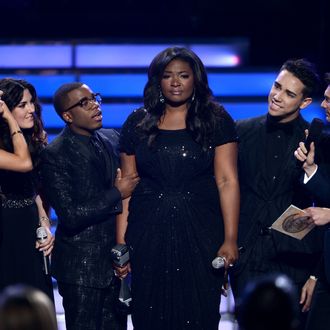 Photo: Kevin Winter/Getty Images
Fox executives have waited (in fear) for a moment like this: American Idol wrapped its twelfth season last night with its least-watched finale ever and the first one in the show's history to not crack 20 million viewers. On a night that also included the finale of The Office (more on that later), around 14.3 million people watched Candace Glover win Fox's singing competition, with the two-hour-and-seven-minute broadcast averaging a 3.6 rating among adults under 50. Those are impressive numbers for most shows on TV; ABC's red-hot Scandal only managed a 3.2 in the demo last night. But they are absolutely awful numbers by the standards of a show that, until last season, was consistently TV's most-watched program. Compared to the May 2012 finale, Idol was down a stunning 44 percent in the demo and lost exactly one-third of its overall audience year-to-year. And in a sign of just how much of the Idol core audience abandoned the show, last night's Idol finale had a lower demo rating than any of the roughly 40 episodes of Idol episodes that aired last year. In other words, the lowest-rated episode of Idol season elevent was still bigger than this year's finale. Idol also bled viewers throughout the season: It kicked off this January with a 6.0 rating in the demo and stayed above a 4 rating until midway through its never-ending Hollywood round in mid-February. One small upside: Even with the jaw-dropping collapse, Idol was still big enough Thursday to give Fox a win for the night, despite facing massive competition from the season finales of network TV's top comedy (The Big Bang Theory) and top drama among adults under 50 (Grey's Anatomy), plus the series finale of The Office. It should also be noted that in past years, Idol has ended its season on a Wednesday, usually with far less brutal competition than it faced last night.
As for those Thursday rivals, the most high-profile (well, at least to comedy lovers) was that last episode of The Office. Given how far the show's numbers have fallen in the past two years, NBC wasn't expecting much, and its expectations were probably met: The show drew 5.7 million viewers for its 75-minute exit and a 3.0 rating among cubicle dwellers under 50. It was the show's top-rated episode since January 2012, and sharply higher than recent weeks, when the show's been averaging around a 2.0 in the demo. And there's this: The very first season of The Office ended in 2005 with 4.8 million viewers, which means the show ended its run up from where it started, not unlike many comedy classics (Cheers, Seinfeld, Everybody Loves Raymond). Meanwhile, over at ABC, Grey's Anatomy ended its 852nd season with a 3.0 demo rating and 8.6 million viewers, while as mentioned earlier, Scandal built to a 3.2 and 9.1 million viewers. It's worth noting that in recent weeks, Grey's has still been pulling ahead of the younger Shonda Rhimes show once DVR data is calculated. Either way, all's well in Shondaland. And finally, the top-rated show Thursday was, as always, The Big Bang Theory, which drew 14.8 million viewers and did a 4.4 in the key demo. The unusually intense competition resulted in BBT actually dropping about 10 percent week-to-week, but it's likely the show will make up much of the difference via DVR viewing.