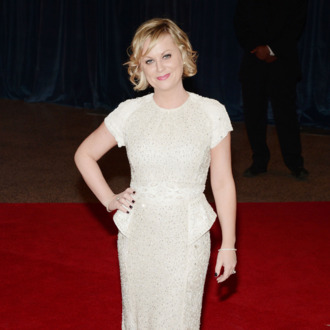 Amy Poehler can totally pull-off Swedish.
Photo: Nicholas Hunt/PatrickMcMullan
We always say we wish there were more Amy Poehler to go around. Well, now 50 percent of her DNA is getting its own show, in the form of her brother Greg. Small caveat for watching it: You'll have to live in Sweden (for now at least). Greg lives in Sweden, so he and Amy created a production company, Syskon, with the intention of developing half-hour comedies there. The first, Welcome to Sweden, was created by and will star Greg as a New York accountant who moves to Sweden to be with the woman he loves. It's based on Greg's adorable real-life story. They're trying to find a home for the show Stateside, so don't buy your flight to Sweden just yet. Well, unless you were already planning on vacationing there. If that's the case, please send us a postcard with a picture of Öland on it with a message telling us what that show is like.