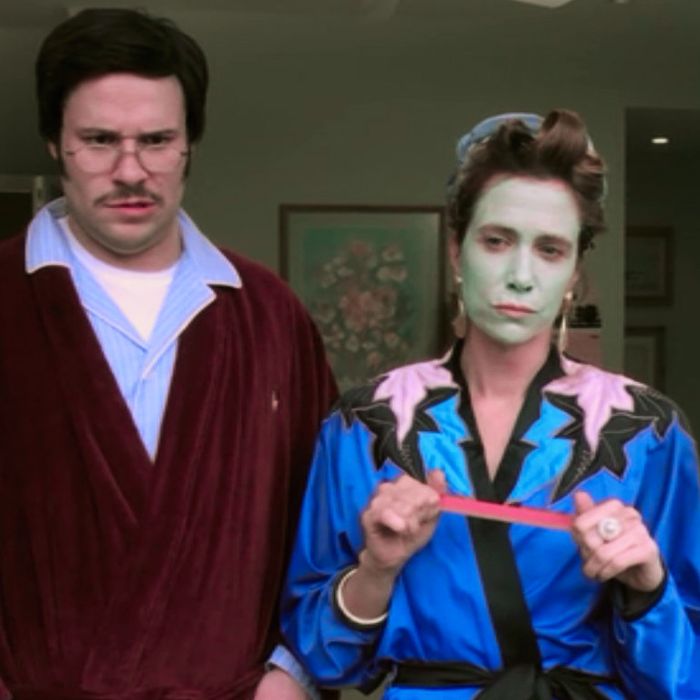 Vulture is doing fifteen immediate recaps for hard-core Arrested Development fans. Five regular Vulture writers will write on three episodes each. More in-depth analyses of the new episodes will appear in the coming weeks.
Thankfully, the Bluth family is still a mess.
The season starts with a young Lucille and George Sr. (played to an absolute T by guest stars Kristen Wiig and Seth Rogen). Sick of losing their housekeeper for one day each May, Lucille creates the holiday Cinco de Cuatro as a "particularly vicious response" to Cinco de Mayo, attempting to use up party resources and keep the May 5 celebration from happening. During the present-day festivities, a sweaty, disheveled Michael wobbles up the newly rechristened Austero Bluth Company stair car to offer Lucille 2 sex in exchange for the $700,000 he owes her, but his attempts to kiss her causes her vertigo to flare up and she falls over fabulously instead.
Michael goes back to the model home with a newly bruised and scratched face, expecting the house to be empty, but he finds older brother G.O.B. there sexing up a woman we only see from the knees down. G.O.B. forces one of his "forget-me-now" pills down Michael's throat to keep him from remembering who he just saw, stroking his head and pinning Michael to the ground with his own body.
Though he is usually the most solid Bluth family member, Michael has had it fairly rough since he rode off into the watery sunset with his son at the end of the last season. Lucille sold off one-fourth of her shares to Stan Sitwell when the SEC finally caught up with her, and he immediately sold them to Lucille 2. Lucille 1 stole the Queen Mary in an attempt to evade the SEC, but eventually she turned around to face the music. Lawyer Barry Zuckercorn missed her hearing because he doesn't understand maritime law or Navy time, and Micheal got pissed when he was told that sale of the stock and money from a stimulus package were paying for Lucille's attorney fees and a new plot of desert land purchased by George Sr. instead of finishing Sudden Valley, their development property.
Even though Lucille and George Sr. tell him they are getting a divorce in a bid for sympathy, Michael goes across the hall to trade his company shares to Lucille 2 in order to finish Sudden Valley, and he tells his family he is done with them once and for all. He does build all of the homes he promised, but the housing-market collapsed, leaving the houses empty and putting Michael at the helm of his very own ghost town. He borrows $700,000 from Lucille 2 to pay his building costs, and moves into George Michael's accidentally double-size dorm room at UC Irvine.
Michael is unable to take a hint and move out after shamelessly encroaching on his son's space. George Michael is finding his own ways to thrive — a Google search of his name prompts him to consider changing it entirely and also develop Faceblock, the antisocial network that gives you privacy. When George Michael's cousin Maeby comes for a visit, Michael tries to use it as an opportunity to vote the new roommate "P-Hound" out of the room, coming up with elaborate plans that include referring to Maeby as George Michael's girlfriend. After agonizing over how to construct the vote, they decide unanimously that Michael has to leave the room. He decides to leave the state as well, finally seeing his pathetic-looking photo in the in-flight magazine article and landing in Phoenix, where he has long threatened to move. As he leaves the airport, he is bathed in light and full of hope … but those hopes are quickly dashed by oppressive heat and burning car-door handles that will singe the fingerprints off of you quicker than a Cornballer. Michael gets on a plane, and heads back to California, where he finds his mother's condo trashed and gets pummeled by an ostrich.


Odds and Ends
Using a Dr. Seussian rhyme to explain the grinchiness of a young Lucille was brilliant.
"I'm going to have sex with you. For money." Our reintroduction to Michael sets up a great story, and has you wondering how he got sucked back into the family drama.
Lucille 2 asking to throw more taco shells from the stair car, screaming "¡Olè!" was probably the funniest throwaway line of the episode.
Buster reacting to the mention of divorce and accidentally losing a jewel from his newly bedazzled hook was the best character entrance so far.
The Wee BBC2 reporter from Actual Britain.
Clever reprisal of the "The Trial of Captain Hook" song with young Michael; this time, showing him banging into a loose seal and rolling over a plastic hook arm onstage.
The joke about whether or not the family tips African-American people was sustained throughout the episode in nod to subtle humor that we've missed.
We laughed the loudest when Michael, getting lightly ribbed by P-Hound, says "You ever even been on a plane, you piece of shit?" He's coming unhinged.
LOVED seeing Michael's Snoopy walk to the soundtrack of Vince Guaraldi when he gets voted out of the room.
Best Cameo: The cast of Workaholics as airport employees.
Michaels's mini-breakdown when George Michael suggests he should leave is reminiscent of Lucille guilt-tripping her kids into doing things, particularly now that he is so bereft.