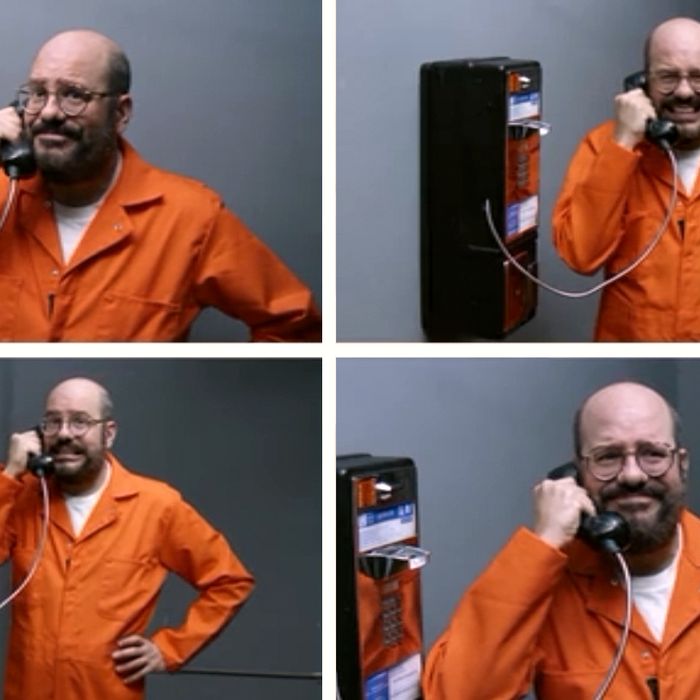 Vulture is doing fifteen immediate recaps for hard-core Arrested Development fans. Five regular Vulture writers will write on three episodes each. More in-depth analyses of the new episodes will appear in the coming weeks.
Last we left Tobias, his never-ending unintentional creepiness landed him on John Beard's To Entrap a Local Predator. Now Tobias is working at Lucille 2's Austerity, a rehab clinic attended by pop sensation Mark Cherry, as well as by Tobias's recent fling, DeBrie. Tobias's latest prison stint has finally taught him the exact right way to combine the words analyst and therapist. Ron Howard's "we don't have to hear this again" during the Tobias catchup clip is a great wink at the fact this is on Netflix and we can rewind and come back in less than a minute if we feel the need to catch ourselves up.
Argyle Austero, played by nine-time Tony Award–winner Tommy Tune, enables Tobias's wacky plot to put together a Fantastic Four musical for everyone in rehab. (Listen closely or dare missing the ominous "Mr. F" voice-over.) Tobias's acting reel, set to the Hot Cops theme song, is sensational. So is Argyle. He's one of the best new characters — the menace he embodies when tap dance-threatening Michael is fantastic.
At the model home, Gob and Tobias catch up over heaping plates o' Parmesan. (Tobias eats his with mustard. Extra gross.) Tobias realizes that the isolated nature of Sudden Valley makes it the perfect place for a sex offender to call home. Back at Austerity, choreography is under way for Tobias's first big theater production since Romeo and Juliet. All the split-screening is a little distracting, but I guess it's fine for a montage and as a way to break up the visual appearance of a show plenty of people are barreling through without intermission.
Deep into preparing the musical but lacking the rights and permissions, Tobias uses Michael to access Ron Howard. Ron takes haircut meetings and calls all his barbers Floyd. Is anyone comfortable with all the Howard references immediately followed by Howard's narration? I feel like my brain's melting.
Michael puts his theory about Ron being Rebel's lover to the test. "It's my time to bathe her. She should be my num-num." Tobias helping Michael understand that Ron is Rebel's father ranks high on Tobias's list of achievements. Tobias attempting to strangle Ron a second later ranks high on Tobias's list of huge mistakes. Tobias gets booted from the Bluth movie.
The Fantastic Four musical is still alive, despite being illegal. Lucille, briefly involved in rehearsals, laughs hugely at her own bad joke. Then the night of Cinco de Cuatro is once again upon us. DeBrie finds the pills John Slattery's Dr. Norman dumped in the water, landing her strung out on a pile of garbage, rasping ,"Let me dieee." Maria Bamford's gleeful weirdness is so intact in this role.
Tobias, discovering there are children everywhere, pawns off his Thing outfit and performance duties to Buster. (Hi, Busty!) Tobias, like a superhero coming out of retirement, blues himself again. He also gets on the wrong boat again, this time hitching with the face-blind Marky Bark, who's planning to destroy Cinco de Cuatro. The episode moves a lot more pieces around on the season's chessboard, but it's surprisingly fresh for a second Tobias-centric half hour. Like Tobias and his acting dreams, this one believes in itself.
Odds and Ends
Evidently Tobias's middle name is Onyango, which Google tells me is the surname of Barack Obama's

Kenyan aunt

. So it's another nod to the original plan for Tobias to be

revealed as a black man

, right?

"Me doth think he hath a lady, as doth I dooth."

By now, I'm dying to know what George Michael and Buster and Maeby have been up to all this time.

Realization: Mark Cherry isn't just a visual Justin Bieber reference but a musical one, too. His hit is a knock on the repetitive infectiousness of Bieber's breakout single — "get away, get away" = "baby, baby, baby, ohhhh."

Lucille calls Tobias anustart, "and she never even saw the license plate."
Maria Bamford acted a little in Louie's third season and said she wasn't exactly comfortable. "Acting is not my strong suit," she wrote at Slate. "Not only am I not the most confident actor, but just being in the presence of someone [Louis C.K.] who works so hard to makes certain that everything is done well — well, I thought I might just end up shame-spiraling in my head the whole time, comparing myself to Louis, feeling the way a small orange rock might feel next to the Grand Canyon." Can't imagine working on a revival of Arrested Development being much different or less stressful.

"I don't like it — I

love

it" is the Carl Weathers callback our time both needs and deserves.