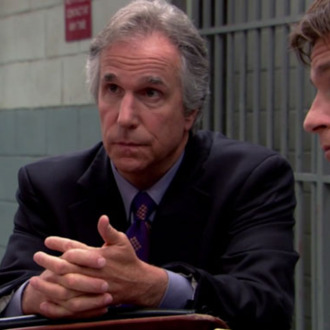 The Arrested Development Documentary Project is a film made by AD "super-fans" Jeff Smith and Neil Lieberman as a tribute to their favorite show. Made up of interviews with most of the cast and crew (Michael Cera is the only major absence), the doc goes through the history of the show prior to the Netflix deal that resulted in a soon-to-be-aired fourth season. It's definitely fun to watch the gang reminisce, but the film also reveals some previously unknown facts, like that the original pilot script was 70 pages long. The film is available on VOD. Read the fun facts below and try to deduce what they mean for the rapidly approaching Netflix season.
1. Lindsay Bluth was the only character Mitch Hurwitz rewrote for an actor after being taken by how funny their audition was.
2. Ricky Gervais, Sacha Baron Cohen, and Christopher Walken all wanted to be on the show, but it was canceled before Hurwitz could find somewhere to use them.
3. Henry Winkler's favorite part of playing Barry Zuckerkorn is that he got to keep the ties.
4. Because of his thick New York accent, Scott Baio overpronounced the "aw" in Bob Loblaw and had no idea the name was a joke at first.
5.  Mitch Hurwitz's script for the pilot was 70 pages long, which is double the standard length.
6. At their first Emmys, as Will Arnett and Michael Cera walked the red carpet together, all they could hear were photographers yelling, "Michael Cera! Michael Cera!" What they soon realized was that Cera was standing between Michael Douglas and Sarah Jessica Parker, and they were actually screaming, "Michael! Sarah! Michael! Sarah!"