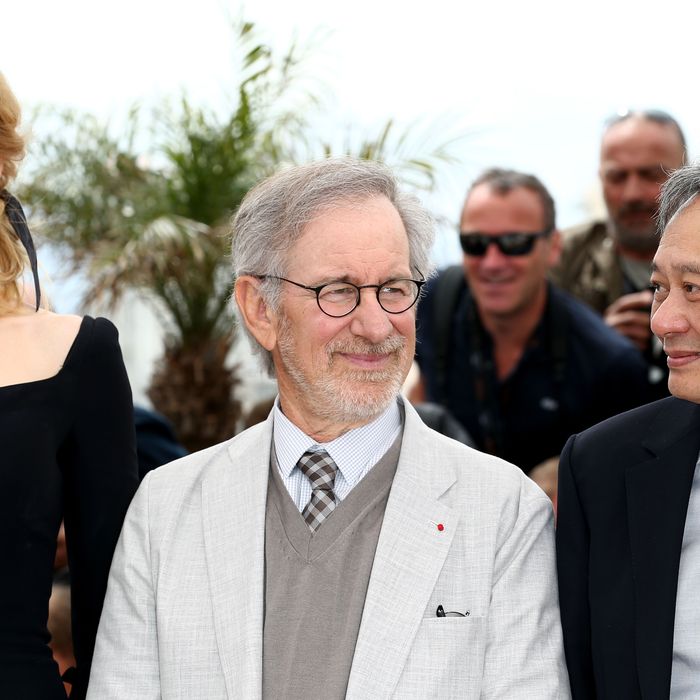 Photo: Andreas Rentz/Getty Images
Au revoir, Cannes! As Vulture's Kyle Buchanan and Jada Yuan pack their bags and depart the Croisette, it's time to look back on the 2013 Cannes Film Festival and the glamorous, unpredictable, occasionally frustrating, and sometimes transporting crop of films it had to offer. Which stars thrilled us, and which let us down? Which movies should have been included in the official competition, and which had no right being there? Take a look at over a dozen of our Cannes superlatives as the ritziest film festival on the planet comes to a close.
Most Pleasantly Progressive Surprise
Steven Spielberg
When Steven Spielberg was selected as this year's Cannes jury president and was joined by fellow Hollywood royalty Nicole Kidman and Ang Lee in the deliberation room, many predicted that the awards would skew mainstream. But Spielberg defied expectation by handing out the Palme d'Or to Abdellatif Kechiche's Blue Is the Warmest Color, a three-hour, intensely erotic French lesbian coming-of-age story. (Notably, the night of the Cannes closing ceremony, a violent anti-gay-marriage demonstration was taking place in Paris, one week after the ratification of gay marriage in France.) Spielberg then defied expectations yet again by handing out two more Palmes d'Or to the film's incandescent lead actresses, Adele Exarchopoulos and Lea Seydoux; shockingly, the honor makes them the only women other than Jane Campion to win Cannes's top prize.
Best Action Movie
All Is Lost
Too often, Sundance directors are sucked up by the studio system to make big-budget action movies that bear little to no resemblance to their previous, personal effort. In a way, that's exactly what has happened to J.C. Chandor, who made the talky Sundance hit Margin Call and then went to Universal to direct the maritime disaster movie All Is Lost, but if anything, his sophomore hit is even more personal and stunning. All Is Lost stars Robert Redford — and only Robert Redford — as an unnamed man who's lost at sea when his yacht springs a leak. Though he barely utters a word during the whole film, it's fascinating to watch his attempts to MacGyver his boat back into shipshape, efforts that turn increasingly desperate as he's battered by storms. If this film had been in the competition, it would have been a guaranteed prize winner.
Best Ryan Gosling Performance
Ryan Gosling as Ryan Gosling (Seduced and Abandoned)
Who would you rather spend time with? The sullen, penis-envious, vengeful, and practically mute Ryan Gosling of Nicolas Winding Refn's Only God Forgives (a role he took on because original star Luke Evans dropped out to be in The Hobbit), or Gosling as his relaxed, charming self, telling Hollywood tales in James Toback and Alec Baldwin's filmmaking documentary Seduced and Abandoned? If you wisely pick the latter, you even get to hear him say (in that mysterious Gosling accent that he and only he possesses), "I loved movies so much, sometimes I'd shove them down the front of my pants."
Breakout Performance
Adele Exarchopoulos (Blue Is the Warmest Color)
Yes, plenty of people (Vulture included) were buzzing about the super-long, likely unsimulated sex scenes in Blue Is the Warmest Color, but those scenes are quite necessary and comprise maybe twenty minutes of a three-hour epic love story centering on newcomer Exarchopoulos as a high-school junior with a voracious appetite for books, food, and sensuality. There's not a false moment as we watch her grow up over the course of five years in what seems like real time, as she goofs off with her friends, flounders her way through burgeoning attraction to both men and women, and finds an undeniable connection (and incredible heartbreak) with Lea Seydoux's college art student. Exarchopoulous is the real deal.
Most Miscast
Blood Ties
French actor-director Guillaume Canet assembled an impressive group of actors for his seventies crime drama, but almost all of them are used to ill effect. Billy Crudup and Clive Owen play Noo Yawk brothers — though the petite Crudup and the hulking, British-faced Owen don't even look like they're from the same planet, let alone the same gene pool — on wrong sides of the law. Owen's got his squeeze, a wasted Mila Kunis, and Crudup's got his own girl, a similarly wasted, too-contemporary Zoe Saldana. Occasionally, Canet's real-life wife Marion Cotillard pops up as … an Italian whore whose mishmash accent is positively head-scratching. We like all these people! Just not in this movie.
Best Unsympathetic Mother
Berenice Bejo (The Past)
If you rolled your eyes when Berenice Bejo landed a Best Supporting Actress nomination for The Artist, take another look at her in The Past, Iranian director Asghar Farhadi's follow-up to A Separation. Bejo's single mom is a nasty piece of work who manipulates her ex into signing divorce papers while staying at a home she's now sharing with her new fiancé and his son. It gets worse. Bejo deservedly won the Best Actress prize at Cannes, and though Adele Exarchopoulos and Lea Seydoux of Blue Is The Warmest Color soon bested her by winning the Palme d'Or, Bejo stands a strong chance of heading back to the Oscars.
Best Unsympathetic Father
Bruce Dern (Nebraska)
For most of the festival, it looked like Michael Douglas had the Best Actor prize locked down for Behind the Candelabra, but Spielberg's jury threw this laurel Bruce Dern's way. The 76-year-old veteran gets his first starring role in decades in Alexander Payne's black-and-white father-son story Nebraska, but he's not exactly a warm presence: Rarely lucid and unwilling to connect even at the best of times, his father figure constantly thwarts the attempts of son Will Forte to bond. Still, by the end of the film, when Forte has managed to piece together his dad's backstory even without his help, Dern's decrepit dad takes on unexpected poignancy. The question now is whether Paramount will launch an Oscar campaign for Dern in the Best Actor category, or whether he'll be shuttled to the presumably safer Best Supporting slot.
Most in Need of Fresh Air
Roman Polanski (Venus in Fur)
Roman Polanski already tortured audiences by trapping them in a single apartment with four of the world's most cloying, over-privileged parents in 2011's Carnage. Now, Polanski is throwing us into a single theater with only two terrible humans in his adaptation of the David Ives play Venus in Fur, where an actress engages in a sadomasochistic power struggle with her director as she tries to convince him that she's right for the role of a dominatrix. The text is interesting, if diminished in the French translation, and actors Mathie Amalric and Emmanuelle Seigner (Polanski's wife, a bit too old for the part) try hard, though they're not nearly as successful as Nina Arianda and Hugh Dancy were back on Broadway. The whole endeavor feels incredibly minor and lazy on Polanski's part, and makes you wonder when he's going to give up these oppressive chamber dramas and finally go back outside.
Your New Favorite Movie
Only Lovers Left Alive
Perhaps Jim Jarmusch's languorous, intensely cool vampire love story Only Lovers Left Alive didn't belong in the official competition … but man, is it enjoyable. Jarmusch forgoes most vampire claptrap so we can just hang out with two 400-year-old bloodsuckers played by Tom Hiddleston and Tilda Swinton. Turns out if you live long enough, you become a wine snob who complains about the quality of blood these days and reminisces about the good ol' years hanging out with Byron and Shelley. You won't be surprised to hear that as an ageless, supernatural creature, Tilda Swinton fits her part like a silk glove. Sony Pictures Classics picked up distribution rights; start lining up for your midnight screening now.
Best Song
"Please Mr. Kennedy" (Inside Llewyn Davis)
Forget Justin Timberlake's "Suit and Tie" duet with Jay-Z. His far more crucial collaboration in 2013 comes in the Coen brothers' folk music dramedy Inside Llewyn Davis, where he sits down with Adam Driver from Girls and sings this defiantly dorky plea to the president: "Please Mr. Kennedy / Don't you shoot me into outer space." Oscar Isaac's title character looks askance at Timberlake's brand of bubblegum folk, but the delighted Cannes audience was practically ready to sing along.
Best Set Design (tie)
The Bling Ring and Behind the Candelabra

It helps, of course, that Sofia Coppola got to shoot her fact-based teenage-thief romp in Paris Hilton's actual house, a shrine to the heiress herself, with Hilton's face emblazoned on pillows and portraits. But as the Bling Ring breaks into the homes of other celebrities, including Audrina Patridge and Orlando Bloom, Coppola finds ingenious ways to shoot each mansion, and the one-take sequence in which we peer down the Hollywood Hills as Patridge's home is raided miles away is a spooky, breathtaking shot that may have been our favorite of the fest.
But if we're talking about ostentatious bling, even Paris Hilton's house would be hard-pressed to surpass Liberace's gold-flaked manse. You've likely already caught Behind the Candelabra on HBO, but there was something so right about seeing Liberace's glittery, gaudy mansion in all its glory on the biggest screen in the Croisette. Candelabra is by far Steven Soderbergh's most gorgeous movie, and it's an impressive achievement that he could make a place so tacky seem like movie heaven.
Most Audacious
The Congress
The setup alone made Ari Folman's The Congress one of Cannes's most intriguing entries: An aging Robin Wright allows her "cinematic identity" to be digitized so movie-studio execs can put her in the big-budget sci-fi movies she's long refused to do. But what starts out as a Hollywood satire becomes an animated acid trip through a dystopian future of celebrity worship, featuring cameos by Michael Jackson, Grace Jones, and a guy who looks like Tom Cruise, as well as a sex scene in which cartoon Robin Wright gets down with a cartoon voiced by Jon Hamm. The commentary gets muddled and the animation is too long, but Folman's sheer ambition, as well as Wright's undeniably brave performance, are really something to behold.