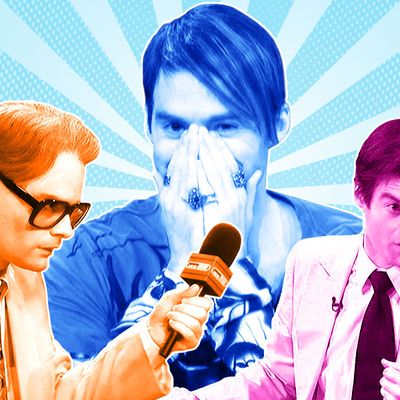 This morning, we learned that Bill Hader will be leaving Saturday Night Live after this season to pursue movies, TV, and sunny L.A. life. He will be missed, as over the last few seasons he emerged as one of the show's most versatile cast members, with a Phil Hartman–like ability to do impressions, play hilarious characters, and totally own secondary roles like game-show host or announcer. So with his time sadly coming to an end, let's reminisce by rewatching his big breakthrough parts. It's like one of those "Best Of" DVDs, but you can watch at work (if you're a quiet laugher).
Bill Hader's first episode was the premiere of season 31, on October 1. 2005. He was introduced to the audience via an "Impression Off" with another new hire, Andy Samberg.
Hader did the very Italian Vinny Vedecci in his audition, and it subsequently became his first breakout character. It first appeared in season 31 as part of an Italian hotel sketch. It wasn't until season 32, however, that he figured out that he worked best as a talk-show host. In total, the character appeared nine times.
Hader also auditioned with his Al Pacino impression. He first did it as part of an Anderson Cooper 360 sketch in his very first episode. It would continue to pop up throughout his eight seasons.
Hader's first Vincent Price holiday special came during the Thanksgiving episode of his first season. There were six in total.
Hader's impression of Dateline NBC's Keith Morrison first appeared in season 34. In total, he showed up four times, but his extreme creepiness made him one of Hader's most memorable characters.
Will Forte and Hader's "Hold my calls" guys made their first of three appearances in 2008. They featured some of Hader's silliest work on the show.
Hader has said that when he first started at SNL he intentionally went after announcer and game-show host roles. These were parts that would give him a role in the ensemble, without putting too much pressure on him to carry a sketch. He became adept at this, bringing a sinister quality that could get a couple of laughs without distracting from the sketch's concept.
Hader first did Stefon in 2008 as part of a sketch where he and Ben Affleck were pitching a movie together. It wasn't until 2010 that he became the Stefon we know and love. In total, he's appeared sixteen times. We wouldn't be surprised if this Saturday makes seventeen.
Bill Hader's reptilian James Carville first appeared in a 2009 episode of Weekend Update Thursday. He quickly became one of the show's go-tos when needing someone to talk about some political dustup. With his appearance earlier this month, Bill Hader's Carville has appeared ten times.
Veteran racist TV reporter Herb Welch (and his assaultive microphone) has appeared five times since his season 36 debut. Hader, in an interview with Splitsider, told the story of how the character was created:
We were rehearsing this sketch with Emma Stone the first time she hosted. I don't know if you remember the sketch that was a newscast about teenagers, and it was called "doing souping." And it was like, [newscaster voice] "They call it Souping…" and, "They call it Trampolining…" There were all these different things. We were blocking that and I kept pretending to hit Kristen and Emma in the face with a microphone. And that's how we came up with Herb Welch. So we wrote Herb Welch into it the next week.
Hader's Alan Alda first showed up in 2010 and caused the audience to think, Who does an Alda? Over his eight seasons, Hader's eclectic impressions have often evoked similar sentiments.
Over the course of his tenure, Hader has impersonated so many people, including: Julian Assange, John Malkovich, Eliot Spitzer, Lindsey Buckingham (kind of), Garrison Keillor, and so many more. However, no two impressions dominated the conversation like his (mid-breakdown) Charlie Sheen and (post-car-commercial) Clint Eastwood.
His last big reccurring character is Devin from the directions-heavy soap opera "The Californians." Including last week's episode, the sketch has appeared six times in just one year. Like Stefon, the sketch is helped by Hader's inability to stop himself from laughing. Hader has avoided any backlash toward breaking that some previous cast members (namely Jimmy Fallon) faced, because the audience seems to love to see him love being on the show.