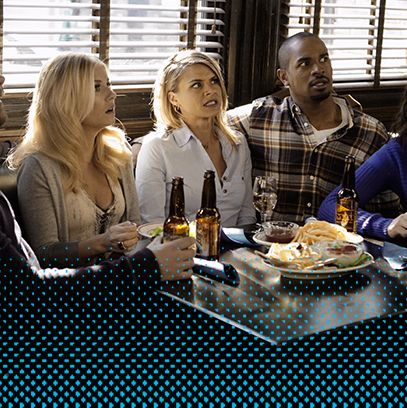 With its third season finale airing tonight, this might also be the official end of comedy darling Happy Endings. Hopeful rumors of USA scooping up the show are still up in the air, so all we can do now is pray for a happy ending … for Happy Endings. You get it.

If you've watched the show, you're likely aware of its parallel struggle to maintain viewers. It's no Community — Happy Endings fans don't seem to be as loud as that show's. When ABC reached out to viewers to help "Save Happy Endings," the network insisted that the way to save the show was to STAY HOME ON FRIDAY NIGHTS TO WATCH IT. Shockingly, it didn't work. While we hope for the best, let's fear for the worst and, character by character, go through some of the show's best moments.
With her abbreviations, dating woes, and distinct pronounciation of "amazing," Casey Wilson's Penny is the fast-talking hopeless romantic of the group. Her best moment? "Whore's Bath":
Penny's BFF Max, as played by UCB alum Adam Pally, is the group's slovenly misfit — often described by the Internet as TV's "least stereoyptical gay guy." He's also constantly one of Happy Endings' finest: from when he went into winter hibernation to his award-winning wordplay daydream:
We really hope Damon Wayans Jr.'s doesn't regret his decision to play Happy Endings' Brad over New Girl's Winston, because his Brad is one of TV's most lovable bros. Even though his wife Jane is in charge, Brad is the heart of the relationship:
Speaking of Brad's wifey Jane, the "mother" of the group might seem uptight sometimes, but she has been known to let loose and have a little fun. Alas, she does not do well with surprises:
A sad, sad left-at-the-altar Dave also had a problem with wearing deep V-necks, but soon he turned it all around by getting a food truck and winning back his Runaway Bride. However, nothing was funnier than the time he Freddie Kruger'd his way into everyone's dreams:
Don't be so quick to call Alex the dumbest member of the crew. She goes lesbian to help out Penny, thoughtfully sets her ex Dave up on a date, acts as a wonderful charades partner, AND wins the prank war. Maybe she isn't as stupid as we all thought.
But because Happy Endings is really about friendships, we'd be insane not to share some of the greatest pairs and their best moments.
Jane and Brad
Brad and Penny
Dave and Alex
Alex and Penny
Penny and Jane
Brad and Max

Ah, well, I guess it's back to watching Friends reruns …