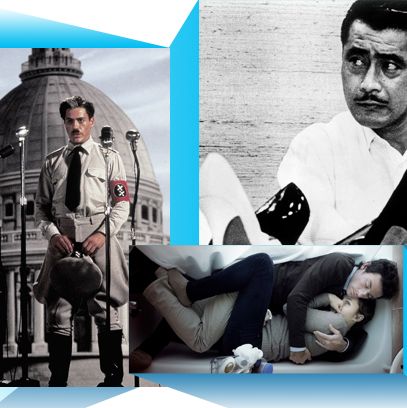 Photo: Carolco Pictures (Chaplin); Kurosawa Production Co. (High and Low); erbp (Upstream Color)
It's wild and wooly out there in the world of streaming video. As movies and TV shows become increasingly accessible through a variety of services, it has also become increasingly difficult to keep track of what is available where, what is expiring when, and what is actually worth watching. So every Friday, Vulture will have a list of recommendations of movies and TV shows that are new to Netflix (as well as Hulu, Amazon, On Demand, and other streaming sites), those that are expiring, and those that you should watch just because.
Chaplin
This weekend, you can head to theaters and watch Robert Downey Jr. play Iron Man for the fourth time. (If you can't make it to the theater because tickets are sold out, or because you're lazy or broke, FX is playing the first Iron Man movies several times this weekend.) Or you can get your RDJ fix by watching one of the many other movies he's done over the past 30 years. I was initially going to suggest Wonder Boys, a delightful campus-set dramedy (with Michael Douglas, Tobey Maguire, Katie Holmes and Frances McDormand) in which Downey plays a pill-popping, gay book agent, but the damn thing isn't available for streaming anywhere — not even on iTunes!
So, I went back to 1992, to this biopic in which he plays … guess who he plays. Any actor would have to have more than a touch of arrogance to take on the role of Charlie Chaplin — one of cinema's greatest comedic talents, and luckily young Robert Downey Jr. was arrogant as all hell. (Still is probably, though one imagines there's a bit more humility in the man following his troubles.) He mostly pulls it off here, his at times dodgy British accent aside, which is why he was nominated for Best Actor, losing out to Scent of a Woman's Al Pacino. The film's supporting cast is full of early nineties mid-listers — Kevin Kline, James Woods, Moira Kelly, David Duchovny, Anthony Hopkins, Diane Lane, Nancy Travis, and Milla Jovovich. (Available to rent on Amazon Instant.)

Upstream Color/Primer
And now we go from the muse of Shane Black to the worms of Shane Carruth, American cinema's most matter-of-factly mind-bending young male director. His newest film (I say "newest" like he has a back catalog — dude's only done two movies in nine years) is Upstream Color, of which Vulture's David Edelstein writes, "I've seen Upstream Color twice and liked it enormously while never being certain of anything." David's right about that. It's a movie full of long, wordless stretches and sounds of indeterminate origin that resulted in me experiencing wonderful feelings of indeterminate origin and being reduced to long wordless stretches when I tried to describe it to anyone.
Bare-bones plot: A woman is forced to ingest a worm that puts her into a trance — she is then compelled to empty all her bank accounts and sign over all her assets to an unknown man. The worm is removed. The worm is transplanted into a pig. The woman, financially destroyed, moves on. She meets a man who has possibly undergone the same traumatic experience. They enter into a relationship. The pig enters into a relationship. The man and the woman start to think their memories are not necessarily their own. I'm not sure what the pig thinks. I know that I left this movie wanting to see it again immediately. It's currently out in art houses across America, but it hits iTunes on May 7. I'll likely be renting it then, though I urge you to see it on a big screen if you can.
If you're looking for something equally WTF-ish this weekend, though, try Carruth's first film, Primer. A cheaply made, deeply twisty tale of two men who invent a cheap-looking time machine and then unsurprisingly find themselves over their heads, it's either (again to quote David Edelstein) "mystifyingly bad or mystifyingly good." At under 90 minutes, you can certainly decide for yourself. (Upstream Color will be available to rent May 7; Primer is currently available on Netflix and Hulu.)
High and Low
It's easy to assume that Akira Kurosawa (who I've written about previously in this column) did his best work on his many samurai films — Seven Samurai, Rashomon, The Hidden Fortress, Ran, Yojimbo — but there are at least two gigantic works that stand outside of that genre. The first is Ikiru, which I'll let Roger Ebert tell you about. The second is High and Low, a police procedural based on a novel by the American crime writer Ed McBain. The story: A rich man's boy is kidnapped and he must pay a ransom to get the child back. Then, as he is about to send over his money, it's discovered that it's someone else's boy that has been taken. Will he still pay? Immediate moral quandary! High and Low is a tense, tight ball of a film. (Available on Hulu.)