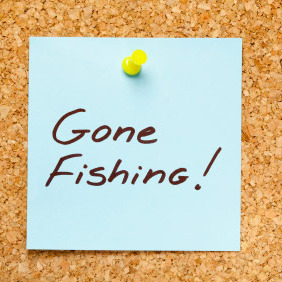 GONE FISHING! written on a blue sticky note on an office cork bulletin board.
Photo: Ivelin Radkov
Hello fellow Netflix-ers, fellow Hulu-ites, fellow Amazon Prime-timers. My regularly scheduled Friday "Best of Streaming" column is taking the week off. It will return next Friday with some more delightful recommendations. In the meantime, though, if there are any movies or TV shows you think I should be writing about, please do tell me about them! I can't see everything and could use the help. Have a good Mother's Day weekend, everyone.