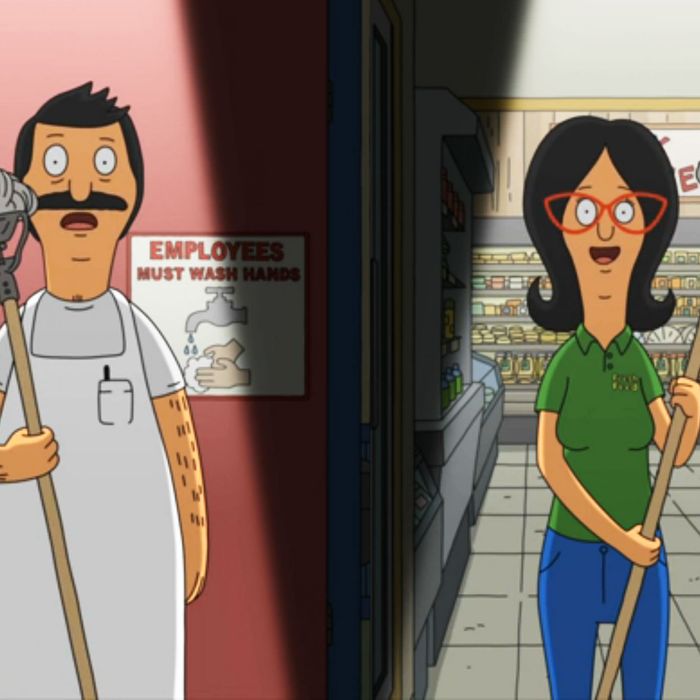 Ever since Fred Flintstone pretended to be "Rock Roll" on The Flintstones, original songs have increasingly become a staple in animated television. (See: The Simpsons.) The current king of surprisingly catchy, unsurprisingly funny musical moments is Bob's Burgers, where a new song is basically guaranteed each episode. Like the show itself, Bob's Burgers' songs are hilarious, endearingly homespun, and a little bit off. That's why, with the season finale set to air this Sunday, we asked the show's writers to pick their favorite songs from the series. Their choices and insights below. 
10. "Bad Girls Theme" (from "Bad Tina," season two) This rocking ode to teenage delinquency includes the line "Bad girls don't like to go to Dog Prom," a reference to a fictitious series of canine dance movies that has become a running joke both in the show and our personal lives. "Bad Girls" is also the inaugural entry in our "Bob's Buskers" web series, where talented musicians cover songs from our show. Here's St. Vincent's take on it.
9. "Buckle It Up (Or You'll Die)" (from "My Fuzzy Valentine," season three) Bob's Burgers is blessed with a cast of brilliant improvisers, and this catchy little jingle is proof. It pops up when Bob loads the kids into the car for a trip to the mall. Originally, the script said only "Bob hums as the kids buckle up," but the actors started fooling around and this was the hilarious, safety-conscious result.
8. Bob's Burgers theme Show creator (and theme composer) Loren Bouchard steps forward to explain the origin of the catchy show staple: "The Bob's theme is a perfect example of the-ukulele-writes-the-song. You just sort noodle around without even knowing the names of the chords you're playing, and you stop when it sounds okay. I've experienced this a few times, and I have to say, it's a real blessing — a hack composer like me getting help from this little instrument. We've rerecorded some of the other instruments a few times, and we've sped things up a little, but the ukulele track you hear on TV is the first take of the first time I recorded it, back in San Francisco in late 2008. My studio was above a nightclub called El Rincon, and I didn't have much soundproofing, so if you take the EQ off of that track you can hear the drum and bass coming through from downstairs. That it was a different tempo didn't seem to bother me — I guess 'cause I had headphones — but it will bother you!" Listen to the original, nightclub-intruded track below.
7. "The Harry Truman Song" (from "Mother Daughter Laser Razor," season three) "Here goes the hair/There goes the hair/And where is Harry Truman?/He's dead in the ground/He's dead in the ground/Dead dead dead dead dead." Do the lyrics of Linda's hair-braiding ditty make any sense? Maybe not, but John Roberts nails the song with an extremely committed performance. Plus, it spawned a delightful cover from a talented Bob's Burgers fan named Katy Pearson, which you'll find here.
6. "This Is Working" (from "Lindapendent Woman," season three) This is probably the show's first ever true "movie musical" moment, where characters break from reality to sing a duet about what they're feeling. It comes at a crossroads for Linda and Bob, as Linda is loving her new job and Bob is struggling to admit how much he needs her help back at the restaurant. The secret inspiration for this duet was "On the Rise" from Dr. Horrible's Sing-Along Blog starring Neil Patrick Harris.
5. "Butts Butts Butts" (from "Art Crawl," season one) "Butts Butts Butts" is not lyrically complex. The song — used to accompany Linda's Dumbo-inspired descent into madness when her sister Gayle fills the restaurant with paintings of animal anuses — repeats the word butts over and over. If it were up to us, we'd probably have many songs on the show that just repeat the word butts over and over. Fun fact: One of the "butts" voices belongs to none other than Bob's Burgers executive producer Jim Dauterive.
4. "The Thanksgiving Song" (from "An Indecent Thanksgiving Proposal," season two) Not only was this song entirely improvised (by John Roberts, who enjoys bursting into nonsensical song almost as much as Linda does), it was also covered by a critically revered rock band who turned it into a minor blog sensation. The National's version is slower and lower than the original, and if there's any justice it will soon be a beloved holiday standard, sung by Americans in reverent tones as they dodge spurts of hot oil from their turkey deep fryers.
3. "Will You Be Mine (Coal Mine)" (from "Boys 4 Now," season three) Louise can't shake her feelings for a tiny blond boy-bander in the "Boys 4 Now" episode, and we can relate: We'd do anything to get this earworm of a boy-band parody out of our heads. It was written and performed by three Bob's writers who — rest assured — have been severely punished.
2. "Liftin' Up the Skirt of the Night" (from "Sheesh, Cab, Bob?" season one) In the early stages of this episode, we used Bobby Womack's "Across 110th Street" as a placeholder for the scenes in which Bob drives his cab through the seedier parts of town. We all loved the Womack song, but we wanted to make our own, sillier "driving in the city" song, so Loren and Bob's composer and musician John Dylan Keith wrote this gritty, seventies-inspired funk classic. The icing on the cake is again John Roberts, who gets hips swinging with his gruff, soul man vocals. Michael McDonald himself couldn't do better.
1. "Electric Love" (from "Topsy," season three) In 1903, beloved inventor Thomas Edison electrocuted a circus elephant, and we think you'll agree: total dick move. Grade-school teachers tend not to mention Edison's animal-zapping hobby, but Louise learns the awful truth in this episode. "Electric Love" is "by Gene," and it's a duet between Edison and Topsy, their relationship "reimagine-acted" as something sexy and hot. Edison sings, for example, "But I never noticed the curve of her trunk." And Topsy croons back, "And I never noticed his electric junk." Keep an ear out for an upcoming cover of this song by the brilliant songwriter Stephin Merritt.