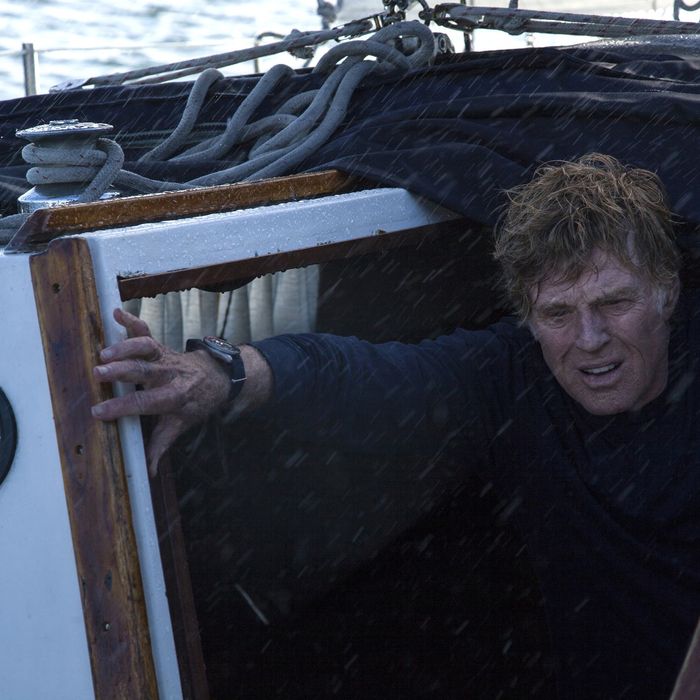 Photo: Roadside Attractions
It's shocking that All Is Lost, the harrowing, almost-dialogue-free film in which Robert Redford plays a lone man stranded at sea, isn't in competition for any prizes at this year's Cannes — and doubly disappointing that Redford isn't up for an acting award, either. Because judging from the universally rapturous reviews, and from the ten-minute standing ovation at last night's premiere for Redford and director J.C. Chandor (making a complete 180 from his only other film, the financial-collapse ensemble thriller Margin Call), All Is Lost would be the movie to beat.
Why is All Is Lost being shown in special, Hors Competition (out of competition) screenings, ineligible for the Palme d'Or? Several people who've talked to producers say Cannes programmers declared the two-hour, practically wordless, single-actor nautical adventure "too commercial" to compete. (This from a festival that had Lawless and On the Road in competition last year.) My guess is that there were other politics at play. There's only one person in this movie, and he happens to be the founder of America's premier film festival (Sundance), and it's not fair to put a jury of movie-makers who may at some point need to curry his favor in the position of having to vote for or against him, especially a jury led by Steven Spielberg and containing Nicole Kidman. Not to mention that the guy who just won an Oscar for making a stranded-at-sea saga, Life of Pi director Ang Lee, is also on that jury. The Hors Competition screening is a way for Cannes president Thierry Lumieux to help out Redford (who clearly couldn't show the movie at his own festival) and also acknowledge the film's worthiness while avoiding politics.

Oh well, Redford and All Is Lost will just have to wait till next February to get their accolades — All Is Lost now joins Sundance-approved Fruitvale Station (competing in the Un Certain Regard category) and the Coen brothers' Inside Llewyn Davis as the Cannes films most likely to have Oscars pundits salivating. Imagine Life of Pi without the spirituality and animals, Cast Away without Wilson; just Redford on a boat with a hole in it, exposed to the elements, adapting to each new disaster with a series of ingenious small acts, and taking a major beating. "All Is Lost has many of the things you'd expect in a storm-tossed tale like this one (sharks, a perilous life raft), but every moment remains believable and human-scale," writes EW's Owen Gliberman. "This is Robert Redford, at the age of 76 (he looks and moves like a very fit man of 60), doing what too many stars should do and don't: Taking a chance. Reinventing his art. Going for it. It's an amazing thing to see. I left the screening of All Is Lost about six hours ago, and I can tell you, I am still haunted by its ending."

This is the kind of role an actor waits his whole life to get — and Redford basically has. The film begins with a flash forward. The camera pans slowly over a shipwreck, as Redford reads the final doom-laden note written by his character, whom the credits identify simply as "Our Man." "I'm sorry. I tried," Our Man writes. Then we cut back to eight days earlier, when Redford, alone in the middle of the Indian Ocean, on a 39-foot Cal yacht called the Virginia Jean, is awoken by the crack of a huge shipping container colliding with his boat. The movie is remarkably lo-fi; three boats were destroyed, and the shooting took place around the Pacific Ocean and the Caribbean, with the dangerous stunts performed in Mexico's Baja Studios, the world's largest filming tanks, which James Cameron had refurbished for Titanic. The few digital effects were used to enhance the background and skies, and to make waves. Redford did most of his own stunts, as usual, and it's incredible watching him jump from boat to container, climb the mast, and tangle underwater with fallen sails. "I thought, well, if I can do some of these action things, it would be better for J.C., and also probably pretty good for my ego," Redford said in a press conference, laughing. "And that was a terrible mistake."

Mostly we watch Redford think. We're with him as he works himself out of each new disaster — and for Our Man, things are going pretty badly — as well as in quieter moments when he's eating canned soup, or downing bourbon, or giving himself what may be the last shave of his life. Redford says he took on the role because of the physical challenges, and the challenge of not being able to use his instantly recognizable voice. Plus, he said in the press conference, Chandor was the only Sundance alum in 30 years to offer him a role. "So the main thing was that he wanted me." (Redford does, however, have rumored upcoming projects with other Sundance alumni: Ain't Them Bodies Saints director David Lowery and Before Midnight's Richard Linklater.)

Chandor said he came upon the idea of using Redford during Redford's legendarily rousing annual speech to incoming Sundance filmmakers. (Other Sundance filmmakers I've met have said you can practically imagine Redford riding into the speech on a horse, his red hair flowing in the wind.) Redford's image as a tough cowboy, a strong, silent type with the ability to live off the land and take care of himself, is something that accompanies him naturally into every role. "You're taking this person that essentially so many people have a relationship with, and their own stories and their own ideas, and their own experiences with his films and everything he's done with his life, and you're putting him in a situation that is so absurd and out of the norm," explained Chandor. "I sort of felt as a filmmaker I was going to be able to have all that history that you as an audience have with him, but then he as an actor sort of erased it, because he would not normally be stuck in this situation without his voice." So you begin the movie believing that this man, with his Redford-ness, is going to make it. With each new disaster, though, fear creeps in, overtaking a little bit of that unassailable Redford confidence, until he really is Our Man, a universal representation of a fear that Redford himself may be grappling with as he edges toward 80: That of dying alone.