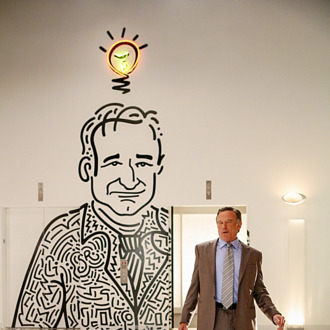 Robin Williams in The Crazy Ones.
Photo: Cliff Lipson/?'?? 2013 CBS Broadcasting, Inc. All Rights Reserved.
CBS is about to finish the season No. 1 in both viewers (yawn) and adults under 50 (for the first time in 22 years). It's the only network — broadcast or cable — with series that still break the 20 million viewers barrier on a regular basis. And its drama roster is so solid, the network didn't even think twice about canceling three shows (CSI: NY, Vegas, and Golden Boy) that each have weekly viewership in excess of 10 million viewers. As we noted last week in our walkup to the upfronts, it's good to be CBS right now. And so, not surprisingly, the "new" schedule the Eye announced today is not dramatically different than the current lineup. It's the only network grid that brings back two nights (Sunday and Wednesday) without a single tweak. It adds a mere three hours of new programming throughout the week, the same number ABC is rolling out on a single night (Tuesday). And yet, despite all the predictability of the CBS schedule, it is not a lineup without risk.
The biggest gamble is on Thursday, where CBS has expanded to four comedies. "This is the big one," CBS scheduling chief Kelly Kahl told reporters this morning, and that actually might be an understatement. The last time the network launched a fall schedule with four comedies on Thursday, Dwight D. Eisenhower was president, and the shows in the lineup include The Phil Silvers Show and The Red Skelton Show. Schedules might not matter quite as much in the era of DVRs, but for a network as rooted in tradition as CBS, trying something that the network hasn't done in more than 50 years probably wasn't done lightly. We actually didn't think the Eye would make this move, since Person of Interest grew nicely in its second season, and 10 p.m. drama Elementary might have benefited from continuing to have PoI as a lead-in next fall. A safer route might have been to roll out shows throughout the season, cutting back on repeats of returning shows and trying out new ones in their slots. But CBS executives clearly liked the way their new half-hours turned out, and they also probably realized they don't have much time to find a new generation of comedy hits. While The Big Bang Theory just keeps getting bigger, How I Met Your Mother wraps up in a year, and there's a good chance Two and a Half Men will also exit next spring. While 2 Broke Girls remains solid on Mondays, the show's numbers did take a hit in season two, and it's not at all clear it will turn into the sort of juggernaut that HIMYM, BBT, and Men have been. And as evidenced by its absence from the fall schedule, while Mike and Molly (now set for mid-season) is a good utility player, it's also been a bit of a disappointment, both creatively and in the ratings. CBS still has a bigger, stronger, and deeper comedy roster than any other broadcast network, but not for long. Adding four new sitcoms this fall — four times the number it launched last year — is a signal that CBS knows it needs to restock and replenish its sitcom supply.
What's more, if CBS were ever going to expand to four comedies, this is the time. NBC, the longtime Thursday comedy leader, is blowing up the night next season, with three new half-hours. Grey's Anatomy is still solid, but it's no longer a behemoth, while Glee's remaining core audience is much younger than CBS's, and not really a threat. CBS is also wisely using a huge, iconic comedy figure — Robin Williams — to anchor the 9 p.m. hour with The Crazy Ones rather than relying on the fading Two and a Half Men or relocating the meh Mike and Molly. Star power is no guarantee of success, of course, but on paper at least, it's a very wise move. And just in case it doesn't work? Meh and Molly has been held on the bench, ready to sub in for failure. (Really, in a way, it's the new Rules of Engagement, which had long been the Eye's comedy insurance policy … until it was finally canceled.)
The rest of the CBS schedule is much more predictable, even boring. That's in no way a slam against the network; it's a sign of the network's amazing core strengths every night of the week. After Thursdays, Mondays have the most changes, with two more new comedies getting launchpads: We Are Men after HIMYM and Mom after 2 Broke Girls. Given the strong buzz on Mom, we were expecting it to land the plum time slot after BBT. But perhaps the show's potential strength is what convinced CBS to put it as a lead-in for the new Monday drama Hostages. We're also happy to see CBS experimenting with having two shows share the same slot during a season: Intelligence, with Josh Holloway, will take over 10 p.m. Monday in the late winter. The Eye's dramas don't repeat as well as they once did — in other words, they're now like everything else on network TV — so it's smart for CBS to make the investment in extra original programming. NBC will still likely win Mondays, thanks to The Voice, but CBS has likely boosted its Monday lineup with these changes.
CBS has also made a smart move on Tuesdays, relocating Person of Interest into the 10 p.m. time slot where the network has struggled in recent years (and for CBS, struggle means "not dominating the hour"). While all of PoI's Thursday audience won't follow it to Tuesdays, enough will that CBS should have no problem dispatching NBC's Chicago Fire or ABC's likely dead-on-arrival Lucky 7. As noted earlier, Wednesdays are unchanged on CBS, which is probably the safest play given the changes elsewhere. At some point, however, it might make sense for CBS to try a new drama in place of Criminal Minds. Over on Fridays, CBS is finally admitting that Hawaii Five-0 has been a disappointment on Mondays, never really breaking out. The show is a massive moneymaker for the network, however, thanks to strong international interest. It will very likely boost the network's Friday lineup, and 10 p.m. drama Blue Bloods, allowing the Eye to keep raking in 5-0 profit while also improving the night. Finally, Sunday is stable, which is great news for fans of The Good Wife. It might make sense for CBS to rest the show mid-season, however, avoiding repeats and giving on-the-bench legal drama Reckless (described as "steamy" by the network) a shot to prove itself.
During a news conference with reporters Wednesday, CBS boss Leslie Moonves responded to a comment by ABC's Jimmy Kimmel that the Eye was filled with "smug motherfuckers." "You don't call someone 'smug motherfuckers' unless they're winning," Moonves joked. And CBS is very much winning right now. As Moonves noted, the network's average audience of around 11 million viewers is about 4 million viewers more than what its rivals pull in every week. And it's about ten times the audience even the biggest cable networks average in prime time on any given week, even if individual shows such as The Walking Dead and Duck Dynasty now rub shoulders with some CBS series. It's very easy to mock CBS because so many of its shows aren't "cool," and, yes, old people really, really like its programming. But a lot of younger folks watch, too, and they watch consistently. Kahl said his new lineup was "built to last." For that to be true, CBS will have to have more hits than it did this season, when only Elementary graduated to a second season. But if those hits come? CBS should be No. 1 for a long time to come.