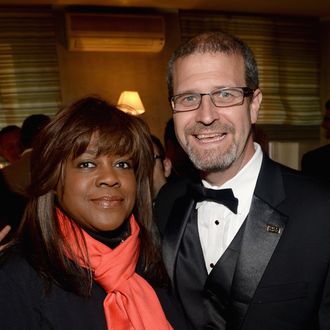 Chaz Ebert at Cannes.
Photo: Michael Buckner/Getty Images
Chaz Ebert's first Cannes Film Festival was 23 years ago, in 1990, when she was still a trial attorney and she and Roger Ebert had just started dating. This year's Cannes marks another, much sadder, beginning: her first festival without Roger, who died in April at age 70 from the cancer that had already claimed part of his lower jaw and his ability to speak, but not the Chicago Sun-Times film critic's ability to write enthusiastically about his love of movies.
When they met, Roger was almost 50 and perpetually single; he'd refused to marry while his mother was alive, fearing her disapproval. But he skilfully wooed Chaz, eleven years his junior, by taking her to see Tosca at the Lyric Opera in Chicago and giving her volumes of Shakespeare, his favorite author. "Roger was always very romantic," says Chaz, as we sit on the beach near the American Pavilion, a festival hub visited often by Roger that now prominently displays his picture and hosted a tribute panel to him this afternoon. "He always gave me flowers, but primarily books. He loved giving books." Roger also loved taking Chaz to top restaurants along the French Riviera, and set aside one day each festival to rent a car and take a break from Cannes. In 1991, they drove to Monte Carlo for the Monaco Grand Prix, and Roger spontaneously decided to ask Chaz to marry him. "He did not know that he was going to propose that day," she says. "He said just everything felt right."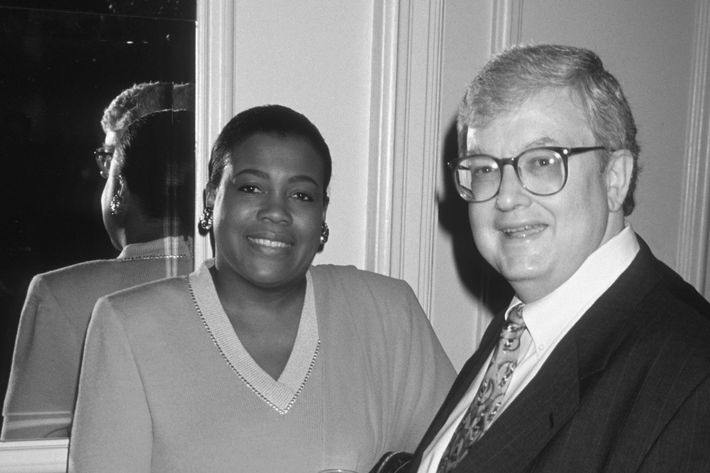 Everything here reminds Chaz of him. She's staying at the Hotel Splendid, where Roger had been going to for 30 years — 10 years on his own and then another 20 with Chaz after they met. "They start you on the top floor, on the noisy side of the hotel," she says. "And each year you gradually work your way down." He'd eventually put in enough time to get a room on the first floor with a veranda — which the hotel will permanently name the Roger Ebert Suite.
A tech nerd and electronics buff from way back when, Roger talked the Hotel Splendid into getting wi-fi. All festival, Chaz has been hearing similar tales of his tech prowess from journalists and fellow film critics from around the world. "He was the first person to bring a computer to the festival, the first person to go online," says Chaz. "He used to bring couplers and a lot of equipment to connect his computer; everybody told me they had to borrow equipment from him because no one knew how to do it." As we're talking, Lars Ulrich of Metallica approaches Chaz to say that he'd been watching Roger on TV since first moving to America in 1980, and that he'd cried the whole way through A.O. Scott's tribute to Roger in the Times. "Well, he was a fan of yours as well," replies Chaz. Roger Ebert loved Metallica? "Of course!"
Sitting in the Palais watching movies, though, probably brings back the most memories. "He said to me, 'When you are watching a movie on that big screen with the best projection and the best sound system, and people from all over the world who really appreciate films, the film automatically probably gets an extra half-star in your estimation,'" says Chaz, laughing.
She thinks back to Roger highlights over the years, the funniest of which happened in 2003, when Vincent Gallo's The Brown Bunny was selected for the main competition and Roger grew so enraged that he protested in the Palais. "He was livid," says Chaz. "'How could you do this!?' And the other critics backed him up and said that movie shouldn't have been in the competition. And then Vincent Gallo supposedly put a hex on Roger." According to Chaz, the first cut of the movie "consisted of a guy just driving around and around in a car," and that's what sparked Roger's vitriol, not the infamous scene of unsimulated fellatio between Gallo and co-star Chloë Sevigny. "At least something was happening then!" says Chaz. Months later, though, Gallo admitted he'd rushed the film to festival, confirming that Roger had been right; Gallo also reedited the movie, trimmed half an hour, and, says Chaz, "brought it to Chicago to show Roger to make friends with him, and removed the hex."
They also witnessed the rise of Quentin Tarantino, whom they met in 1992 when he brought Reservoir Dogs to Cannes as a virtual unknown. "Quentin didn't have a lot of money, and so Roger and I bought him plates of spaghetti on the beach," recalls Chaz. Two years later, when Pulp Fiction won the Palme d'Or, "he had rooms at the Hotel du Cap!" she says, referring to the fanciest accommodations in this part of the Riviera. "It just shows how your fortunes can change at the Cannes Film Festival."
Her favorite story, though, concerns Roger's unlikely foray into gossip journalism the year Madonna and Sean Penn were both at Cannes following their breakup. "We were at a party," says Chaz, "and Roger said, 'You know, I would like to leave, but my editor would like for me to do something with Sean Penn and Madonna.' And I said, 'Roger, you're talking to Madonna right now, and sitting next to her is Sean Penn.' He didn't recognize her because during the day she was wearing this, like, bullet-proof bra and black wig, and at night she looked like a little schoolgirl. That was pretty funny."
Chaz says Roger had been looking forward to seeing Baz Luhrmann's The Great Gatsby this year, since he'd been so taken by Luhrmann's Moulin Rouge when it debuted at Cannes in 2001. "I loved to see Roger when he was caught up in the joy of a movie," says Chaz. "And with Moulin Rouge, he just said, 'Excess? So what?! It's such a joy in this movie, and he took something and did something different with this.'" She thinks he would have made a similar assessment of Gatsby. "I know it's getting kind of mixed critical reviews, but I think Roger would've appreciated it," she says. "He would've thought, 'So what? He's gone over the top. And that's Baz.'"
Earlier this year, Chaz and Roger had bought their plane tickets and reserved their room at the Splendid as usual. But when she realized he wasn't feeling well, she canceled the reservations to stay home with him. "Actually, Roger forced me to come," she says. "He said, 'No! You have to go to Cannes. Even if I don't go, you must go! Call the hotel to make sure they have your room. Remake your airline reservations.' And I'm so glad that he did, because I didn't have to think about it. All I had to do was get on the plane."
She's here as the face of the Ebert company, which includes rogerebert.com, the online repository for his reviews as well as those written by critics chosen by Roger before his death. Chaz operated the business behind the scenes for twenty years, "but now," she says, her voice cracking, "I have to step up and do more." Her main task is building out Ebert Digital, which will create apps and products that celebrate movies, a venture that Roger announced in his poignant "A Leave of Presence" blog post the day before he passed away.
Chaz has decided not to do a video blog this year like she has in the past, but she does plan to file a new installment of her festival wrap-up column, Dear Roger: Letters from Cannes. She sees no need to change the title. "I'm still going to write as if I'm writing to Roger," she says. "That's what it feels like. There's so many experiences that we had together over the years that I actually feel like he's here. It's just like, everyday, it really does feel like he's walking with me."
Still, it's taking some getting used to, being at Cannes without him. "I'm taking it day by day," she says, thinking aloud about how she might need to change her plans and go to London to watch plays. "I just don't know because this is new for me to be here — even though I've been here when Roger couldn't travel here, I always knew he was back home. So this is a little different. All these emotions and feelings are still so new and so raw with me that I don't know."
When I run into Chaz a few days later, though, she looks happy and comforted to be right where Roger would have wanted her to be. Would she be staying on at Cannes?  "Yeah, I think I am," she says. "I think I will."