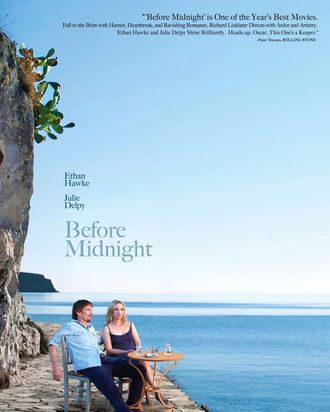 Before Midnight, which opens wide on June 14, comes out nine years after Before Sunset, the last installment of the Jesse-Celine love saga: It has been a long wait indeed. So we want to offer you an opportunity to celebrate the occasion by winning a poster of the new film signed by the film's director and stars, Richard Linklater, Julie Delpy, and Ethan Hawke. (It will look like the image to the left, but bigger! And signed!) All you need to do is come up with an original haiku about the films. It can be about whatever you want — a specific scene, character, walking-tour location — as long as it is obviously about the Before films and is in the classic 5-7-5 structure. Here's an example:
Celine and Jesse
Sitting in a Grecian tree
Talk, talk, talk, talking
Put your submissions in the comments below. We will judge each on the quality of the poem and how well it captures the film's essence. The winner must live in the U.S. and can't use a P.O. box. Only haikus submitted by 8 a.m. tomorrow, May 30, will be considered. We will reveal the winner on Monday, June 3. Full contest rules are available here. Good luck!