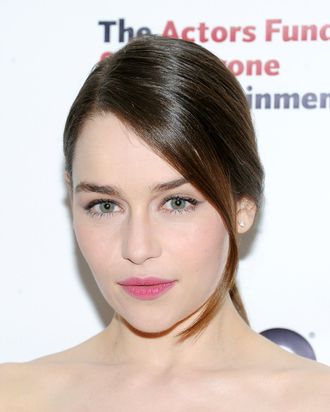 Actress Emilia Clarke attends the 2013 Actors Fund's Annual Gala honoring Robert De Niro at The New York Marriott Marquis on April 29, 2013 in New York City.
Photo: Michael Loccisano/Getty Images
Game of Thrones' Stormborn Emilia Clarke will star in James Franco's The Garden of Last Days. According to THR, Clarke will play a stripper who brings her 3-year-old daughter to work with her. Franco is directing and co-starring in the movie, which is based on Andre Dubus III's novel of the same name. The book is about said stripper and two patrons of her strip club, and it's also about September 11, though the movie may focus on a present-day terrorism plot. Oh, James Franco, please dazzle us.