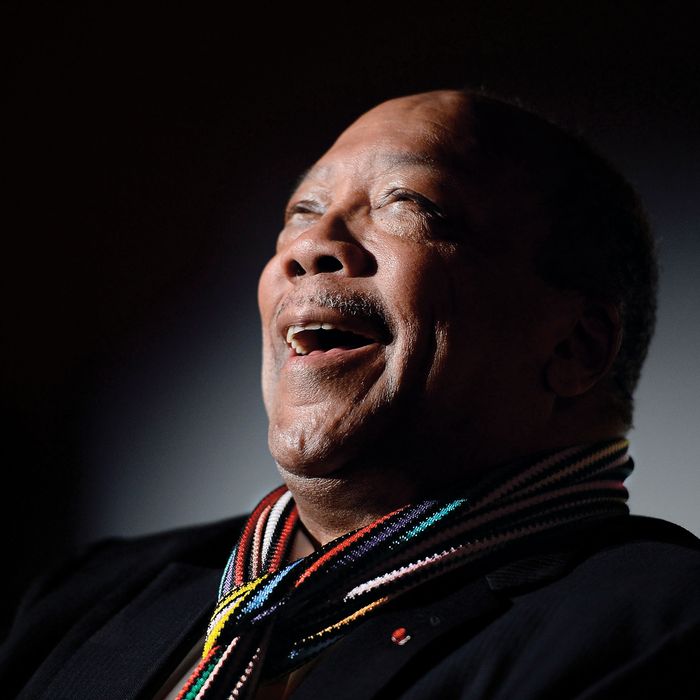 Photo: Michael Kovac/Getty
George Burns made a joke of getting old, says Quincy Jones. Years ago, as a nonagenarian, Burns told Jones, "When you become 90, sex is like shooting pool with a rope." "I'm going to use that one when I get to be his age," says Red Hot Chili Peppers drummer Chad Smith, who is on hand at the Apollo Theater to celebrate Jones's latest birthday—the big 8-0. "He's still got ten years of good stick work!" adds actor Jeffrey Wright, another pal.
Jones, or Q, as his many friends call him, has already celebrated this birthday twice this year—once with his family, and then again at a party in Las Vegas two months ago with Michael Caine, his "celestial twin" (born in the same year, on the same day, at the same hour)—and been inducted into the Rock and Roll Hall of Fame, where, after an introduction by his "sister from another mister" Oprah Winfrey, he proclaimed himself to still be a "wild animal."
Now, on a Friday night at the Apollo, the legendary producer has turned the Jazz Foundation's "A Great Night in Harlem" fund-raiser into another natal festivity. And look who just showed up. "My being here tonight is a big surprise for, guess who? Quincy," says a chuckling Morgan Freeman, who walked out in front of the orchestra before a bemused Q took the stage. "My being here to wish him a happy birthday is an even bigger surprise because his birthday was back in March. So I'm two months late!"
Freeman also forgot, or maybe was told to forget, the birthday cake that he was supposed to wheel onstage for his old buddy. (Jones doesn't mind: "Too fattening!" he tells me, patting his belly.) More than cake, what Jones really wants is to hear some music. And a number of guests—Smith, Elvis Costello, Macy Gray, Texas bluesman Long John Hunter, and many others—are happy to oblige. "You can work in music for 30 years," says Costello, "and he'll always be at the center of it."
Jones takes it all in from stage left, tapping his foot to spirited renditions of Goffin and King's "Point of No Return" and Ike and Tina Turner's "A Fool in Love." In between, other musicians who are on hand to perform keep coming up to bask in Q's aura. "It's an honor to play for you," one says. "Thank you," Jones responds. He clearly loves people who make music and gives shout-outs aplenty: "That's a mad trombone!" he exclaims, gesturing at the brass section. "Everybody here just knocked me out. All of them are my birthday presents," he says, then shows me a more tangible gift—a tie clasp from Bono with a Q at the center of a cross. "All of life is loving, laughing, living, and giving," he observes, sounding like he's given it quite a bit of thought.
A German photographer introduces himself, and knowing some German, I respond auf Deutsch. Jones lights up. "Mein wunderschöner Schatz!" he says, with a perfect accent. Then a Swedish musician joins us, and Jones switches right into Swedish. How many languages can he speak? "I've learned 24," he says. "Serbo-Croatian, Greek, Turkish, French, Russian … I'm working on Mandarin now—there are 3,700 characters in Mandarin—and Arabic." I speak a little Arabic, too, so we natter in that for a bit. "When you write it, it's even better," he says. Acquiring new languages, he tells me, "is a passion."
Jones is liking this birthday thing, so much so that he plans to have more parties all over the world as the year continues. "Sinatra used to tell me, 'Quincy, live every day like it's your last, and one day, you'll be right.' " Easy advice to follow for someone currently working on nine movies, six albums (including one with Snoop Dogg and another with Joe Pesci), and four Broadway shows. "That's as much as I can handle right now," he says. He would, however, like it to be known that he is not, as of yet, working on Lee Daniels's all-star film The Butler. "They're maniacs," Q says of the filmmakers, who've been bruiting his name about. "I told them, 'Don't say it until we understand each other.'
"When I first played here 60 years ago," he says, looking around at the Apollo as the evening comes to a close, "I never cared about money or fame, and I don't care now. I follow the groove, and money always follows." It's worked out well. There's little Jones hasn't done, although he does regret missing his chance to work with Whitney Houston. (She died before making their planned collaboration.)
The crew packs up their gear, and a few stragglers ask for photos. He asks them each where they're from, when they were born, as if it weren't his birthday party at all. "I don't ever want to grow up," he says. "That's boring." As for keeping up his highly productive pace, Jones has one more line borrowed from George Burns. "I asked him how he made it to 100, and he said, 'When you get over the hill, you pick up a lot of speed.' "
*This article originally appeared in the June 3, 2013 issue of New York Magazine.