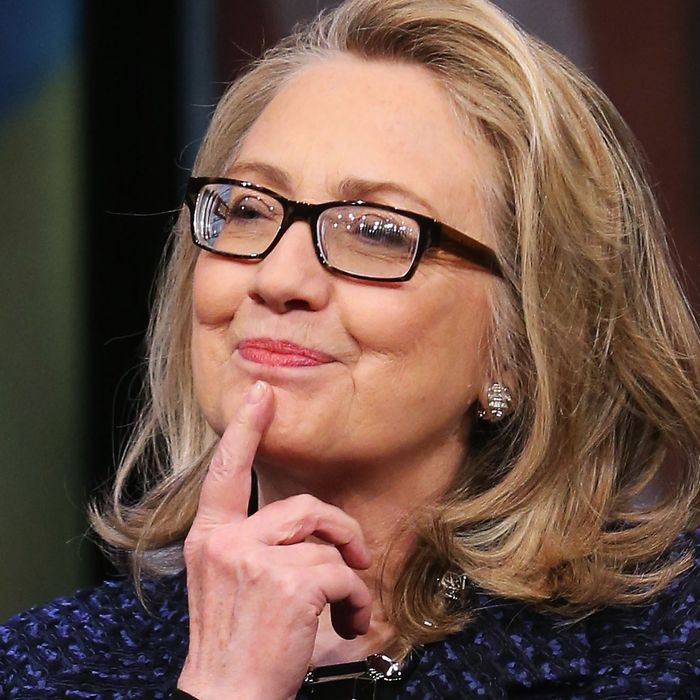 U.S. Secretary of State Hillary Clinton answers questions from people from around the world during a "Global Townterview" at the Newseum January 29, 2013 in Washington, DC. Clinton took questions from youths from around the world via satellite and social media including Twitter, Facebook and Skype in advance of her last day at the State Department Friday.
Photo: Chip Somodevilla/Getty Images
Our friends should be your friends, especially when it comes to entertainment news. So what are Vulture's perferred partners (that's Web Speak for "friends") chatting about this week? The insanely entertaining script for the Hillary Clinton biopic, Rodham; the hopeful return of Ghostbusters 3 (minus Bill Murray, says Dan Aykroyd); which of his own films James Franco hates the most; and more than 30 reasons why you might just be Chandler Bing. Check yourself:
* Some of the Juiciest Bits of 'Rodham, the Hillary Clinton Movie Biopic: Sex, Scandal —Daily Beast
"Bill Clinton, meanwhile, is described as a 'Viking' with a 'full mane' and 'six-inch beard.'" Oh God, yes, do go on.
* Mariah Carey Planning World Tour —Us Weekly
After the initial success of #Beautiful, Carey's going on the road. Can Miguel come, too?
* Ghostbusters 3: Dan Aykroyd Says New Film Will Be Like J.J. Abrams' Star Trek Reboot —Huffington Post
Yes, but minus Bill Murray: "It's sad but we're passing it on to a new generation. Ghostbusters 3 can be a successful movie without Bill."
* "Your Highness Sucks. You Can't Get Around That," Says James Franco —ET Online
Oh, we know. Are there any movies you've done that you do like?

* 44 Reasons Why You're Chandler Bing —BuzzFeed
Do you have a hard time meeting new people? Do you ramble when you're nervous? Well, you might just be Chandler Bing.